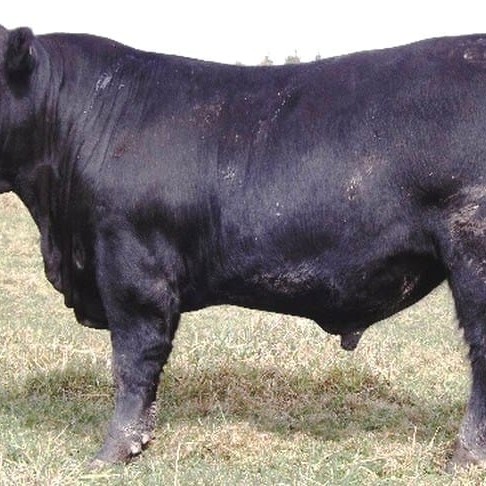 Australia's largest single breed progeny test program, the Angus Beef Information Nucleus project, has accepted its third and final generation of sires for testing.
Coordinated by Angus Australia's Bob Dent, the BIN project aims to identify the breed's 'super sires' of the future, to improve the accuracy of Breedplan Estimated Breeding Values and to increase the volume of genetic information to verify genomic predictions.
Forty new bulls have been enrolled in the project's final cohort, Mr Dent told an Angus Australia field day being held today at the University of New England's Tullimba research feedlot near Armidale.
"We've tried very hard to achieve the broadest range of genotypes possible. There are 32 bulls representing every Australian state, six from New Zealand and two from the US," Mr Dent told the gathering.
Over the three years, the program will collect information on growth, carcase and reproduction traits from the progeny of 120 mostly young bulls joined to more than 6000 females in co-operator herds across the nation.
Pregnancy testing of these females should be completed by next month.
Steer progeny, now at Tullimba, are having their growth rates and feed intakes measured. This information will be used to graduate the Angus Net Feed Efficiency EBV from its trial status to a fully operational and more accurate EBV.
Hugh Munro, principal of Booroomooka Angus at Bingara, NSW, has been a strong advocate for the BIN project, submitting several sires to each of the cohorts as well as running a co-operator herd.
For the last cohort, Mr Munro has entered what he believes to be the stud's best bull yet, and looks forward to his performance figures being put to the test.
"Booroomooka Frankel F510 (AI), who fetched the top price of $65,000 at our last sale, is owned in partnership with five Angus breeders. He has a strong pedigree, excellent structure and well balanced EBVs. We should have 1000 calves by him on the ground next year plus the extras from the BIN so we're looking forward to rapid improvement in the accuracy of his EBVs, particularly in the carcase data," he said.
Mr Dent said Angus Australia regularly updated Breedplan figures as new information became available.
"The most significant impact so far has been the improvement in accuracy of young bulls' figures," he said.
"However, across the board, there has only been a small variation in the EBVs, which has been a great vote of confidence in the reliability of Angus Breedplan," he said.
Mr Munro said feedback on Booramooka's bulls had been 'illuminating.'
"We've seen some interesting changes in our bulls' figures since the first cohort," he said.
"One of our bull's EBVs went down across the board on his 200, 400, 600-day and mature cow weights, while others in the group went down on birthweight, but their growth figures went up significantly. I guess that is what you would expect with young, low accuracy bulls but overall the changes have been within expectations."
Another interesting by-product of the BIN project has been the exposure of the relatively new fixed-time AI breeding program to seedstock and commercial producers.
Mr Munro said producers running collaborator herds were able to use FTAI, in particular the BoSynch 3 program, to greatly reduce the labour input and labour costs normally associated with artificially inseminating large mobs.
"The mobs were yarded and treated only three times to achieve consistent pregnancy rates of 55pc by AI bulls," he said.
"It was a huge help to the program not to have to individually monitor heats and it certainly decreased the stress on cows."
Mr Dent said another benefit of using fixed-time AI, in particular Cue-Mates for herd synchronisation, was that it produced tight calvings and consequently large consistent lines of weaners which, in turn, significantly improved the quality of the data collected.
"We've also had great results from fertility regulators which improved the fertility of animals under challenge, in particular first calf females," he said.
Mr Dent said he believed the benefits of the Angus BIN would flow on to industry for years to come.
"It's providing us with a large database with which we can verify genomic predictions for a broad range of traits. It's also increasing the value and accuracy – in some cases to almost 100pc – of some growth traits and providing the breed with much-needed, but hard-to-measure carcase information," he said.
"We're hoping this program will identify our super sires for the next generation."