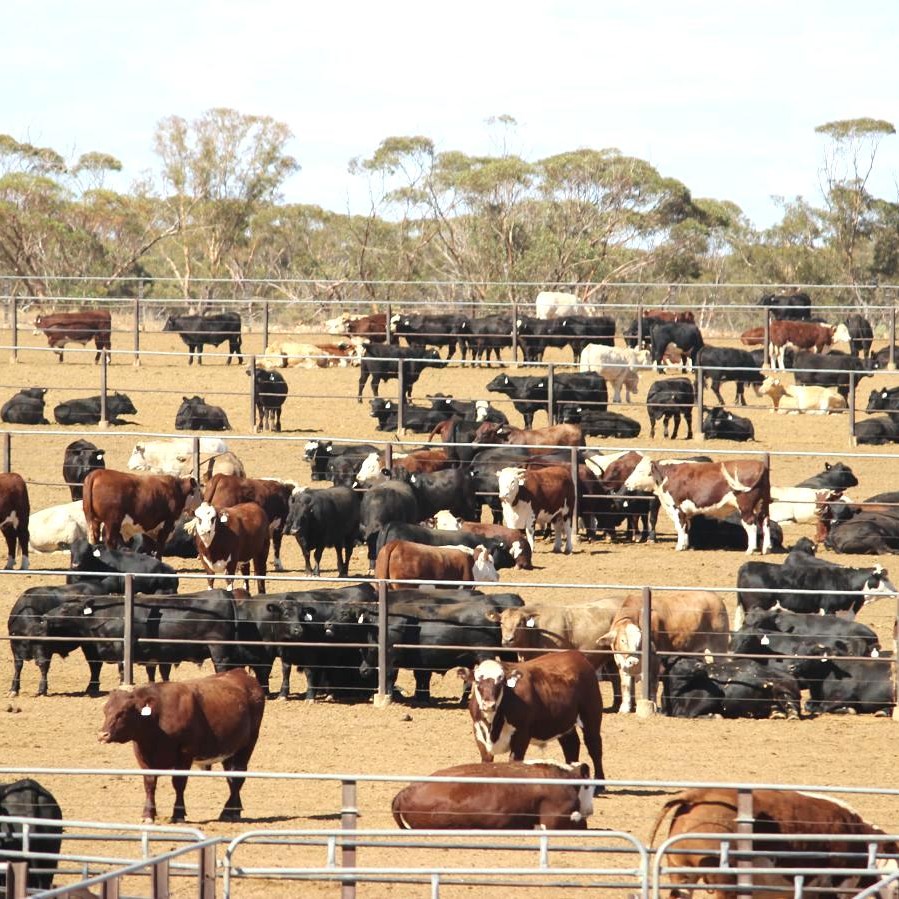 A RUN of successive good seasons for S Kidman & Co's northern South Australian and Channel Country stations may be at an end, with the company preparing to send steers south over winter.
S Kidman & Co managing director Greg Campbell says the company is expecting a staged sell-down on its stations to finish the calendar year at around average carrying levels.
"It should be a fairly orderly program. We might have our dates pushed around a bit by the present oversupply to meatworks and saleyards, but we should be able to juggle around that," Mr Campbell said.
Isolated summer storms have brought benefit to parts of Kidman's main concentration of properties in the Channel Country, although large areas have received no rain at all. For instance Glengyle, north of Birdsville, is already experiencing drought conditions after missing two consecutive summer seasons.
"There is no run in the Georgina River, a small run in the Diamantina and an average flood in the Cooper Creek," Mr Campbell reported.
"The hot summer has reduced the availability of dam water in many areas and taken nutrition out of the body of dry feed remaining from 2012. But there is a big herd still on hand and most cattle are in good, strong condition."
Despite below average feed reserves, Mr Campbell said overall feed and water conditions were still secure enough to allow a "sensible and planned reduction" in the herd throughout the year.
"We still expect to grass finish most of our steers and our dry cows will be sold fat," Mr Campbell said.
"Additional cows will be sold as stores and we will retain fewer weaner heifers than we have in recent years."
Of the company's other properties, Mr Campbell said Ruby Plains in the Kimberley had received regular storms which have delivered at least an average amount of feed, although the Sturt Creek had not flooded. The season at Helen Springs in the Northern Territory has been built around storms rather than a monsoonal rain, which meant feed reserves were below average for this time of year.
Dry conditions are also affecting most of SA's northern pastoral zone, including Kidman properties Anna Creek and Macumba, with the company planning to consign steers to its feedlot, Tungali, near Adelaide from these properties.
"In recent months Tungali has been filled with British breed cattle purchased in the south, as producers there turned-off unfinished steers in the face of their own dry conditions," Mr Campbell said.
S Kidman & Co livestock manager Will Abel Smith says the company sources bought-in cattle when seasonal and market conditions make that economical. With a run of favourable seasons throughout much of company's pastoral properties, the feedlot has been used mostly to feed bought-in steers.
"When we require cattle, we are very planned and coordinated. We also have a lot of repeat customers and tend to by some lines of cattle year after year, having built up relationships with the vendors," Mr Abel Smith said.
"We have two professional cattle buyers working for us in the yards and privately and I also buy cattle for the company when needed, especially at weaner sales Christmas time."
S Kidman & Co has been active at southern weaner cattle sales in recent years, buying large numbers of mostly Angus steers bound for the Tungali feedlot.
"This year we bought more than we had space for, so we've had cattle out on agistment for later induction," Mr Abel Smith said.
"This allowed us to buy some non-weaned cattle which would then be properly weaned and socialised before hitting the feed yard. By doing this we have had very few health issues to deal with."
Given the less favourable conditions in the north, the company now looks likely to fill the feedlot with its own station-bred steers.
Mr Abel Smith said tighter margins for feeding in recent years meant keeping input costs under control was a high priority.
"But the last few months have been better, due mainly to large numbers of cattle being on the market and fewer buyers due to dry conditions – this has pulled prices down," he said.
"Grain prices have eased also from very high levels of a couple of years ago."
A further 500 cattle on agistment in Victoria are still to come through the feedlot.
Room will be made for them at the feedlot first, and after that the company may consigning cattle to the feedlot from Anna Creek and some of the other stations, a spokesman said.
Apart from pen cleaning, the facility stays pretty well close to capacity most of the time.