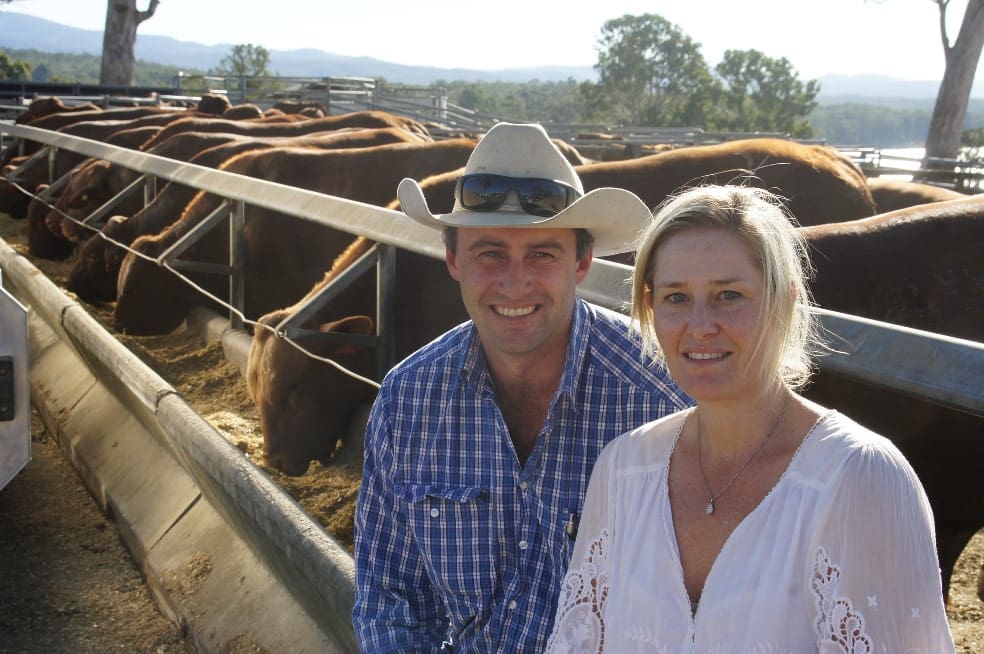 Bill and Georgia Wilson, pictured inspecting Santa bulls at the recent Yulgilbar Station field day
PARTICIPATION in the recent MLA Producer Challenge was revolutionary, rather than evolutionary for a young beef producing couple running cattle near Wangaratta in northeastern Victoria.
Bill and Georgia Wilson, Riverglen, operate a small breeding herd near Edi in the King Valley, and decided to apply to join the MLA challenge a year or so ago as a means of optimising the business's potential.
The result has been a lift in return on investment from 1 percent to 4pc, mostly achieved in the past 12 months.
"The attraction for us, as young farmers who have bought our own block, and have ambitions to make a lifelong career in the cattle industry, was to use the Challenge to explore ways we could improve the productivity of our enterprise," Georgia said.
"I guess we wanted to benchmark where we were up to, relative to others in the industry, and where we might improve, to help make that happen," she said.
Bill and Georgia were special guests at the recent Yulgilbar cattle field day held in northern NSW. Their designated MLA Producer Challenge program 'mentor', agribusiness consultant Bill Hoffman, was one of the official speakers at the event.
The Wilsons bought their 450 acre King Valley farm four years ago, and while they 'love living where we live', quickly realised that the business had to be sustainable in the long term, to justify its existence.
The couple have another business stream in the form of a hay and silage contacting business, but it was "important for the farm to pay its way," Bill said.
The 450ac property currently runs 250 Angus commercial breeders plus followers, producing F1 Charolais and Speckle Park crossbred calves. The block carries an average of 24DSE, year-round.
Most of the six competitors in this year's MLA Producer Challenge (click here for background, via the MLA website) were younger couples, which the Wilsons felt probably reflected the thirst for knowledge and experienced advice from among younger industry stakeholders.
Under the Challenge program they were partnered with agribusiness and cattle consultant, Bill Hoffman, who acted in a mentor role for 12 months.
"Some of the other challenge participants already knew their mentors, but we had not heard of Bill," Georgia said. "But we quickly struck up a good relationship, and he obviously had deep knowledge and understanding about the topics we were interested in."
Since the process started, the Wilsons' return on investment has gone from about 1pc to just under 4pc.
"While we obviously would not expect to keep making that sort of improvement every year, it's got us quite excited," Bill said.
"And what's excited us the most is the fact that we've done that without radically changing enterprises – it's been mostly tweaking what we're already doing," he said.
"To be honest, we don't currently have the income to make major changes, through investment. It's more fining-tuning."
The Wilsons said they were 'really receptive' to Bill Hoffman's ideas.
"We started with analysing what we currently had. Because of where we are it's probably not the best place for beef, with a lot of dairying and horticulture in the immediate district, but beef was what we want to do, so it was a matter of how can we deliver the best possible beef enterprise we can in this location," Georgia said.
"As a result of the exchanges we started to have with Bill, we really started to analyse our enterprise, work out what the profit drivers were in our business, and really focus on them," Bill said.
"We're in a very productive area, so for us, the big profit drivers are production. Last year, we produced about 450kg of beef to the hectare, but the year before that, it was only just over 200kg."
"We had a very bob-tailed spring last year, with only a couple of significant rainfall events. The autumn was very good, but we were really in a position to make the most of it, because the farm was really run down when we bought it, and have put a lot of effort over the past three years into pasture renovation."
"That's really starting to come to fruition now. The past 12 months as part of the MLA Challenge has really boosted our progress, but we'd started to put the framework into place over the previous couple of years," Bill said.
"The Challenge process has been the icing on the cake."
The key targets in dialogue with Bill Hoffman became kilos of beef/ha and cost of production.
"Before we started with Bill, we didn't know how to calculate our kilos or costs, so at least now we have a benchmark to work from," Georgia said.
Feed utilisation was also an area where the trio put a lot of effort into.
"Previously, it wasn't bad, but it wasn't spectacular either," Bill said.
Another management change which the Wilsons are confident will deliver value, over time, has been changing their calving time.
"We've brought calving forward by six weeks, to make better use of our spring feed," Bill said.
"That in turn means we can get our calves off earlier, and feed our cows less through the following winter, and hopefully have an extra condition score on the cows the following season."
Rotation is another key to better feed utilisation across the Wilsons' ryegrass and annual pastures. Having the hay and silage contracting business at their disposal, the operation makes good use of fodder conservation, when circumstances allow, mostly pasture silage, used to extend the spring window.
Future plans include how the Wilsons can best utilise their substantial water rights access, through flood irrigation. They planted lucerne was sown into the area this year, after being utilised for the first time last year as a fodder crop. The irrigation potential will become a considerable focus for future productivity improvement, Georgia said.
The Wilsons are also shifting their emphasis from turning off weaners to grower cattle, either to feedlots or grass finishers.
"We see a big difference, price-wise, from selling a 280kg weaner to selling a 420kg feeder steer – and in our country, it's not necessarily a lot of time to do that," Bill said.
"We see a big difference, price-wise, from selling a 280kg weaner to selling a 420kg feeder steer – and in our country, it's not necessarily a lot of time to do that," Bill said.
"Better utilisation of that feed, and irrigation is part of the process to allow us to run those weaners longer. At this stage, we haven't had to reduce our breeder numbers to compensate."
Overall, the Wilsons say their experience in participating in the MLA Challenge was both 'enlightening' and 'liberating', in helping drive their small cattle enterprise to express its full potential.
"We don't see this as going through a 12-month process and that's it," Bill said.
"It will be part of an ongoing management process, having seen the results we have in the first 12 months."
"But one thing that we've really learned already is that while it's good to measure, you need to do something with those statistics to deliver value from them. Working on those four key points is the key for us. Better feed utilisation is our main one, as is working on our cost of production. We've driven down our cost of production this year, but we think there's still a long way to go."
The Wilsons had the distinction of being the smallest land-area of all the contestants in this year's MLA Challenge, which they saw as an even greater motivator to working harder to achieve greater efficiency and profitability from the land area they manage.
"We'd love to have 10,000 acres somewhere and just be beef farmers. But at the moment it's about developing and utilising our current property as best we can," Georgia said.