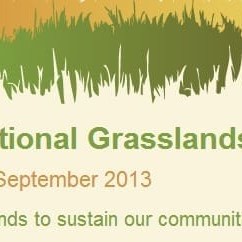 AS demand for meat and dairy products skyrockets worldwide, the livestock sector continues to search for ways to reduce its global greenhouse gas emissions 'hoofprint'.
Scientists from around the world gathering in Sydney this week for the International Grasslands Congress will hear a presentation on an exciting scientific development that marks a promising opportunity for the livestock sector to reduce, rather than ramp-up GHG emissions.
Researchers from the Colombia-based International Centre for Tropical Agriculture (CIAT) will present new research findings on the dissemination of new varieties of a grass species that reduce emissions associated with the foraging practices of cattle, pigs, chickens and other animals.
Many grasses and forages grazed by animals 'leak' nitrogen, which becomes nitrous oxide when it hits the atmosphere. Nitrous oxide is the most powerful and aggressive greenhouse gas, with a global warming potential 300 times that of carbon dioxide. Soy beans, for example, are known to emit nitrous oxide.
But CIAT scientists discovered that the brachiaria species of nutritious tropical grass, traps nitrogen in the soil thanks to a special chemical cocktail in its roots.
This phenomenon, called 'biological nitrification inhibition' (BNI), does more than enable these plants to block nitrous oxide. It also pumps nitrogen, one of the main ingredients in fertiliser, into the soil, leading to higher yields for crops planted alongside these grasses and less need for chemical fertilisers, such as ammonium.
Already widely grazed in Queensland's far northern high rainfall coastal areas, the brachiaria tropical grass is also grown widely in Brazil, Nicaragua and Colombia, as well as some African and Southeast Asian countries.
Scientists hope to rapidly and widely disperse these new varieties of grasses to maximise their potential climate change-reducing impact, an International Rangelands Congress statement said.
"Nitrous oxide makes up 38 percent of all GHG emissions in agriculture," said Michael Peters, who leads research on forages at the Colombia-based International Centre for Tropical Agriculture.
"Biological nitrification inhibition offers what could be agriculture's best bet for keeping global climate change within manageable limits," he said.
Scientists at CIAT and the Japan International Research Centre for Agricultural Sciences (JIRCAS) have researched BNI collaboratively for the last 15 years.
"This approach offers tremendous possibilities to reduce nitrous oxide emissions and the leaching of polluting nitrates into water supplies, while also raising crop yields through more efficient use of nitrogen fertiliser," said G.V. Subbarao, a senior scientist at JIRCAS.
As a result of recent advances, scientists have developed the means to exploit the BNI phenomenon on a large scale:
CIAT researchers have found ways to increase BNI through plant breeding in different species of Brachiaria grasses. The new techniques include methods for rapidly quantifying BNI in Brachiaria together with molecular markers, which reduce the time needed for field testing.
Centre scientists have also just gathered evidence that a maize crop grown after Brachiaria humidicola pastures gave acceptable yields with only half the amount of nitrogen fertiliser normally used, because more nitrogen was retained in the soil, thus reducing nitrous oxide emissions and nitrate leaching. The researchers determined that BNI had boosted nitrogen-use efficiency by a factor of 3.8.
In addition, scientists have developed hybrids of Brachiaria humidicola and delivered these to farmers in Colombia and Nicaragua for productivity and quality testing. Previous grass hybrids have increased milk and meat production by several orders of magnitude, compared to native savanna grasses, and by at least 30 percent compared to commercial grass cultivars. Based on evaluation of the new hybrids and with the aid of simulation models, researchers are studying where else the hybrids can be introduced and on how large a scale.
"Livestock production provides livelihoods for a billion people worldwide, but it also contributes about half of agriculture's GHGs," Dr Peters explained.
"BNI is a rare triple-win technology that's good for rural livelihoods as well as the global environment and climate. It defies the widespread notion that livestock are necessarily in the minus column of any food security and environmental calculation."
BNI had huge possibilities for reducing nitrogen leakage, CIAT scientist Idupulapati Rao said.
"Grassland pastures are the single biggest use of agricultural land—covering 3.2 billion ha out of a global total of 4.9 billion. In Brazil alone, 11 million ha of grassland has been converted to maize and soybean production, and another 35-40 million could be shifted to crop production in the near future. Instead of more mono-cropping, developing countries need to integrate Brachiaria grasses into mixed crop-livestock systems on a massive scale to make them more sustainable."
In a major breakthrough, JIRCAS scientists discovered several years ago the chemical substance responsible for BNI and developed a reliable method for detecting the nitrification inhibitor coming from plant roots. Scientists at CIAT then validated the BNI concept in the field, demonstrating that Brachiaria grass suppresses nitrification and nitrous oxide emissions, compared with soybean, which lacks this ability.
Other research has shown that deep-rooted, productive Brachiaria grasses capture large amounts of atmospheric carbon—on a scale similar to that of tropical forests—a further plus for climate change mitigation.