A LANDMARK study into the environmental performance of the Australian beef industry over 30 years shows that steps undertaken by cattle producers have led to significant reductions in emissions, water use and emissions associated with land use.
The Life Cycle Assessment study, analysing the three decade period from 1981 to 2010, quantifies the environmental impacts of Australian beef production. The project was funded by Meat & Livestock Australia.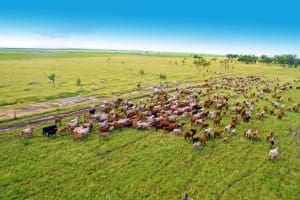 Results show that improved genetic selection of animals, heavier finishing weights, increased survival rates, capping of artesian bores and a decline in irrigation, as well as an increase in lotfeeding since the early 1990s have been key developments in reduced environmental impact and improved productivity.
MLA on-farm innovation and adoption general manager Dr Matthew McDonagh said investing in the research provided the most comprehensive analysis of the environmental efficiency of Australian beef production on-farm.
"The results from this study have given us valuable long-term data on the Australian beef production system and a benchmark to equip industry with quantitative data and facts to reinforce Australia's credentials as being producers of high quality beef, both here and with our customers overseas," he said.
"This is also a critical body of research in helping industry respond to any misconceptions around environmental impacts of beef production, given that the Australian beef industry covers almost half of Australia's land-mass and is one of the country's largest agricultural industries. Beef is worth $17 billion to the Australian economy and employs more than 200,000 people," he said.
Lead author of the paper Steve Wiedemann, from FSA Consulting, said the landmark study provided a more accurate picture of the Australian beef industry's environmental footprint.
"In the past, work has been undertaken to look at trends with emissions, water and land use, but this is the most comprehensive study undertaken to date using a life-cycle assessment approach – a widely accepted methodology which is used internationally for measuring the environmental performance of products such as beef," Mr Wiedemann said.
The study showed that changes to farming practices actively pursued by the industry, such as a focus on productivity and herd management, have resulted in dual benefits by reducing environmental impacts per kilogram of product, while at the same time improving productivity.
Fifth generation Queensland beef producer Lachlan Hughes, from Dulacca, said the study provided tangible data that demonstrated significant productivity and environmental gains.
"I believe the Australian beef industry is committed to enabling transparency across the supply chain and this study demonstrates that all the hard work is paying off. We have quantified performance across water, GHG emissions, energy and land use, and now we also want to look at how we quantify other environmental impacts, like soil health and biodiversity. We remain committed to sustainably managing our land and reducing resource use wherever possible into the future," he said.
Positive impact of lotfeeding noted
While environmental efficiencies were improved on a national scale, grainfeeding in feedlots showed specific improvement, the report showed.
President of the Australian Lot Feeders Association, Don Mackay, said this could be attributed to the fact that cattle were now 'finished' more quickly resulting in a reduction in resource use over the animal's life cycle.
"Feedlot cattle spend 85-90pc of their lives on pasture, but feedlots allow us to finish beef more quickly and to heavier weights, which means a reduction in overall emissions, water use, land use and waste," Mr Mackay said.
"This is still the case even when additional feedlot management impacts such as transport and feed production are taken into account, as they were in this study," he said.
Key findings from the research:
GHG: 14pc reduction in Green House Gas (GHG) emissions intensity. Over the three decades from 1981-2010 there has been a decrease in greenhouse gas intensity (excluding land use change (LUC) emissions) of 14pc, from 15.3 to 13.1kg CO2-e/kg liveweight
WATER: 65pc reduction in consumptive water use for beef production. This has dropped to almost a third over the three decades from 1981, from 1465 L/kg LW to 515 L/kg LW. Total consumptive water use was dominated by drinking water requirements, water supply losses and irrigation water use
ENERGY: Energy demand increased almost two-fold over the analysis period from 6.3-11 MJ/kg LW, as a result of intensification in the supply chain. This was a clear example of trade-offs between impacts and resource use; improved productivity was partly achieved via greater inputs of energy resources to produce grain and provide higher digestibility diets.
LAND USE: This indicated a decline of around 19pc in land occupation for grazing per unit of production over the analysis period. This intensification of land use (i.e. an increase in the beef production per ha of land occupation) reflected both the increase in herd efficiency and a decrease in total land use for grazing.
LAND USE CHANGE GHG emissions: Estimated by the paper authors to have reduced by approximately 42pc since 1981, mainly due to vegetation protection and tree planting, although cautioning a lower degree of certainty with the data available for land-use change. The decline largely reflects the ban on broad scale clearing in Queensland.
The study has been published as a peer reviewed paper in the journal, Agricultural Systems.
Further details on the study can be found through the industry's online platform, Target 100. Click here to access.