A STUDY comparing the Indonesian feedlot and carcase performance of Australian-bred F1 Senepol x Brahman steers against straight Brahmans has seen the crossbreds perform more than favourably across a range of key performance indicators.
Part of the motivation for the trial was a perception that certain crossbred cattle won't perform as well in Indonesian feedlots as high grade Brahmans.
Providing hard evidence against this, the F1 Senepol steers in the trial produced commercially-significant advantages over Brahmans in average daily gain, fat cover and ultimate weight when run under typical Indonesian feedlot conditions.
Northern Territory DPI&F's Dr Tim Schatz presented findings from the study at the annual Kidman Springs field day held in the NT last week.
For the purposes of the trial, NT DPI&F formed a collaborative partnership with Elders Indonesia, which agreed to purchase Brahman and F1 Senepol (tropically-adapted bos Taurus) steers from the department, and allowed their performance to be analysed in the Elders feedlot near Lampung, in Sumatra.
The Senepol F1 and straightbred Brahman steers had been transported to the Douglas Daly Research Farm shortly after weaning, where they grazed improved buffel pasture in one mob as part of a cell grazing trial from June 2013. They were sold to Elders in late February this year.
The whole mob was weighed on February 26, with steers 300kg and over (unfasted weight) selected for sale. This resulted in 24pc of the Brahman steer group (32 head) and 57pc of the F1 Senepol steers (54 head) hitting the required 300kg minimum.
This highlighted how the heavier weaning weights and higher growth led to a higher proportion of crossbred steers being turned off earlier, Dr Schatz told the Kidman Spring field day audience.
At arrival at the Berrimah export yards, the combined steer sale group averaged 313kg. After some delays in shipment, they were consigned from Darwin on the MV Gelbrey and arrived at Elders Lampung feedlot on March 12.
The steers went onto a starter ration, weighing 310kg at induction. They were then fed the feedlot's normal commercial ration for 121 days from induction, until a final weight and ultrasound-recorded fat depth was recorded on July 14. The finisher ration comprised tapioca waste, tapioca chip, dried distillers grains plus solubles, copra meal, palm kernel cake, napier grass and molasses.
All steers received ractopamine (Optaflexx) for the final 30 days, now widely used in Indonesian feedlots.
Feed intake over the entire feeding period on all trial cattle averaged 13 kg/head/day as fed (10.4 kg dry matter basis). Both groups were fed in the same pen to allow direct comparison between genotypes.
At closeout, the steers were transported to the Elders abattoir at Bogor, south of Jakarta for slaughter and boning. After slaughter, hide removal and evisceration, the carcases were split into sides, weighed and chilled overnight before boning the next day.

The data (see table published here) showed that while the steers of both genotypes performed well, the overall feedlot average daily gain of the F1 Senepol steers was 0.17 kg/day higher than the Brahmans (1.54 kg/day vs 1.71 kg/day).
Average P8 fat depth of the F1 Senepols was similar to the Brahmans, even though they were heavier.
"This indicated that their mature size is larger and hence they can be fed to heavier weights before becoming over-fat when the Indonesian wet market is targeted," Dr Schatz said.
"These results show that when a tropically adapted Bos Taurus breed such as the Senepol is used in crossbreeding, cattle buyers should be able to buy these types of cattle for Indonesian feedlots with confidence that their clients will be happy with their performance," he said.
Strong performance noted by feedlot manager
Elders Indonesia feedlot operations manager Dick Slaney said having not fed Senepol-influenced cattle previously, he was 'super-impressed' with the crossbreds' feedlot performance.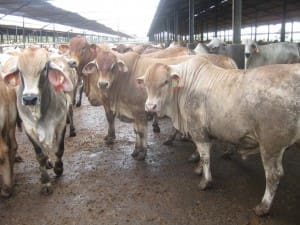 "They looked like they were done at 70 days, and I was concerned they might go to fat, given that they still had another 50 days to go. But they didn't: they just kept growing and didn't put on more fat – I was really surprised," he said.
"Their daily gains were about 0.2kg/day above the Brahman steers, which is a lot, by feedlot performance standards. These steers were doing 1.7kg.day, where we would expect to see Brahmans at around 1.5kg."
While the Lampung feedlot already fed a lot of Charbray and composite type cattle, these were the first carrying any significant Senepol cross over Brahman dams.
"They were nice fine-boned cattle too, whereas the Charbrays can at times carry heavier bone. We did bone-out these cattle, and the crossbreds produced meat yields about 1pc above the Brahmans."
All of the trial cattle went into chilled Jakarta supermarket programs plus hotels and restaurants, under the Elders Classic Cuts brand.
"Based on that performance, if I could buy those cattle again, I would – and I'd pay a couple of cents more per kilo for them," Mr Slaney said.
He said the Senepol F1s handled the local conditions (daytime temperatures 36 degrees, humidity +80pc) with no problems at all.
Mr Slaney stressed, however, that it was dangerous to lump all Indonesian feedlot customers into one box in terms of breed preferences.
"Indonesia has many importers, and each may have different opinions on crossbreds," he said. "Too many Australian stakeholders try to lump them all into one, wheras in truth, every single importer has different likes and dislikes because that's the way the market sees it."
"Jakarta markets tend to shy away from red cattle, for example, but Sumatran markets don't really have a problem with them."
NTDPI&F asked Beef Central to acknowledge the cooperation of Elders Indonesia and specifically Dick Slaney, Jason Hatchett and the staff at the Lampung feedlot for their excellent cooperation and assistance during the project.