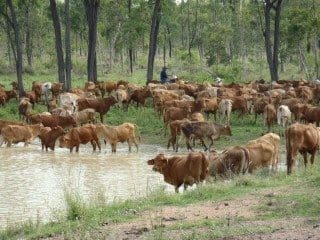 Queensland's recently appointed agriculture minister Leanne Donaldson says a key cattle research station is poised to perform important work for the northern cattle industry following a multi-million upgrade in recent years.
The 38,000 hectare Spyglass Research Station north of Charters Towers was established by the Bligh Government in 2011 when two properties were bought and merged to create the new research station.
Ms Donaldson toured the station today, inspecting the results of a reported $8.5 million on stock yards, water infrastructure, access roads, staff quarters, data connection and offices.
The latest stage of the significant infrastructure upgrade for the property will involve the creation of a 300 megalitre water storage dam in the north east of the 38,000 hectare facility, where limited water is currently available.
The dam will be constructed with earth walls and two spillways, to enable it to handle a one in 100 year flood.
It will provide an estimated three-year supply of storage.
Tenders are currently being called for construction of the project, which is expected to be completed in May.
Ms Donaldson said the facility provides crucial support for North Queensland's beef industry.
With a record 86.11 per cent of Queensland in drought, work at the station is designed to help producers to combat dry conditions.
"As any producer in a drought-declared area would know, a cattle business is only as good as its grass, and Spyglass also hosts a range of feed base research including better pasture and legumes, grazing land management, fire management and the application of new technologies," she said.
"The Palaszczuk Government remains committed to ensuring Spyglass stays at the frontline of the North Queensland beef industry's research and development.
"The establishment of this facility is no small feat, and I congratulate facility manager Stephen Anderson and his team who have made this happen."
Minister Donaldson also praised Spyglass for its research into genetics, reproduction, nutrition, welfare and husbandry in consultation with Meat and Livestock Australia and northern beef producers.
"This includes a major five-year genetic research project exploring early-in-life female reproductive performance across three tropical beef breeds – Brahmans, Droughtmasters and Santa Gertrudis," the Minister said.
RELATED STORY: Spyglass opens gates to first breeding herd