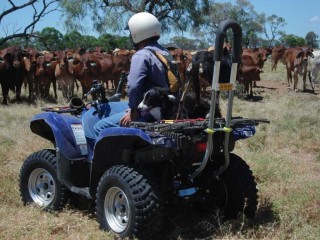 A trans-Tasman working group has recommended new safety measures to curb the rate of on-farm deaths and injuries that occur as a result of quad bike related activities.
According to Farmsafe Australia, there have been more than 130 deaths on Australian farms involving quad bikes since 2000.
At the same time an average of five people are killed on New Zealand farms every year as a result of quad bike use.
The chairman of the Heads of Workplace Safety Authorities (HWSA) John Watson said the organisation has endorsed a new range of measures aimed at improving safety across the quad bike and agricultural industries.
Mr Watson said most fatalities resulted from head injuries or from being trapped under overturned vehicles.
"Every single fatality has an immeasurable effect on families, friends, and communities, and it is clear that something needs to be done," Mr Watson said.
The strategies recommended by the working group include:
Improvements to point of sale material to guide farmers in purchasing the vehicle best suited to their needs and profile;
Providing farmers with the option to fit safety improvements such as devices to protect riders in case of a rollover, under certain conditions;
The introduction of nationally recognised rider training;
Guidance materials to assist in providing a better match between quad bike accessories and the host vehicle;
Compliance with manufacturers' guidelines in relation to passenger carrying, load requirements and rider age – ie children to not operate adult sized bikes;
The mandatory wearing of approved helmets.
The measures were developed by a working group comprising representatives of Australian and NZ workplace health and safety regulators, manufacturers, unions, automotive associations and farming associations.
"While some of these measures may not be popular, we believe they are essential if we are to reduce the number of injuries and fatalities from on-farm use of quad bikes," Mr Watson said.