Splatter gun technology testing is successfully attacking several rangeland weeds, minimising chemical usage and better targeting weed outbreaks.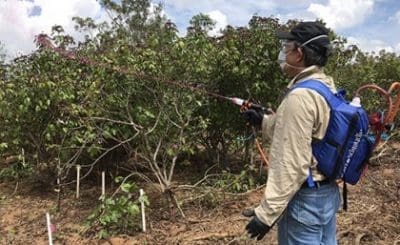 The technique involves applying a high concentration jet or 'splatter' of herbicide onto the foliage of plants.
Dr Shane Campbell from the UQ School of Agriculture and Food Sciences has been collaborating with scientists from the Queensland Department of Agriculture and Fisheries Tropical Weed Research Centre to test the suitability of this technique for rangeland weed control.
"After other researchers found that weeds such as lantana, blackberry, Siam weed, bitou bush and isolated bellyache bush plants could be kept in check using this method, we decided to test it on rangeland weeds," Dr Campbell said.
"We used backpack-style equipment, consisting of a small container holding the herbicide mixture, with either a manual or gas powered handgun capable of targeted delivery from up to 10 metres away.
"We can also scale it up to be used with larger tanks and gas bottles, as well as on ATV-style vehicles."
Advantages of the technique include lower chemical and water usage, minimal damage to non-target plants, portability and ease of accessing weeds in difficult terrain or severely infested areas.
The researchers are using the technology to target Australia's Weeds of National Significance, such as  gamba grass, bellyache bush, rubber vine and prickly acacia, which are invading valuable grazing pastures in the northern rangelands.
Chinee apple was also included in the study, as it is becoming more of a problem in rangeland areas.
"Some work on isolated bellyache bush plants has been undertaken, but our new research aimed to determine whether dense infestations could also be controlled effectively," Dr Campbell said.
"The splatter gun approach has proven highly effective for controlling isolated gamba grass and dense bellyache bush, but results for other species have been varied.
"It's not quite as straightforward as traditional foliar spraying, and many factors seem to influence whether it will be effective or not.
"These include the growth habit and health of the weed and the environmental conditions at the time of spraying.
"The take home message is splatter gun technology will not be effective for all rangeland weeds, but for those that are susceptible, such as gamba grass and bellyache bush, it offers an additional control option.
"It could be a particularly useful tool for 'opening up' dense infestations of susceptible weeds for follow-up control."
Once all the final assessments are completed, the team will seek registration for the most effective options.
The research was made possible through funding made available through the Australian Government Department of Agriculture's 'Control tools and technologies for established pest animals and weeds program' and the Queensland Department of Agriculture and Fisheries.
Source: UQ