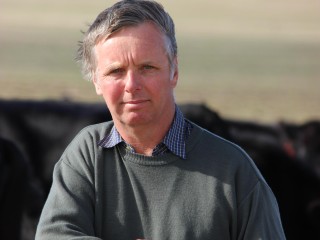 Opening rain across key cattle regions of Victoria and South Australia in the past fortnight has provided a lifeline for southern Australian producers who have been hit by poor market returns and a run of very dry months.
Coolana Angus stud principal Mark Gubbins says the rain has arrived just in time in many areas, as record dry conditions from spring, summer and autumn tested the resolve of producers.
Mr Gubbins, from Chatsworth in Victoria's Western District, said the prospect of a change in the season was one of several reasons he remained fundamentally optimistic about the cattle industry.
Lacklustre cattle prices and the prolonged dry have meant Mr Gubbins' has realistic expectations ahead of Coolana's special female sale on Thursday (May 23) at Chatsworth.
"Times are pretty tough, so I'm realistic about the fact that as producers, we're not making as much money as we want to," Mr Gubbins said.
Talking to Beef Central last week while visiting his two properties in the Coorong district of South Australia, Mr Gubbins was clearly relieved that rain had finally arrived. The well-known beef breeder said his SA farms had received 50 millimetres of gentle, steady rain over a number of days.
"It's given our Coorong country a really great start. I think we've got a season here," he said.
"We didn't really have a spring (in SA) and we've struggled ever since. It's been hard work and if the dry continued, we were in real trouble – I think everyone was.
"The rain has given everyone a bit of a reprieve, even though it hasn't been as widespread as I would have hoped."
The Australian Dollar's current drop below parity with the US Dollar was also encouraging for Mr Gubbins.
"For a while the high Aussie Dollar wasn't hurting us too badly, but it is now. We're struggling to compete against US beef in Japan, which is a key market for black cattle," he said.
"So if our dollar drops back a bit, it will make things a lot easier."
The fact that Australian grassfed beef, under the Angus Pure label, is now being exported to the United States, was further reason to be optimistic about the future.
"That grassfed product is something the US hasn't really seen before and it's something we do so well, so I'm excited by opportunities like that," he said.
Mr Gubbins believes many problems in the northern beef industry have spread to the south.
"I believe we're still suffering the hangover from the Indonesian live export fiasco. So to a certain extent, the Federal Government is to blame for the cattle industry's problems," he said.
"We've ended up with an oversupply nationally because there have been a lot of cattle hanging around in the system which might have otherwise filled Indonesian orders."
Mr Gubbins said the oversupply was just one of the many factors which were having a negative impact on the beef industry.
"Livestock prices right now are hurting the hell out of everyone and they've come on the back of a couple of seasons which have been pretty tight in a lot of regions," he said.
"Last year, the season didn't really start in Victoria until June/July and then cut-out by October. So the last night months have been incredibly difficult."
He said while fodder prices had risen, feed costs were still very reasonable for those who had bought hay.
"We've stopped bringing hay over to the Coorong from Chatsworth in the past fortnight, just so we've got enough at home in case we get a tough winter," Mr Gubbins said.
"We bought three loads of hay for our SA cattle, paying $200 a tonne for sorghum hay and oaten hay, which I think is a reasonable price to pay.
"In the Western District, fodder prices are driven by the dairy industry quite a bit. Dairy farmers are really struggling and some aren't able to pay their feed bills, so there's been some bad payments for hay and now there's a reluctance to sell to dairy farmers."
Mr Gubbins said the cyclical nature of seasons and the market gave him confidence. He was optimistic that the industry was currently at the bottom of the cycle, in relation to both market conditions and the season.
"Whenever there's an oversupply and prices drop, eventually our beef will get to a price where it is more affordable on global markets and the world will start to buy it again," he said.
"That will be a positive step, even if we producers have to ensure unsustainable returns in the short-term."
Mr Gubbins said the beef industry had proven over time to be remarkably resilient.
"Think back to the southern weaner sale season and you wonder how on earth all those weaners found a home given the seasonal conditions. But they all sold at pretty reasonable prices, which was quite encouraging," he said.

See Beef Central for further updates on southern industry conditions tomorrow