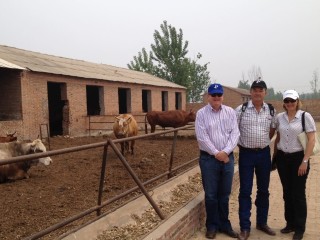 A recent trip to China has helped a leading Queensland seedstock and stud cattle enterprise to identify a range of opportunities in the rapidly growing market.
David and Prue Bondfield, Palgrove Charolais, Dalveen, recently visited China with BDO China Advisory Services Lead Partner Dennis Lin.
Mr Bondfield said the decision to look to China for future growth had been a natural progression of existing expansion plans and was an opportunity to develop product knowledge at a consumer level.
"Traditionally, the main focus of Palgrove has been the supply of genetics and sale of bulls within Australia," Mr Bondfield said.
"While we do already export cattle and genetics to other parts of the world, including Russia, North America and Thailand, we really see a positive future to grow our brand in China.
"Given the recent surge of beef exports to China over the past 12 months, we thought the timing was right to start cultivating long-term relationships in order to keep momentum going and further grow our brand off-shore.
"Our focus now is to continue to build the brand in China and work with our commercial clients in Australia to establish 'Palgrove genetics' beef products to supply to all Asian markets" he said.
Prue Bondfield said their recent trip to China with business and corporate advisory firm BDO had helped secure key contacts, and was paving the way for long-term partnerships at a business and government level.
"The challenge now faced is engaging directly with our contacts at a business level given the vast cultural, economical and political differences that exist between us," Mrs Bondfield said.
She said the connections, knowledge and expertise provided by BDO had made the visit extremely productive.
"It's not enough to simply be accompanied by a translator. You need someone who understands your business as well as the business environment in China.
"Business dealings in China are quite different to negotiations in Australia so you really do need someone to help you navigate through the intricacies of how Chinese business operates," she said.
BDO China Advisory Services Lead Partner Dennis Lin, who accompanied the Bondfields on their recent trip to China, said he was thrilled to be assisting Palgrove in its expansion into Asia.
"It's great to see Queensland farmers looking to China to secure solid trade and business partnerships for the long term," Mr Lin said.
"While there are certainly a lot of opportunities currently on offer in China, it is imperative that business owners carefully build relationships through time, dedication and strategic planning in order to secure long-term partnerships.
"This may take anywhere from a few months to a few years – it all depends on the cultural, political and economic environment of the area you're dealing with.
"The Bondfields are committed to meaningful relationships in China which will no doubt contribute to their future success," he said.
The Bondfield family have been breeding stud cattle in Queensland for more than 40 years and are considered innovators amongst industry peers for their contribution to breed development.
Headquartered in Dalveen, Queensland, Palgrove Charolais is one of Australia's leading seedstock producers and stud cattle breeders.