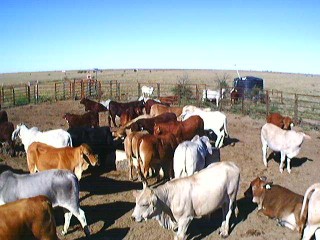 A group of north west Queensland beef producers have teamed up to participate in a Producer Demonstration Site (PDS) to investigate the effectiveness of the latest remote technology.
The PDS is being run in conjunction with the inaugural Richmond Beef Challenge which saw nine producers from the Richmond Shire each entered five head of steers (0–2 tooth, 300– 400kg) into a host paddock in June 2011.
PDS coordinator, Rebecca Matthews, FutureBeef Extension Officer in Cloncurry (Queensland Department of Agriculture, Fisheries and Forestry), said the Group wanted to investigate the effectiveness of walk over weighing (WOW) and remote monitoring cameras as part of the Challenge.
"We are using an automated WOW bridge supplied by Precision Pastoral that weighs the Challenge animals every time they exit the water yard through the spear trap," she said.
This weight data is correlated to their NLIS tag with a panel reader and is uploaded to the group's website on a weekly basis.
uSee remote monitoring cameras provided by Harrington Systems Electronics (HSE) monitor the water trough and tank levels at the water yard and pasture condition at a site two kilometers from the watering point. Both cameras are programmed to take photos daily which are automatically uploaded to the uSee website www.usee.com
Faecal NIRS samples are collected on a monthly basis to enable the group to correlate diet quality to liveweight response.
"We hope to demonstrate the effectiveness of WOW technology to identify management trigger points for decisions such as when to sell stock and when to start dry season supplementation," Rebecca said.
"We also want to determine the effectiveness of the remote cameras to reduce labour costs associated with water runs, pasture monitoring and to provide early alerts to problems such as water shortages."
Results to date
The PDS is due to finish in mid-2014 and although no definitive results have yet been released, Rebecca said several interesting observations had been made.
"The group waited until the WOW data showed that weights had begun to plateau before starting to feed lick to the steers in mid September last year," she said.
"This was six weeks later than the neighbouring Flinders Beef Challenge who did not have access to this information. This represents a significant saving on lick bills across a larger herd."
Rebecca said the technology had also provided an interesting insight into animal behaviour with some animals only watering every second or third day at certain times of the year.
"The WOW system sends an alert when an animal's NLIS tag hasn't been read for several days so we are aware of missing stock or potential problems with individual animals that can be further investigated in person. It also alerted us to one animal who consistently jumped out of neighbouring paddocks," she said.
The weights recorded over the WOW system were also compared to manual weights taken at periodic manual weigh days by the group in November 2011, and March 2012, and found to be accurate.
"In November there was only 200 grams difference between the individual weights recorded manually and the average weights of those individual animals over the week which is impressive" she said.
Practicalities
Beef producer, Alister McClymont, who has several properties in the Richmond district and is co-hosting the Richmond PDS, is a strong supporter of the concept of remote technology but said that, in many cases, the systems were too complex for his own operation.
"One of the biggest problems with walk over weighing is that it requires there to be only one watering point in a paddock and often that is not practical," he said.
"However I can see the benefits of this technology, particularly the WOW because it can tell us how our cattle perform throughout the entire year. "This system can also tell us, within weeks of introducing a supplement, the effect it is having on our cattle, which would be a huge advantage."
Source: Meat & Livestock Australia