Charolais-sired MSA carcases were 40kg heavier and carried 2mm more fat than other carcases on the MSA database with the same ossification score, a recent meat science study has shown.
Meat and Livestock Australia and the Charolais Society have co-funded a three-year project to quantify the benefits of using Charolais sires in crossbreeding programs.
The 400 progeny of Charolais sires and Angus cows were reared on pasture and then either grainfed for 74 days or pasture fed. Both groups were slaughtered to compare their meat quality traits at an average carcase weight of 300kg, and with an average of 9mm of fat cover.
Meat science data on the first cohort of 205 Charolais by Angus steers showed 'very interesting' results, the Charolais Society said in a press release.
The 91 steers that were grainfed for 74 days produced low shear force values, with 98 percent of the samples testing below 5kg (Warner Bratzler shear-force test) and 80pc below 4kg of shear force.
Lower shear force scores correlate to improved levels of tenderness. Earlier studies had shown that 50pc of consumers rated steak as being tender when below 4.4kg of shear force, and 68pc said it was tender if it is less than 3.7kg shear force, the press release said.
Shear force results on the pasture-fed steers were more variable, with 84pc testing below 5kg and 55pc below 4kg.
"These results show that Charolais cross progeny only require a minimum of 70 days on feed and most steers make the grade straight off grass," the Society said.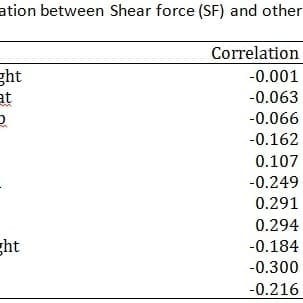 The correlations between shear force and other variables for the steer data is shown in this table (click on image at base of page for a larger view.)
Carcase weight and shear force were not correlated at all. The correlation with rib fat and marbling against shear force was also very low, at 0.06.
"Therefore increasing levels of rib and P8 fat as well as marbling does not increase tenderness. Intramuscular fat (IMF) and shear force were slightly more correlated at -0.162, which indicated that as IMF increased, then shear force decreased," the release said.
"The effect of ossification was stronger than marbling or rib fat, but ossification does not feature in beef price grids even though it is a slightly better predictor of tenderness than any of the 'fatness' measures such as marbling or rib-fat."
"Larger eye muscle area is correlated to lower shear force values and this confirms results reported last year by Murdoch University," the Society said.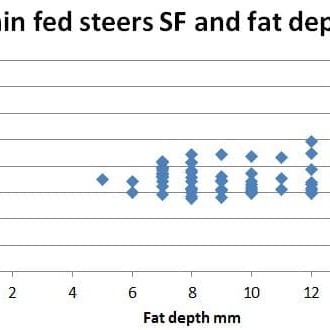 The variable studied in the research project with the highest percentage of correlation to shear force was muscle pH.
"Muscle pH is a measure of the level of acid in the muscle profile and this acid breaks down the actin and myosin protein bonds which cause meat toughness. The correlation was -0.29 which indicated that 29pc of the variation in meat shear force was explained by muscle pH.
"Therefore when pH was higher (less acid) the
meat was slightly tougher and when pH was lower (more acid) the muscle was more tender," the Society said.
There was a correlation of 0.18 between pH and carcase weight which indicated that heavier carcases produced more acid; however, the study did not find a significant correlation between carcase weights and shear force.
The correlation between pH and eye muscle area is stronger than any of the other correlations, which indicates that larger EMAs produce more acid, which increases tenderness, the release said.
The level of intramuscular fat contributes to the level of acid (0.216) but EMA remained a much better predictor of end point tenderness, it said.
"The important message from these results is that rib and P8 fat are very poor indicators of tenderness, and those carcases with larger muscle areas and lower ossification scores will produce more tender meat," the Charolais Society said.