Registrations are now open for the popular Beef Cattle Assessment Course held at Tocal Ag College at Patterson in NSW each year.
The two-day course has been held each September for the past 30 years or more, and if past history is anything to go by, the available spaces will again fill quickly. Organisers must cap the participant numbers to 50-70, for accommodation and catering reasons.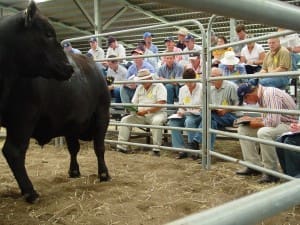 Already there are 'second-generation' graduates of the Tocal course, as sons or daughters complete the program decades after their parents have participated.
This year's course will be held on-campus on September 23-24, featuring facilitators including Bob Dent, well-known beef cattle extension expert with NSW DPI and Angus Australia, and local cattle producer James Laurie, from Moppy, neat Gloucester.
While the course is organised by the New England Angus Breeders group, the event is open to all beef enthusiasts, regardless of breed affiliations, and will utilise an assortment of British, European and Indicus breed types in the education process.
The program opens with discussion on cattle markets and their requirements, and producing cattle for different target markets.
Sessions then follow on identifying muscle and fat in cattle; growth and development; judging exercises; animal structure; female selection; bull selection and soundness; and understanding and utilising Breedplan.
"Meat yield, meat quality and performance in steers is the starting point," course facilitator Bob Gaden said.
"The course then neatly weaves modern breeding technology in with practical assessment of breeding stock to produce the best two-day education module a cattle breeder can get in Australia," he said.
The Tocal course is sponsored by Zoetis Animal Health.
Live-in registrations cost $462 inc GST, or $420 without a night's accommodation. Meals are provided.
Click here to view a brochure, or contact Leanne Stuart for details: Email: Leanne@tamsec.com.au Ph (02) 6766 5400.