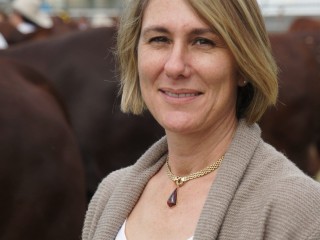 International demand for Organic beef products is such that one US-based end-user has offered to subsidise Australian cattle producers' costs in converting to Certified Organic production, the developer of a new supply chain says.
Simone Tully has a 15-year track record in Organic beef production and supply chain coordination, being one of the key drivers of the trail-blazing Organic Beef Exports group established in Queensland's far western Channel Country in 1996.
OBE was the first organic beef producer network of any significant scale in Australia, coordinating supply from a group of dedicated members across the region.
Ms Tully is now embarking on development of a new Certified Organic supply chain, working with a business partner in her new venture, Australian Organic Meats Group.
Her current focus is on building supply capacity out of Australia to meet 'daunting' international demand for organic foods. She is currently engaging with existing Organic beef producers, as well as prospective ones from the conventional end of the industry who are considering making the transition.
Much of the discussion is centred on executing the transition process, coordinating supply from different areas, achieving targets weights and preferred genetics. The supply catchment area for the AOM program may ultimately extend from the Channel Country and Central Australia through to the Darling Downs and Central Queensland.
Ms Tully said in her experience, the Organic beef sector, being a niche market, thrived on relationships – both horizontal ones among like-minded producers, and vertical ones involving others in the value-chain.
"To function properly, it's about building relationships at different levels, from livestock suppliers to end-users," she said.
"It's as far removed from the commodity end of the industry as you could possible get. I believe the producers that move into Organic certification think a little differently than others. Some people assume venturing into Organics is the opposite of progressive – almost venturing back to earlier times – but I see it as exactly the opposite."
"Logic says it's easier to take the conventional production path, so to some extent, Organic production challenges people, through science, through marketing and other areas."
"But there is no doubt that some producers will always shy away from the idea of putting obstacles in front of themselves (in the sense of limiting inputs in areas like parasite challenge or nutrition) as an unnecessary burden, despite the financial rewards," she said.
Ms Tully said there was also considerable misunderstanding about the audit process involved in Certified Organic production. Contrary to some assumptions, it was not a difficult or laborious process.
"It's a methodical system, much of which is already written for the producer – they simply have to adapt and embrace some of the management tools."
She said in some producers' minds, it was the audit process, rather than productivity penalty that was the biggest obstacle to participating in Organic supply.
Financial costs associated with conversion was also a point of resistance, but Ms Tully said she had one North American end-user customer desperate for access to supply who was offering to pay the audit costs associated with conversion to Certified Organic production by Australian producers.
"But the cost of the audit is only around $1500 a year. It's a small investment for the long-term payoff," she said.
"It does take three years from start to finish, but 36 months, in the context of a beef producer's typical 50-year working life, is nothing. We tell potential suppliers to simply get started and sign the documents, because from that date, the conversion clock is ticking – and they have that time to learn more about organic production systems from other certified producers."
She said Organic production was today attracting two different types of potential suppliers: those doing it primarily for financial reasons, and those who were attracted to the philosophy behind organic production, and the general aversion to using chemicals – on a landscape level as well as a personal health level.
Ms Tully said there were now few geographic boundaries to where organic production could be practised in Australia.
"There are no real barriers to entry. There are Organic producers out around Alice Springs, who are doing a beautiful job. Their main limitation is transport and access to market, but there are ways to solve those issues – it's a matter of linking the right people."
Ms Tully said while the Organic segment was still only about 1pc of overall food sales in Australia, in different markets around the world it was now much larger than that.
"I can see the opportunities for growth, and we have to respond to where the consumer demand is. There is going to be a situation where demand far outstrips supply of Organic beef for some years to come," she said.
"The Organic market segment in most regions of the world is still growing rapidly, and some areas, like Asia, it has not even really started yet."
In countries like the US, major retailer Costco was achieving double-digit growth in its Organic category.
Already established international clients being supplied by AOM were seeing growth from 47 to 60pc year-on-year in their organic categories.
"We're not going to be able to keep pace with that demand opportunity without substantial uptake by conventional producers in Australia," Ms Tully said.
The expanding AOM program will focus on both domestic and export retail and food service segments.
The existing customer base includes North America, Asia the Middle East and Australia, involving everything from chilled table beef to trim. One of the US clients, taking grinding beef, is large and growing US Burger chain Elevation Burger (see today's separate story "Organic supply concern for growing US burger chain"), which is desperate for more Certified Organic beef trim out of Australia and New Zealand to supply its own expansion plans.
While there are some examples where the AOM identity is carried right through to retail in branding (see example on this page), they are the exception, rather than the rule, with most of the product being marketed under the retailer or food service operator's brands.
Within Australia, both dedicated organic butchers and upper-end conventional butchers offering some organic lines were continuing to grow. AOM works with one operator taking the equivalent of 30-40 head each fortnight. Other dedicated organic food outlets like Wrays, had expanded from a single outlet to five over the past few years, spread across southeast Queensland.
Significant value-adding opportunities also existed within the AOM program, which would be developed in the near future, Ms Tully said.
After earlier smaller kills at Casino, AOM has now shifted its processing focus to Teys Australia's recently-accredited Biloela meatworks in Central Queensland. The plant's MSA accreditation will also be sued to underpin consistency of the Certified Organic product.
The intention is to reach several hundred head throughput each week by the end of the year, laying the groundwork for greater supply over the next three to five years.
Ms Tully said managing the supply chain was an important part of keeping the price of organic beef within acceptable boundaries.
"It's a furphy to suggest that Organic has to be the highest priced item on the supermarket shelf to justify the production costs. It depends on what we are comparing with: I don't think our production costs are as high as many niche grainfed products, for example," she said.
Simone Tully is interested in talking with producers about conversion to Certified Organic production. She can be reached via her email address: simone@dewellafarms.com.au