EARLIER this year Victorian cattle producers Niels and Marja Olsen achieved a world first by earning income for capturing carbon from the atmosphere and storing it in the soil on their property.
The company behind the soil carbon project says Australia has all the necessary elements to drive a strong soil carbon market in future.
It is an exciting prospect for livestock producers, particularly those in more productive, higher rainfall areas, because it creates a genuine opportunity to earn additional income for practices that not only improve the health of land and reduce longer term emissions, but potentially also increase the productivity of their enterprise.
The primary barrier preventing greater uptake of soil carbon capture opportunities right now, according to Corporate Carbon's Matthew Warnken, is the relatively high cost of soil carbon measurement.
However, a strategic public investment in the vicinity of $15m would reduce those costs and accelerate uptake, in the process driving a strong private market for carbon which would allow many more farmers to be paid for their environmental stewardship services, he believes.
In March a project involving Corporate Carbon and Niels Olsen, a Gippsland farmer and inventor of the Soilkee Pasture Renovator, became the first to receive carbon credits issued for a soil carbon project under the Australian Emissions Reduction Fund.
The achievement also represented an important 'world first' because the soil credits earned were also the first in the world to count towards a nation's emissions reduction targets under the Paris climate agreement signed in 2016.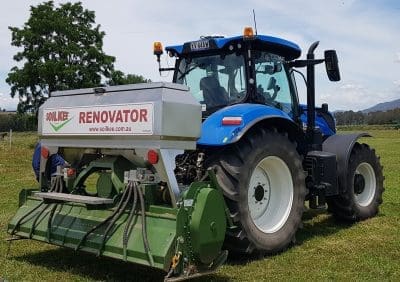 Mr Olsen's Soilkee Pasture Renovator combines cultivation, mulching, aeration and mixed pasture species planting to build soil carbon and at the same time to improve grazing systems. The Soilkee is said to be able to create soil carbon in pastures in higher rainfall areas at rates comparable with forests.
How do farmers earn carbon credits for capturing and storing soil carbon?
The process involves soil coring at various points around their property to measure the existing carbon levels in the soil, engaging in agricultural practices known to pull carbon from the air into the ground, such as planting certain crops and pastures, and then getting paid on the amount of carbon added to the soil when it is measured at a later period, every one or two or five years for example.
The process involves an upfront cost but also opens up the opportunity for farmers to earn an income stream from building up stored carbon, that is effectively sold to government under contract or to big polluters who are trying to offset their emissions.
What are the costs and the returns at present?
The focus of investments under Australia's Emissions Reduction Fund to date have been largely directed towards landfill gas, vegetation and tree-based projects, but the potentially enormous role that improving soil carbon levels can play in reducing emissions through improving soil health is yet to be realised.
The soil carbon credits presented to Corporate Carbon and Niels and Marja Olsen represent a move in that direction.
When issuing the first soil carbon credits in March, the chair of Australia's Clean Energy Regulator, David Parker, noted that soil carbon capture and sequestration is an innovative emissions reduction measure.
"There is a triple win in aiding international efforts to address climate resilience, improving soil health and food productivity, and the bottom line for farmers," he said.
"This project is an example of the co-benefits that can be achieved under the Emissions Reduction Fund, and a beacon of innovation in the agricultural sector."
Corporate Carbon's Matthew Warnken told Beef Central the current costs of soil measurement are around $5000 per 200 hectares – a cost he is confident will more than halve in the next two years.
Returns for soil carbon projects are in the order of $10 net per tonne of carbon dioxide captured and stored.
The Soilkee mixed pasture forage system in higher rainfall areas can generate up to 10 credits per hectare per annum, he said, based on test results achieved to date.
He anticipates a need to conduct testing every two years in higher rainfall areas, and a time frame of around every five years in lower rainfall country.
Potential for lower rainfall country?
Asked if he sees scope for cattle producers in more marginal rangeland areas of Australia to earn money from soil carbon capture in future, Mr Warnken said he believed it was certainly possible.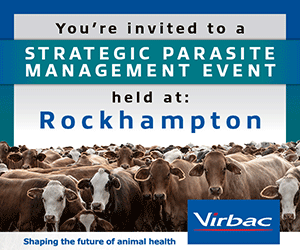 "I think there absolutely is scope and it is all about customised biological pathways to productivity," he said.
"You can't warp the laws of time and space, you need rainfall to grow things because that is what underpins the biological response. Lower rainfall will result  in lower rates of sequestration, but there will be systems designed and implemented for these regions.
"We have a proven system for higher rainfall areas, and we are already looking at how we can demonstrate and prove a system for the next lower band of rainfall, and how that might operate and work in terms of codifying the approach for soil carbon.
"The beauty of the soil carbon framework in the Emissions Reduction Fund is you have this independent verification, you can compare like with like. Sampling is done at an enterprise level, all the same way, so those results are comparable across farming systems, across different climatic zones, different soil types."
Australia poised to be world leader in soil carbon market
As soil carbon gains more attention around the world – a similar project was recently launched in the US by Indigo Ag (see details here) – Australia has emerged as a world leader because it has a regulatory framework in place that can deliver carbon credits and solve barriers to uptake, Mr Warnken said.
Through Corporate Carbon and Agriprove, a special purpose vehicle established to develop soil carbon projects, Mr Warnken said the next goal is to increase from one to 100 soil carbon projects around Australia.
AgriProve has secured $150 million to pay farmers for building soil carbon over the next ten years, which the company says means farmers have a guaranteed market for their carbon credits.
What needs to happen in Australia in order to drive the soil carbon market in future?
Mr Warnken says Australia has all the necessary elements to drive a soil carbon market forward – it is the only country in the world to have a regulated measurement based method, there are many innovators demonstrating mechanisms to build soil carbon and it has a functioning market through the Emissions Reduction Fund.
The primary barrier remains the costs of soil carbon measurement. But with scale those costs will reduce to less than 40pc of current pricing, he believes.
He believes the Federal Government has an opportunity to fast track that process.
A dollar for dollar funding mechanism of around $15 million would see over one million hectares baselined over the next three years, he predicts.
This would also drive the reduction in cost – meaning that at year four market rates would be at the same price point as the 50 percent contribution.
Mr Warnken said while he is a firm believer in private markets, he thinks there is a role for a funding subsidy to kick start the baselining process.
Without this, it could take seven to 10 years to get to one million hectares he believes.
"However the support should be in the context of creating a self-sustaining mechanism," he said.
"There are similarities with renewable energy in that some early support and subsidies assisted the technology development – but there was always a solid business case underneath.
"The same applies with regenerative agriculture, it is about productivity plus sequestration.
"What is needed is the proof points on practices that deliver both, and the ERF framework can deliver that independent verification."
$20,000 incentive for farmers to build soil carbon
AgriProve has also this week announced the establishment of a national cash prize for carbon farming at the National Carbon Farming Conference and Expo in Albury.
The AgriProve 20/20 Olsen Prize for Soil Carbon Farming recognises the Olsen family who was issued with the first soil carbon credits under the Emissions Reduction Fund (ERF) in March this year and gives farmers an incentive to match the Olsen's achievement.
The prize is designed to drive innovation in regenerative agriculture, encourage farmers to register projects under the ERF, and build an evidence base for soil carbon farming.
Mr Olsen said he was honoured AgriProve has set a challenge to encourage farmers to match his achievements.
"The testing we've done shows it is possible to achieve 20 tonnes dry matter yield per hectare and a 20 tonne increase in soil carbon sequestration, in a year," he said.
The $20,000 will go to the next farmer that achieves this remarkable standard.
20 tonnes of dry matter yield plus an additional 20 tonnes of soil carbon abatement per hectare in a 12-month period, under an ERF project.
"Mainstreaming regenerative agriculture will have a material impact on reversing global warming.  But to get there we need to move fast. That's why, we are offering a $20,000 prize as an incentive for action", Mr Warnken said.
Other actions AgriProve announced at the conference to help remove barriers to participation in soil carbon ERF projects included
the launch of the first online farmer platform for soil carbon projects
the first 50 farmers who register for a soil carbon project online will receive a 50 percent discount on the cost of soil sampling (Conditions apply, capped at $2500)
See video featuring Mr Olsen soil carbon project below: