WHAT was shaping up as a terrific summer silage season during planting back in December and January is rapidly running out of steam, with silage harvesters in parts of Qld and NSW racing against time to salvage what they can from moisture-depleted dryland summer forage crops.
For late-planted (January) forage crops particularly, the forecast is that tonnage could easily be down 25-30 percent on earlier projections. That suggests winter-grown cereal silage may again be a strong consideration for some growers this year – soil moisture permitting.
One of the big drivers of interest in silage last summer was the sharp rise in value of young cattle since mid-2015, pushing owners to squeeze-out as much productivity as possible from fewer, but more expensively-priced young stock.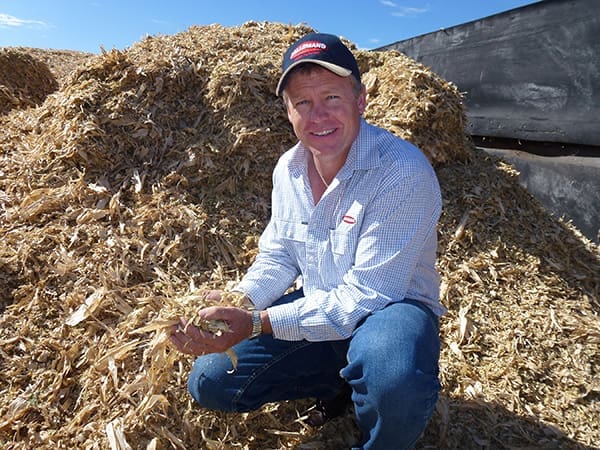 Lallemand Animal Nutrition's silage technical expert Trevor Schoorl, (pictured) said the 2015-16 summer planting season started off well for both corn and forage sorghum crops.
"November, December and January were pretty good months in most forage growing areas.  It wasn't big rain, but just really good growing rain. If anything there was a fair bit of dryland corn went in, but still, the forages (sorghums) were very popular as well," he said.
Some dryland growers hung back until the good January rain, and planted on that – but some of those later-planted sorghum crops were now starting to struggle due to lack of follow-up rain in growing areas in Queensland and NSW. Perhaps 35pc of the eastern Australian summer forage crop this year had been planted on the January rainfall, Mr Schoorl said.
"Growers who planted late have maybe two-thirds of a crop, and many have decided to grab what they have. Harvesters are working overtime at present to keep up with demand, now that the decision has been made to take it off," he said.
"Some late-plant crops just aren't going to finish, through lack of moisture. That's perhaps not going to affect quality so much, but yield on those late-planted crops, particularly, will be well back, because the crop just isn't going to mature-out."
Mr Schoorl said in NSW, the eastern Darling Downs and southeast Queensland regions, the summer silage harvest was probably now two-thirds complete. Some growers in areas on the western Darling Downs around Wandoan, Taroom and Roma were hanging-on, looking for a bit of late rain to get them over the line.
"We would normally have been looking at some of those late-planted crops for an April chop, but it's going to come in perhaps three or four weeks earlier than normal if there is no further rain," he said.
"With young cattle prices as they are this year, growers are saying, we've got two-thirds of a crop now – I'm going to grab what we've got, rather than risk it by hanging-on."
Mr Schoorl said while irrigated summer forage crops were still going 'really well', later-planted dryland crops could easily be back 25-30 pc in volume on earlier expectations.
In many areas, dryland plantings last summer were larger than normal, on the promise of early rain.
"In some areas, the area sown was up at least 25 percent on the previous year. That will help offset the decline in yield a little, but overall I'd expect the 2016 forage crop to be back 15-20pc on the previous year."
Growers on the western Darling Downs, many using silage for backgrounding or weaners, were likely to be worst affected.
Rundown in silage stocks for feedlots
Apart from the early encouraging rain, there were a number of reasons for the larger area planted to forage crops for silage last summer, Mr Schoorl said.
"In the case of feedlots, many had fed so many cattle in 2015 due to the drought that their silage stocks were badly depleted, and they needed to replenish their pits."
"The other factor was the sharp rise in young cattle prices on the back half of last year, which motivated more people to invest in silage (or expand existing silage programs) to make best use of expensive cattle, in backgrounding programs."
Earlier-planted dryland forage sorghum crops that had come off recently had averaged around 6-7 tonnes/acre – not that far below the expected 8t/ac on dryland silage.
"The yield declines in those crops haven't been as bad as some growers had feared, but the later January-planted crops are the ones that will be well down. As much as 50pc of the January plant crop could be quite low in volume," Mr Schoorl said.
Contract harvesters were currently working seven-days-a-week, but that was likely to back-off in the next fortnight, as the early-plant crops started to run-out. Late-plant harvest would start within the next ten days, he said.
"But the reason the late-plant harvest is about to start is that the crops don't look like making it, moisture wise – not because they are at a stage where they are close to ready to be chopped."
Some of the January-plant crops could be down in volume at least 40-50pc, Mr Schoorl said. Some might not be harvested at all, but simply turned over to cattle in the paddock, or turned into hay.
"Still others are likely to chop for silage regardless, because the owners badly want to feed, and figure that cattle are worth too much money not to pay for it."
Feeding younger cattle cost effective
He said the view among some backgrounders was that while all cattle are expensive, they could buy lighter, younger cattle at lower dollars-per-head, and feed them fairly cheaply on a silage-based ration.
"Instead of paying 330-340c for feedlot entry weight cattle, they can pay 350c for the first 180-200kg steer, and then put the next 200kg on him relatively cheaply on a silage-based ration or in a paddock."
Mr Schoorl suggested it might cost 150-200c/kg to put that weight on as a backgrounding exercise – depending on what else was put into the ration.
Winter silage strong prospect
So for growers who fall short of expectations on their summer silage tonnage this year, what are the options from here?
"If the six month forecast for the Darling Downs for above average winter rain holds true, winter cereal silages will come into play very heavily," Mr Schoorl suggested.
"Last year for example, we saw one of the biggest winter silage programs in Queensland that we've ever seen," he said.
That was caused by two factors: a modest summer silage harvest the season before, and the fact that silage stocks were being so heavily depleted by last year's record rates of lotfeeding activity.
"The numbers of cattle being fed last year chewed up an awful lot of silage," he said.
With more lotfeeders having fed some winter cereal silages recently, due to last year's circumstances, many had been surprised to find how well they fed, Mr Schoorl said.
"They had not fed too much winter-grown silage in the past, but they've now worked out that well-made cereal silages are actually a pretty good product. They've actually fed out really well. That resistance has only been due to the fact that most silage has traditionally been made from summer crop in the past."
Assuming that there is some moisture profile heading into winter, Mr Schoorl expects to see a 'very substantial' winter cereal forage planting take place this year, as both lotfeeders and backgrounders work hard to build up some silage reserves.
With the last of the summer silage to be harvested by the end of April, growers on the inner-downs are already starting to work country up for a winter cereal forage planting for silage, with the objective of an August-September harvest.
Inoculants play big role in low-harvest year
While tonnage would be well back in many areas this summer, the increased planting area and the fact that growers wanted to "get the best possible performance from what they've got" had kept demand for silage inoculants high, Mr Schoorl said.
He said a grower had told him recently that his bank manager had agreed to a loan, safe in the knowledge that the 5000 tonnes of silage he had stored in the pit meant he had the guaranteed feed reserve to feed his grower cattle – regardless of how the season panned out.
"It provided that added level of security to the bank," he said.
"For that reason, beef industry silage growers, especially, have become big advocates for use of good quality inoculants, and getting those silage fermentations done. That's perhaps stemmed from the work we've done with contractors and the feedlot operators – themselves big silage users – and now the backgrounder-type user is following suit."
"The first motivation is to stimulate that silage fermentation, and the second is stopping that aerobic spoilage at feed-out. That's especially important now that many are backgrounding cattle on high-silage rations, so it's having a massive impact both on intake and palatability."
"The backgrounding guys increasingly realise that to extract top performance, they have to feed a high quality silage, and maintain it."
"Using a product like our Lalsil inoculant, which has the aerobic stability factor to it, it allows a producer to feed backgrounding cattle, weaners or breeding cattle only two or three times a week, instead of every day, because it keeps that product fresh."
"It adds flexibility in management, while maintaining quality," Mr Schoorl said.