One of the largest individual producers and marketers of cattle in Australia is not a pastoral company, and nor does it own a single acre of cattle producing land.
In the past seven years Allied Beef has grown to market some 80,000 cattle a year, positioning it in volume terms among some of Australia's largest corporate cattle producers.
Yet unlike the pastoral giants, Allied Beef doesn't own a vast network of northern breeding and growing stations.
Rather, it has grown to its current scale by forming partnerships with more than 40 family-sized farming operations throughout Queensland and New South Wales.
Allied Beef is a beef cattle supply chain that aims to provide family sized cattle producers with the benefits of being part of a larger scale operation, and to give feedlot and processing customers a reliable and continuous supply of high performing cattle.
Allied Beef typically stocks partnering properties with its own cattle, but in recent years has also increased volume by coordinating the supply of cattle from other benchmarked producers to fit with its marketing program.
Company founder and principal James Maclean's background has equipped him with a unique understanding of the entire beef supply chain.
He was raised on a family cattle breeding and lot feeding operation on Queensland's Darling Downs, which was also involved in processing and beef exporting. He then studied agribusiness at Marcus Oldham College in Victoria before gaining professional experience with companies such as the Queensland Rural Adjustment Authority, Meat & Livestock Australia and Mort & Co.
He conceived the Allied Beef model to solve what he identified as one of the major problems facing the beef industry in its efforts to provide a consistent supply of quality beef to customers –its highly fragmented production base.
While significant consolidation has occurred in the feedlot and processing sectors in recent decades, production remains highly disjointed, dominated by some 60,000 family-sized farms nationally, each producing around 300 cattle on average, often for different market categories and at different times of the year.
In launching Allied Beef in 2007, Mr Maclean's aim was to create a supply chain based upon mutually-beneficial partnerships with producers to generate scale of production, while giving lot feeders and processors access to a smoother, more consistent supply of cattle produced in accordance with their specific requirements.
At a recent AgShow breakfast in Toowoomba hosted by the Rural Press Club of Queensland, Mr Maclean outlined how the Allied Beef model aims to help each sector of the chain.
Working collectively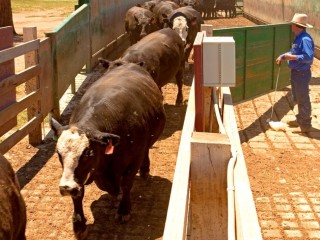 Mr Maclean pointed out that in most family farming situations, the need to generate cash flow dictates at least 60 to 70 percent of decision making.
"At the end of the day if you're making a decision for cash flow, you're not optimising or maximising the potential earning that a resource has," he explained.
"What we tried to do with our model is to move the cash flow out of the family farming situation and to look at ways to maximise the resource to produce more beef and to maximise the earning potential to produce on farm.
"At the end of the day that makes the pie a lot bigger, which means that hopefully Allied Beef is sustainable, and more importantly the property partners that we work with are better off financially and have a more sustainable business.
"When you work as a group you bring a lot of efficiencies to your business, you lower your cost."
Mr Maclean said Allied Beef works closely with partner producers to ascertain the productive capacity of their properties and to identify the time of year each property is productive. It then overlays a cattle program designed to produce the most amount of beef for that producer.
"With us owning the cattle on a family farm, the cashflow certainly improves drastically. That helps to remove the cash flow decision making process from a beef production enterprise, and it lets the landowner focus 100 percent on their core business," he said.
Contract production and the concept of producers joining forces to add scale is far from new, but Mr Maclean says the difference between the Allied Beef approach and what has gone before is that Allied Beef 'did not have a different agenda' to its producer partners.
"Historically contract production or contract backgrounding was done by lot feeders, whose core business was filling their feedlot.
"The time of the year it is most difficult to fill a feedlot is after rain, because cattle markets obviously go higher and no body wants to sell cattle.
"So typically what happens is the beef producer has a property full of cattle, gets rain, and he is looking at all the kilograms he is about to put on, and the lot feeder says I want some of those cattle.
"I am not a opposed to feedlots doing it, I think it is great for their business, but I think for an individual family farm, potentially seeing less stock on their property when it is at its most productive, it does end up undermining the potential earning capacity of the property."
Four principles
Mr Maclean said that in meeting the needs of customers – such as lot feeders and processors – Allied Beef was guided by four over-riding principles:
Specialisation: Specialisation had been the key to success in most industry sectors over the past 30 years, evidenced by the growth of major supermarkets and fast-food chains such as McDonalds. Mr Maclean said Allied Beef's focus was to specialise in beef cattle and the beef supply chain. "We don't want to sell a property, we don't want to sell a car, we want to connect with a parties along the beef supply chain from processing and lot feeders to breeders and ideally back down to genetics, that is where we aim to specialise from our business model point of view."
Product leadership: "We want to know that that the cattle that we supply to our customers are the best cattle they get every day of the week. If we can continue to do that over time that means we can get better arrangements with our customers, and it creates more value for them because our cattle are performing better."
Industry best efficiency: "We are in a commodity industry whether we like it or not, and we've got to be the lowest cost operator. The reason consolidation has been happening in processing and lot feeding is because a large feedlot is a lot more efficient than a small feedlot as a general rule. So with Allied Beef we knew from day dot we had to have scale to keep our overhead cost structures spread across a number of cattle being produced. That was the business model – we had to get the production units up to lower our operating costs and try to be sustainable."
Customer focus: "Because we don't have enough cattle we can't supply all the customers we'd like to, but with the customers we do do a lot of business with we certainly try to get behind the scenes and understand what they want. It is about determining what the customer is going to do with that product in the feedlot, how many days it will go on feed for, what is the perfect weight of those cattle, what is the perfect time of the year for those cattle, so we can make sure our cattle are performing better for them. "
Mr Maclean said Allied Beef typically aimed to work at least one to two months out with all cattle turnoff to allow customers to plan ahead.
He predicted that in time most producers will become members of one or more dedicated supply chain, each built around customers such as Cargill, JBS, Nippon and Stockyard for example, with fewer and fewer producers working in the spot market.
"In those supply chain arrangements there will be animal welfare, health, and vaccination policies as key criteria.
"They're the things that I believe that will become the norm in the beef industry as we try and meet a consumer's consistent demand for beef on a 12 month basis."
Invoking the sporting maxim that 'a team of champions will always get beaten by a champion team', Mr Maclean said producers had far more to gain by working collectively.
"That is the primary objective of Allied Beef, to aggregate scale and to meet a customers demand."