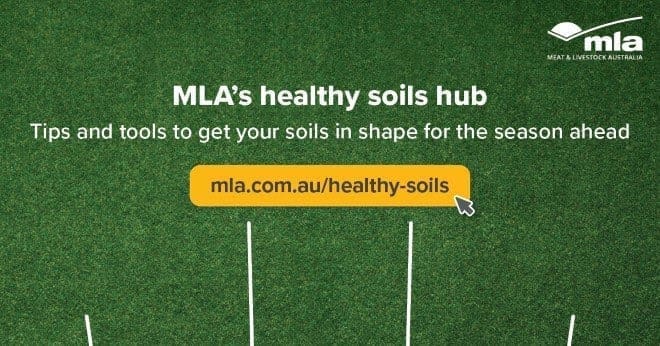 RED meat producers across southern Australia can now access tips and tools to help undertake on-farm soil testing with the launch of a new soils hub on Meat & Livestock Australia's (MLA) website.
The timely launch of the hub equips producers with practical resources for soil testing and soil management ahead of autumn sowing of pastures and dual-purpose crops.
MLA Group Manager – Adoption and Commercialisation, Sarah Strachan, said soil testing is an important step in identifying and addressing deficiencies ahead of sowing, to ultimately optimise feedbase production.
"Independent research commissioned by MLA has found potential for a five-fold increase in above-ground dry matter production by addressing feedbase underperformance issues," Ms Strachan said.
"Soil testing is a relatively straight-forward and low-cost process that producers and advisors are using to identify opportunities to improve soil health and develop custom fertiliser and management strategies. 
"Soil testing provides an understanding of what course of action is necessary to drive an increase in desirable species, potentially higher stocking rates, improved soil carbon for better rainfall infiltration and reduce limitations to farm productivity."
Ms Strachan said the soils hub includes all-new tips and tools on soil testing and management, and practical 'how to' guides and videos.
"A new eLearning platform has also been launched featuring soil testing and assessment modules," Ms Strachan.
"Case studies demonstrating the different benefits that soil testing has delivered to red meat enterprises are also available on the soils hub."
The soils hub adds to the library of web-based hubs on the MLA website, providing a 'one-stop shop' of best practice advice, tools and information for a range of topics relevant to producer needs.
SOURCE: MLA. Visit the new soils hub here: mla.com.au/healthy-soils