The 2015 year is shaping up as possibly the biggest ever for silage production across Eastern Australia, with a record summer silage planting likely to be followed by an above average winter silage program.
There's been a number of contributing factors driving interest in summer, and potentially, winter silage this year:
A general run-down in silage reserves in feedlots and other major users of silage after two desperately dry years
The sharp rise in cattle prices this year, making investment in nutritional support and weightgain more attractive
The solid start to summer rainfall over December/January, building a soil moisture profile, and
The shortage of alternate feedstuffs such as cottonseed, due to greatly reduced cotton cropping.
Northern silage specialist with Lallemand Animal Nutrition, Trevor Schoorl, said the summer silage planting across both northern and southern parts of Eastern Australia was probably 35 to 40 percent larger than a 'normal' season, and arguably a record.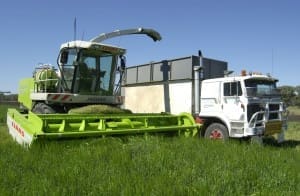 "Within that, the southern forage growing regions from Central NSW into Victoria is probably a typical crop size, to slightly higher than normal. But it's in the north (more northern regions of NSW and into Queensland) where the big surge in summer silage has come from," Mr Schoorl said.
The trend has been clearly reflected in forage seed demand and availability, with big shortages reported in desirable corn and sorghum varieties. Prices did not move much as a result of the high planting demand, but some 'sub-optimal' varieties were planted in some regions due to heavy demand.
Growers just wanted to get a crop in the ground on the earlier moisture," Mr Schoorl said.
"Even those growers who did not have the necessary moisture in the ground took the risk to get a crop in, because they needed to, hoping they'd get some follow-up," he said.
"That's been driven by the fact that drought feeding among breeders and backgrounders and high feedlot occupancy has cleaned everybody out of silage reserves in the pit, and on top of the rain, cattle prices jumped dramatically, and have remained strong."
"Additionally, the alternatives to silage including cotton seed and hulls is suffering because of a very small planting of cotton. Demand is going to be high for available supply, and it will be very expensive."
In the northern regions of NSW and into Queensland, growers who planted irrigated forage crops early have now mostly harvested that crop, and it's already in the pit, Mr Schoorl said.
"What we're working on now in the north is mostly dryland forages planted on earlier rain in December/January. Some of those crops are coming off OK, but others have suffered because of the lack of follow-up rain since January."
"Some of those corn and sorghum crops are getting too dry, and that will compromise tonnage, because in the case of corn, cobs aren't fully developed."
Because demand for silage is still so strong, growers felt they could not miss the opportunity, and some are harvesting now, at sub-optimum growth stage, with little prospect ahead for a shower of rain to get the crop over the line.
There were pockets of Queensland which had produced better dryland crops than others, however. Areas of Central Queensland and the Burnett Valley that had received moisture from Cyclone Marcia last month were generally in better shape than some others further south.
Management challenge in moisture-stressed crops
In those northern forage areas that had run out of moisture, some of those crops would be turned into hay, or grazed in the paddock.
For sorghums, that presents its own feeding challenges with nitrates and prussic acid build-up (click here to see an earlier Beef Central extension article from last year on this topic).
In other cases, growers were simply chopping those crops before they reach the optimal stage, Mr Schoorl said. In those cases, moisture levels represented an additional challenge in managing the forage in the paddock before harvest, and in the pit.
"The core problem in these moisture-stressed forage crops is that they are not forming grain heads, which in itself helps with the drying process before harvest. In essence, growers have to wait for the plant to 'half-die' before moisture levels in the stalk get low enough for harvest," Mr Schoorl said.
"In these cases, my advice is that growers need to be patient," he said.
"From the point of view of forage sorghum, they are very forgiving and will hold a lot of moisture in their stems. Be patient, but it can be managed," he said. "For those who may be fortunate enough to pick up a shower of rain in coming weeks, they will be off and going again."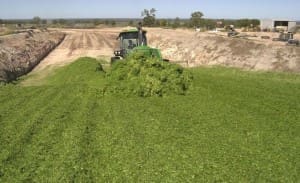 Corn was obviously not as forgiving as sorghum as a (moisture-stressed) forage, but growers still needed to be patient and wait for moisture levels in the stem to reduce, Mr Schoorl said.
"Inoculant use is critical for silage performance in a year like this, especially for those growers facing a dry end to the crop, with moisture level challenges."
"With silage reserves in pits being so low, and demand so high, given the price of cattle, growers have to think about achieving the best possible outcome they can from this summer crop. It's worth coverall all the bases, in using the right inoculant and covering the pit properly with the right plastics and covers. Preserving every tonne and minimising spoilage is going to be super-important this season," he said.
If northern growers who planted on the December/New Year rain were fortunate enough to get another shower or rain, harvesters would be flat-out from the end of March and through April. If there is no rain, that chopping period will be brought forward by at least a couple of weeks.
Southern forage growing regions from Central NSW down into Victoria are currently in much better shape than the north, especially for irrigated summer corn. Harvest has just kicked off now in northern Victoria.
Outlook for winter silage
The current circumstances, particularly in more northern forage growing regions, indicated a strong winter silage program was likely in coming months, Mr Schoorl suggested.
"The problems with moisture stress during the back half of the summer-grown crop will see renewed interest in winter forages, where they can be grown for silage," he said.
The winter silage window starts around the end of April in many areas, with cereals like barley and triticale, and a few weeks earlier for oats.
"If we see any rain at all in the next six weeks or so, I would see growers getting oats in as soon as they can, from early April, and winter cereals for silage not long after that. Building up that silage reserve that is currently low among feedlots and other users will drive that."
"A strong winter silage program is definitely on the cards in more northern regions – anywhere from Central NSW north – and especially if we see moisture to plant a dryland crop on," Mr Schoorl said.
High prices paid
Another factor was the high price that some lotfeeders and other users had paid earlier to secure forage crops for silage.
"They'd love to be able to dilute some of that high cost with some cheaper winter forages, if they could get them," he said.
Buyers of irrigated summer corn this year typically paid anywhere from $70 to $90/tonne for local crop, standing in the paddock. Add to that another $20/t to harvest and bed it down in the pit, and it valued that corn silage, on a dry-matter basis, at around $240/t.
"Despite these earlier high prices paid, demand for silage this year remains extremely strong, and that's unlikely to change any time soon," Mr Schoorl said.
"Cattle are worth good money, and growers know it is worth investing in silage and making sure they can carry those cattle through to optimum weights using silage, because they're worth it."
"The cattle price trend is right across Australia. I was in Western Australia recently, and I was told they're paying 240c/kg liveweight for steers."