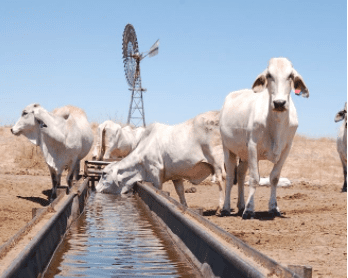 The NT Cattlemen's Association (NTCA) has welcomed the Australian Government's announcement to extend the $100 million On-Farm Emergency Water Infrastructure Rebate Scheme.
Minister for Resources and Water Keith Pitt said the rebate scheme extension would help Territory producers to build long-term infrastructure to improve water use.
"This program has been a huge success in helping producers and farmers modernise on-farm infrastructure," Mr Pitt said.
"The popular initial scheme provided drought affected Northern Territory producers with Australian Government funds of $2.65 million. We have stepped up again to provide an extra $200,000, matched by the Northern Territory Government, under the extension of the scheme."
NTCA Chief Executive Officer Will Evans said drought was an ongoing issue for NT pastoralists, and the funding would help in the ongoing battle.
"Dry weather conditions will continue to be a challenge for those working and living on the land," Mr Evans said. "The extension of the rebate will help more pastoralists in their efforts to future-proof their properties for generations to come.
"The rebate can be used to help with the costs of purchasing, upgrading and installing emergency water infrastructure, including pipes, water tanks and troughs, water pumps, drilling a new working groundwater bore, material or equipment necessary to install infrastructure. These are crucial components for our pastoralists to be able to live and work in drought conditions."
Northern Territory cattle producers can check their eligibility online on the Department of Agriculture, Water and the Environment's website.
For more information on how to access the On-farm Emergency Water Infrastructure Rebate in the Northern Territory, including guidelines and application forms, visit nt.gov.au/industry/agriculture/farm-management/get-financial-help-farm-businesses/water-infrastructure-rebate.
Source: NTCA