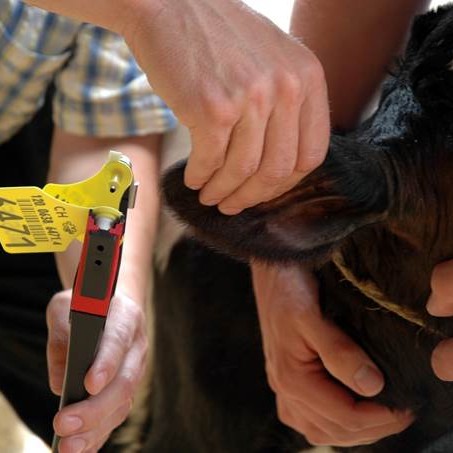 A SIGNIFICANT technology advance in tissue sampling for disease testing, parent verification or DNA testing will make its debut at a Wagyu producer field day being held in North-eastern Victoria later this month.
Allflex will unveil its new Tissue Sampling Unit (TSU) at the Australian Wagyu Association's Wagyu Performance Field Day on Saturday May 25 at Goorambat Wagyu, north west of Benalla.
Wagyu breeders routinely apply parent verification as part of their quality assurance process and are moving vigorously into a DNA-based genetic improvement process to drive further improvement in abundance and consistency of marbling and other desirable traits.
The new TSU sampling technology will play an important part in that.
The technology had its origins in Switzerland, where the Swiss Government undertook a program to eradicate BVDV (pestivirus) from the national cattle herd.
Allflex's European R&D team responded to a product brief to develop a tissue sampling product which would also leave a tag in the animal's ear. The result was the 'Tissue Sampling Tag', which the Swiss Government adopted for its disease eradication program.
The Swiss scheme was successful in eradicating BVDV in its national herd, and several other countries including Ireland are now applying a similar process using the Allflex's 'nextGen' Tissue Sampling technology.
The product, as used in Europe, takes an ear punch from a beast for testing, and simultaneously leaves an ear tag (either electronic or visual) in the resultant notch-hole. This provides a fail-safe means of identifying which animals have, or have not been sampled.
Because it still has to go through an NLIS regulatory process, the initial release of the tissue sampling until in Australia will not include the simultaneous eartag application option, but that is like likely to come later, once regulatory testing hurdles are cleared.
Allflex's Tissue Sampling Unit (TSU) delivers the tissue sample in a small 'analysis-ready' test tube, which can be sent directly to the lab for testing. This means the sample does not have to be removed from the receptacle and placed in another container for testing, delivering more reliable, optimal results.
In Australia, the test is likely to be used for:
DNA analysis for Pfizer's HD50K, or similar genetic tests for animal selection purposes
DNA-based parentage verification, as required for all registered Wagyu animals
DNA-based testing for recessive genetic disorders, as applied by Angus, Wagyu and other breeds, for example
Serology testing for diseases such as pestivirus, and potentially, in future, BJD.
As the livestock industries globally take up more DNA testing, and tests are increased to include more and more markers, a need emerged for a DNA sampling method that provided a high quality DNA sample with sufficient material for even high density 'SNP chips' – tests that run tens of thousands, or hundreds of thousands of markers.
The Tissue Sampling Unit (as being initially launched in Australia), takes a consistent high-volume sample of DNA from the ear, which is much more compatible than hair samples with high-density DNA SNP chip testing. It provides enough DNA for any test on the market, including the biggest 'SNP CHIPS' currently testing 800,000 or more markers.
Through work with NZ's Livestock Improvement Corporation, which is moving to large-scale DNA testing for NZ dairy animals, the TSU has been further refined to make it both user-friendly for the livestock producer when sampling, as well as highly efficient in the laboratory. The current product provides a long list of efficiencies for the processing work in the lab.
The sampling method is much more user-friendly, and three times faster than traditional tail hair sampling in the yards, which is fiddly and prone to cross-contamination between samples.
A unique 2D barcode on the base of each test tube identifies the sample.
Click here to acces more information on the Allflex TSU.
Benalla field day to showcase new technology
A Wagyu Performance Field Day on Saturday 25 May at Goorambat Wagyu, near Goorambat, 14 km northwest of Benalla in Victoria's northeast, will showcase the new TSU technology.
The Australian Wagyu Association's cattle registration system will become the first Australian user of Allflex's TSU system, packaged together with an NLIS and visual tag.
As part of that process, Allflex will provide a file with each order that links the animal ID to the tube and NLIS and visual tags, meaning that producers will not have to manually record animal ID against each sample.
This innovative process provides a secure circle of ID on registered Wagyu, using all Allflex products.
As part of the process, Allflex will be supplying a 'bundled' product, including NLIS tag, Visual Tag, and Tissue Sampling Unit (pictured here).
The TSU sample will go straight to the UQ lab for parent verification.
The Wagyu breed, already well recognised for its marbled beef with superior eating quality, is embracing the latest technology to ensure ongoing breed improvement, it said in a recent statement.
The AWA, along with Meat & Livestock Australia, has developed a unique program which short circuits the path to genetic improvement through DNA testing and genomics.
"The Wagyu genetic discovery program is unique in the cattle industry and places the breed in a powerful position to utilise the latest genomic developments," said AWA executive officer Graham Truscott.
The Goorambat field day is open to all in the industry with an interest in how the Wagyu breed can contribute to their businesses.
The revolutionary genomics program and how it will identify the genetics to assist marbling and efficiency in the breed will be explained. In addition, presenters will explain how the program fits into Wagyu Breedplan, to help seedstock and commercial producers.
New genetic tools available to Wagyu breeders such as GeneProb, MateSel and the INSolutions phone App will also be showcased.
A demonstration of the new Allflex TSU-based Wagyu Smartrec cattle recording system which combines management and NLIS eartag application with the collection of a DNA tissue sample, will also be demonstrated.
The field day runs from 8:45am to 3:30pm followed by a tour of the Global Reproduction Solutions property. A Wagyu barbecue lunch will be provided.
Goorambat Wagyu is 2 km along Peck Road off the Benalla – Tocumwal Road. Take the Midland Highway from Benalla towards Shepparton, turn off towards Tocumwal and Pecks Road is 2 km along on the right. Lunch is included in the price of $25. Bookings are essential. Contact office@wagyu.org.au or phone the AWA on (02) 6773 3355.