A multi-million dollar research and development program launched today is the most significant injection of R&D funds into northern beef cattle for 20 years, and is designed to deliver significant productivity gains for producers.
The program promises to deliver a massive boost to Australia's northern beef cattle industry, stakeholders say.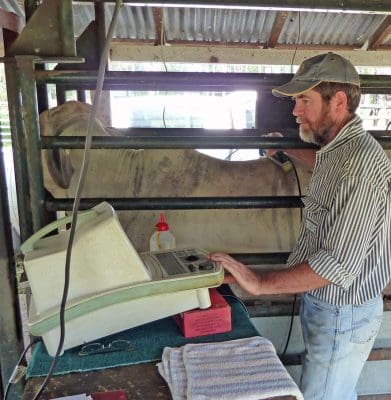 Announcing the Northern Beef Collaborative Partnership between Meat & Livestock Australia and the University of Queensland this morning, MLA managing director Richard Norton said the collaboration was worth up to $8 million a year for a minimum of three years.
The program will target productivity improvement research projects in three main areas:
Animal nutrition, supplementation and feedbase
Cattle health and welfare
Reproduction efficiency and management
"Investments of this calibre are vital to the ongoing prosperity of northern beef producers," Mr Norton said.
UQ vice-chancellor Professor Peter Høj said the partnership would create change across a vitally important sector of the Queensland and Australian economy.
"Collaboration between researchers and industry is essential if we are to translate world-class research into achievable, practical solutions that benefit industry, society and the environment," he said.
"This exciting development takes advantage of the extraordinary research capacity at UQ which has been built with support from the Queensland Department of Agriculture and Fisheries."
UQ's Professor Stephen Moore, director of the Centre for Animal Science at the Queensland Alliance for Agriculture and Food Innovation, said the investment recognised the challenges facing northern beef producers.
"With the support of longstanding partners at DAF, this new investment will allow us to increase the impact of our research in northern beef," Prof Moore said.
"We aim to build sustainable growth across the industry, harnessing technology-driven changes to help northern beef enterprises face challenges such as uncertain climate conditions and regulatory impacts."
MLA's Richard Norton said the partnership would drive on-farm productivity gains in northern Australia and had the scope to include wider research into other key profit drivers in the North.
"This is an exciting opportunity for northern red meat producers and will demonstrate the importance of collaboration across our industry when it comes to new research and adoption," he said.
"Through collaboration with respected partners like UQ, and the use of our subsidiary the MLA Donor Company, MLA is generating new research and development investment that will have a real and lasting impact for industry," he said.
Source: MLA