A new guide has been launched to help South Australian cattle producers take action when faced with common cattle diseases and conditions.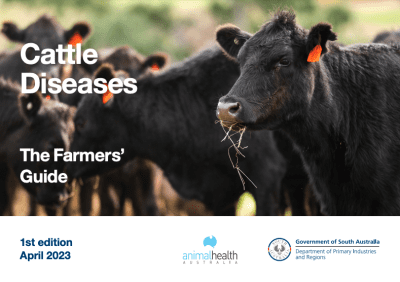 The new Cattle Diseases Guide was developed through the Department of Primary Industries and Regions' (PIRSA) Red Meat and Wool Growth Program, in collaboration with Animal Health Australia.
Animal health officers and vets from the red meat and wool industry have contributed to the guide, offering the most current advice on how to identify signs and symptoms of disease as well as recommendations on treatment and prevention options for farmers.
The quick-reference guide is based on the recently updated Sheep Disease Guide that was well received by producers following its release in January 2023.
Both guides include photos and descriptions of endemic disease and cover exotic diseases most at risk of occurring in SA, including foot and mouth disease and lumpy skin disease.
Additional features include best practice management guidelines on farm biosecurity, vaccination, traceability, and livestock movement obligations.
Minister for Primary Industries and Regional Development, Clare Scriven, said that with emergency animal diseases such as foot and mouth disease now established in Indonesia, the Cattle Diseases Guide is a timely and valuable tool for South Australian cattle famers.
"The responsibility to keep South Australia free from emergency animal diseases lies with every one of us but livestock producers play a key role in identifying and preventing the spread of disease and this guide will help equip them with the ability to recognise the difference between common diseases and exotic diseases."
Dr Jodie Reseigh from the Red Meat and Wool Growth Program, said farmers had been calling for a cattle equivalent following the release of recently updated Sheep Disease Guide, which has been a glovebox staple for SA producers since it was first published in 2016.
"The opportunity to work with Animal Health Australia has helped to fast track the production of the Cattle Guide meaning SA farmers can start growing their knowledge of how to identify common diseases and take action faster to prevent production losses and disease spread."
Dr Rob Barwell, Head of Biosecurity Animal Health Australia, said the Cattle Disease Guide is adding great value to the series of guides now developed in collaboration with PIRSA.
"We are pleased that cattle producers now have access to quick and easy disease information. It is important that cattle producers are aware of the disease risks not yet in our country, but also aware of the disease risks locally as well. This guide gives a great synopsis of both emergency diseases (those not here) and endemic diseases (those here)."
Producers can request a copy of the guide from PIRSA or download a digital version at www.pir.sa.gov.au/cattle.
For more information about cattle health and diseases visit: https://www.pir.sa.gov.au/biosecurity/animal_health/cattle.