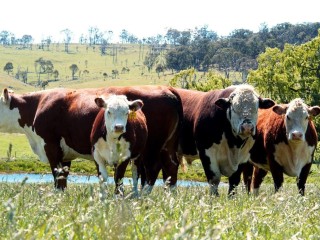 Access to new by-products from the food manufacturing industry in Asia is paving the way for innovative new liquid supplements targeted at the extensive and intensive cattle industries.
Liquid and suspension supplement manufacturer Champion Liquid Feeds is about to launch a new supplement product, one of the key ingredients of which is Ultrafirm, a derivative of a molasses-based fermentation process used to produce a food ingredient popular in Asian cooking.
Traditional molasses, used as the basis for many liquid supplements is high in energy, but contains little protein. Ultrafirm's key attraction, however, is in its significant protein content, while still maintaining considerable energy content.
As-fed, it contains 28-30 percent protein, divided between true protein (derived from the fermentation process, bacteria and yeast) and nitrogen-based bypass protein.
Access to commercial quantities of Ultrafirm have come about because of the 50 percent investment made last year in Champion Liquid Feeds by Gardner Smith, a larger international trader in fats, oils and other food commodity by-products.
When conventional urea increases in price, as it currently has, the use of an alternate protein source like Ultrafirm becomes an extremely attractive option, CLF's Peter Robson said.
The first shipment of 4000 tonnes out of Taiwan is expected to arrive in Australia around July 27, and be available for inclusion in supplement rations soon after that, Mr Robson said. More shipments will follow, making the ingredient readily available.
Three products will be developed, using different blends of Ultrafirm and molasses for different performance outcomes. They will be marketed under the brand-name, Molapro, carrying protein levels of 17pc, 22pc and 30pc.
CLF imported a trial shipment of about 2000 tonnes of Ultrafirm recently, which was used with great success, almost exclusively by one major multi-site feedlot operator.
Initially the product will be immediately available out of CLF's Melbourne supplement batching facility, with Brisbane and Mackay coming on stream in the next month or two.
As highlighted in yesterday's Beef Central story, "Cold sparks avalanche of supplementation", demand for liquid supplements has risen by up to 150 percent over the past three weeks in some parts of eastern Australia, as beef producers respond to the impact of cold weather and deteriorating pasture quality.
While there is a big body of dry feed present in paddocks stretching from Central Queensland to Victoria, the prolonged wet summer has impacted on protein levels. Latest severe frosts have only exacerbated the situation, and producers everywhere are watching cattle start to slide in condition.