ANGUS entries from Kalangadoo, near Mt Gambier in South Australia topped results in the 2017-18 Southern Grassfed Carcase Classic, finalised over the weekend.
This year's carcase competition was the biggest and best yet, with almost 550 head more cattle than the previous year.
Within a five-month delivery period, Teys Australia's Naracoorte processing plant handled 1269 competition cattle from 45 producers from South Australia and western regions of Victoria, affirming its status as the nation's largest grassfed beef carcase competition.
At the presentation dinner held last weekend in Lucindale, David and Jenny Smith, Howard Nominees, near Kalangadoo, blitzed the field. They became the first competitors to exhibit both grand champion and reserve grand champion carcase in the event's ten-year history.
The Smiths' grand champion scored 87.77 points from a possible 100 for market specifications, saleable meat yield and eating quality. The 292kg carcase had an eye muscle area of 87sq cm and rib fat of 6mm.
The Smiths, who run a herd of 120 autumn-calving Angus females, entered 38 head in three consignments.
They were also triumphant in the best team of three animals and best team of 10, having a night to remember.
David Smith thanked his bull supplier, SGCC committee member Ben Glatz, Glatz's Black Angus Stud, Avenue Range for convincing him to enter.
The anti-fracking campaigner – who has produced a movie, Pipe Dreams, Fractured Lives, from a 2015 trip to the United States – said he had little time to dedicate to his cattle this season, but did focus strongly on mineral supplementation.
"For the past 20 years I have been putting out brown coal basalt soft rock and mixing it up with trace elements that our country is missing – copper, zinc, boron, you name it – and putting some microbes, molasses and kelp with it," he said.
"If we are looking after the soil well, the plants are doing that little bit better and the animals are doing that little bit better too."
Mr Smith thanked the sponsors and organisers and encouraged all grassfed beef producers to enter next year. "It's a great learning experience that can only be good for your business and the end consumer and that's good for Australia."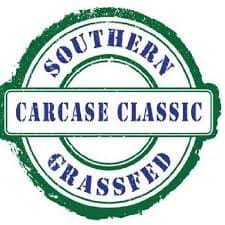 Ian and Louise Johnson, Amherst Livestock Trust, Willalooka, received the highest eating quality award and the new Alan Kranz Memorial Perpetual Trophy – named in honour of one of the founding committee members.
Their spring 2016 drop Angus x Black Simmental steer had an exceptional MSA index of 67.14. The carcase competition has confirmed the top quality of grassfed beef produced in the region with the cattle in the competition which were Meat Standards Australia compliant having an average MSA index of in the top 14 percent of the nation.
SGCC chairman Allan Kain said the event had cemented itself as the leading benchmark for the grassfed industry in SA.
"Producers are craving a bit of feedback and using the data to make profitable breeding and management decisions on-farm," he said.
"We are seeing some great results from producers understanding the contributors of eating quality from rib fat and p8 fat to marbling and ossification. But we can't forget the other important traits such as meat yield, which will be part of next year's competition."
Mr Kain said the event was a chance for producers to gain a greater understanding of processors' grid payment systems.
"If cattle don't fit the grid, they don't fit into the high-end of the market consumers are looking for. "In the future the prices paid by processors will reflect eating quality even more, alongside full traceability and good animal welfare."
RFDS beneficiary
Mr Kain said it was tremendous to see so many entrants supporting the Royal Flying Doctor Service, with one percent of the gross proceeds of all cattle processed diverted to the worthy cause. He handed over a cheque for $21,696 to the RFDS for the 2017-18 competition, bringing the total donated to the service, over the past decade, to more than $65,000.
Source: SGCC