The achievement of Angus bulls in topping national herd bull price statistics this year for the first time represents the culmination of a decade-long program to elevate the breed into a position of greater market strength.
Where only five or six years ago, Angus bulls were statistically among the cheapest on the market among the six or seven most popular breed options used in the Australian beef industry, they are now amongst the most expensive.
See Tuesday's Beef Central article outlining the improved performance seen in Angus herd bulls, relative to other breeds, which saw the breed set a $5627 average for 6306 bulls sold at auction this year.
Demand, from both northern and southern Australia, has obviously been a big driver of that result. But talking to breed society personnel, independent breeding consultants and others, there appears to be a whole raft of other reasons in play.
Just one of those, perhaps more to do with international rather than domestic trends, is the growing popularity of 'brand Angus' in the marketplace.
The USDA has suggested there are more than 60 commercial beef brands in the US that carry the word, 'Angus', in their name. Best known, of course, is the enormously successful Certified Angus Beef program, but there are dozens of other success stories.
Despite Australia being much less reliant on grainfeeding as a finishing option than US production systems, and a grading system which is far less oriented towards the presence of marbling as a quality determinant, Australia continues to follow the US mantra of 'Black is Beautiful.'
Brand-driven price signals in some cases have pushed this. Teys Australia's MSA grid continues to offer 5c extra for black cattle for its Teys Black Angus program, for example, and other large processors offer similar programs.
Some large processors do not offer a specific Angus premium on slaughter cattle, but point out that within MSA, British cattle tend to grade to a lower boning group giving a better percentage grading. Many lotfeeders offer 5c/kg premium on Angus feeder cattle over other Taurus options.
While some would argue that the financial reward to the producer for selling Angus-specific trimmings for use in McDonalds and Hungry Jack's burger patties is negligible, the 'premiumisation' of burgers through such heavily-promoted marketing programs has continued to provide a strong psychological rallying-point for some commercial beef producers.
Looking at the Angus bull sale statistics generated since 2007, it is evident that the breed has logged steady, but significant improvement. In the raw auction sales data published below, produced by Angus Australia for sales over the past six years, a number of trends are evident:
The steady improvement in average price
A large decline in the number of individual Angus bull sales held (down 50 percent)
The consequent decline in the overall number of bulls sold at auction (down 16pc on the record 2006 year, when 7544 bulls were sold)
While less statistically significant in indicating overall breed trends, there nevertheless has been a steady increase in the top price achieved for Angus bulls year-to-year. The figure has more than doubling since 2007 to the new breed record price of $110,000 set at the KO Angus sale near Kangaloon in NSW in August.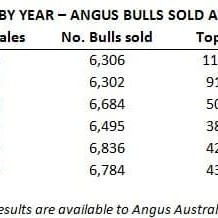 Some might argue that the apparent lift in demand for Angus bulls, reflected in the average price achieved, has been driven by the big reduction in numbers of bulls offered at auction.
That argument can be partly countered, however, by the evidence that more Angus bulls than ever are now being sold out of the paddock, rather than through the auction ring.
Angus Australia chief executive Peter Parnell cautions over interpretation of the figures presented in the above table.
"We have not seen too many Angus seedstock herds close their doors in the past five years, in fact we've had an increase in membership. So it's hard to imagine that the number of sales held, and the number of bulls sold, have declined as much as the figures suggest," Dr Parnell said.
"We think the figures are more of a reflection of our inability to capture and record all sale results. Angus Australia can only record statistics where the vendor has advised us of the results. While we do a fair bit of chasing up, we don't get 100 percent. But we're in the process now of re-analysing the results and sales held, to see if we can find some outliers," Dr Parnell said.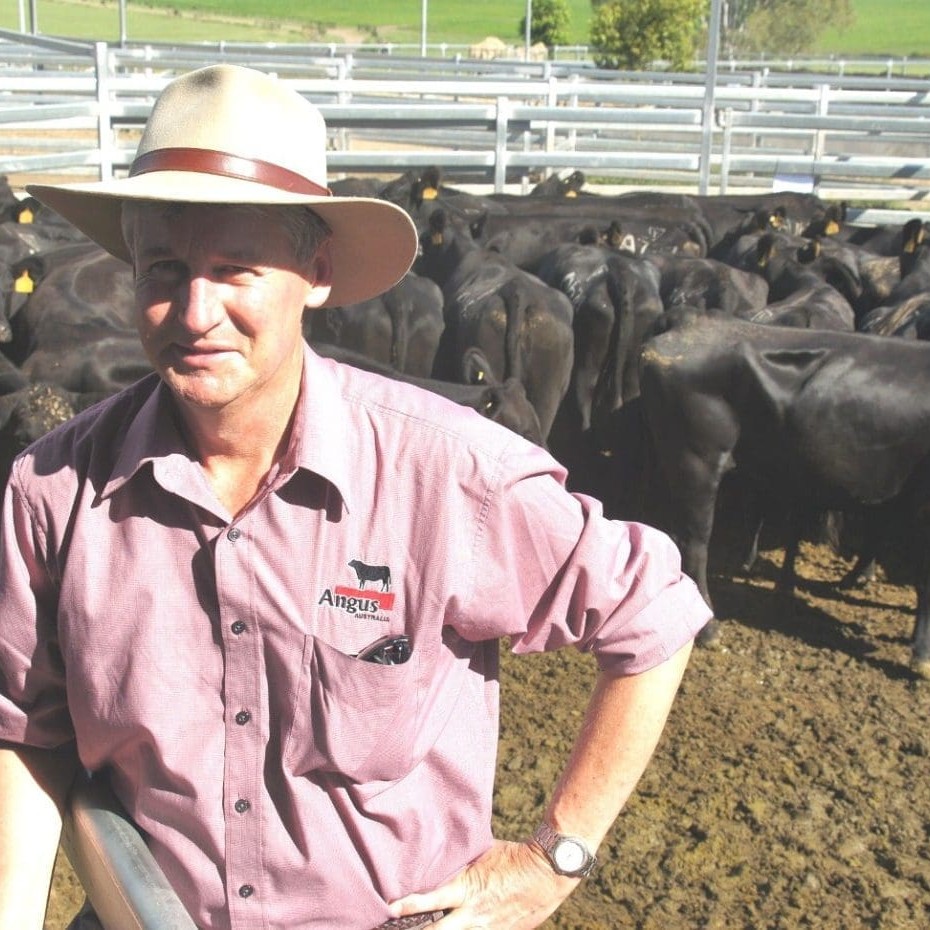 He conceded, however, that reporting adjustments would not account for all of the movement seen in the table.
"There is certainly some rationalisation going on in terms of number of bull sales held. But that does not mean those people are out of the business altogether – they may have simply discontinued their own on-property sale and now sell through other channels – either privately, or joining other auction vendors."
Dr Parnell said the fixed cost of running a single vendor sale meant that a critical number of animals was necessary to spread the cost further – probably a minimum of 50 or 60 bulls was required these days – meaning many smaller stud sales offering 30-40 bulls were no longer financially viable.
Equally, with the growth in demand for Angus out of northern Australia (i.e. Queensland), there was greater demand for paddock sales of larger lines of young bulls.
"When we do our 'back of the envelope' sums on the numbers of Angus bulls that must be sold each year to meet the market demand, it must be a lot more than the 6000-odd represented in auction statistics. We estimate it is probably at least double that," Dr Parnell said.
As an illustration, Angus Australia now registers 60,000 calves each year, including 30,000 bulls.
"I don't believe that out of those 30,000 Angus bull calves registered each year that only 6000 are sold as bulls. In our estimation, there would be at least 12,000 to 15,000 new Angus breeding bulls changing hands each year. Seedstock producers simply would not stay in business culling 30,000 bull calves back to 6000," he said. "There's a lot of bulls being sold outside the auction ring."
Part of that paddock sale trend involved yearling and younger bulls, Dr Parnell said.
"Sale-prepared bulls are typically older, because of the feeding time required, so it's reasonable to assume that statistically, paddock sales involve a greater proportion of young bulls," he said.
Young bulls making big money
One of the outstanding features of the 2012 auction season for Angus was the ability of very young bulls to make big money through the auction ring.
At the Millah Murrah bull sale, for example, an $8612 average was achieved for a total clearance of 85 bulls. Only 17 entries in the catalogue were two-year-olds, with 42 aged around 18 months and 26 sold as yearlings around 12 months of age.
Dr Parnell said part of the explanation behind the strong performance of yearling bulls was the emphasis being placed on performance recording.
"Those breeders are really pushing the envelope in terms of genetic improvement, and are able to command big prices for their yearling bulls because of their superior performance figures, and buyers are getting access to that performance a year earlier than they otherwise would," he said.
Asked whether Angus had benefited this year from the northern live export crisis, through commercial cattlemen in Queensland seeking to broaden their marketing options through the use of Angus bulls over Indicus breeding herds, Dr Parnell said the evidence was 'fairly anecdotal' but one good indicator could be seen in sale price trends, south to north.
"There's a strong trend evident that the further north you go, the better the prices paid for (Angus) bulls," he said.
"With a few exceptions among high-profile southern studs, going from Victoria up into northern NSW, the average bull price and clearance rates increase."
For the majority of southern Angus breeders in Victoria, their price average was substantially lower than those in NSW, and particularly northern NSW.
"Anecdotally, talking to our breeders in northern NSW and southern Queensland, that's due to extremely strong demand this year out of larger commercial herds in Queensland," Dr Parnell said.
"Traditionally, Queenslanders are also just willing to pay more money for bulls. That may be linked to enterprise scale, being professional beef producers rather than mixed farmers, enterprise profitability, or other reasons."
Does Breedplan data matter in a Qld market?
So does the growing demand for bulls out of northern Australia dilute the significance of Breedplan performance recording placed on Angus cattle, given its relatively poor uptake in Queensland?
"It's a good question," Dr Parnell said.
"The only information we have comes from some survey work we did with bull buyers. When we asked a specific question about the value placed on Breedplan data, the response was yes, they preferred to see the information if it was available, particularly as the Angus breed is known for performance data collection."
"I suspect the expectation among northern bull buyers is a little different for Angus than it is for some other breeds. When a northern producer buys an Angus bull, they expect to see Breedplan data, regardless of how much emphasis they, personally, put on the EBVs, whereas if they go to the sale of another breed, it is not as prominent."
Dr Parnell said there was no evidence that Central Queensland bullock producers were placing less emphasis on marbling performance than fellow breeders further south, who might be breeding feeder cattle for feedlot placement.
"When looking at what the appealing attributes for a northern bull buyer are, certainly one of the traits they are looking for is improved MSA grading. So marbling potential is still up there as an important trait, even in the north."
Dr Parnell agreed with Beef Central's assessment that Angus no longer necessarily represented a compromise in frame score for northern breeders wanting to maintain frame in their cattle.
"Those breeders that are producing the larger-framed Angus cattle are being sought after by the northern buyers, perhaps more than others," he said.
"Their main competitors are the Euro breeds in terms of growth and frame, and there are Angus cattle today that can match them in terms of frame, growth and muscling."
MSA growth drives northern buyers
With two million steers and heifers graded annually now under Meat Standards Australia, some of the recent Angus momentum, particularly in northern Australia, was due to interest in accessing MSA programs, or improving compliance.
"In southern Australia, the main driver is perhaps still the premiums paid by lotfeeders supplying grainfed beef for higher value export markets for Japan and Korea. But in the north, more producers are getting the message that there are premiums about for cattle that will grade better for MSA. And one way of achieving greater compliance is infusing some Bos Taurus genetics into the herd, and particularly Angus."
Dr Parnell suspected that even when Queensland and northern Australia started to experience ordinary seasons again, the longer-term desire to produce more cattle with the ability to grade better would underpin demand for Angus bulls, and provide more market flexibility into the future.
Nor would trends in lotfeeding – where fewer cattle are now longfed 250 days or more because of higher grain costs and consumer demand for less costly meat due to the financial climate – affect Angus prospects.
"If anything, shorter days on feed should enhance interest in Angus cattle, where heavy selection pressure has been placed on marbling performance. It means lotfeeders are now aiming to achieve similar marbling performance at a younger age, and fewer days on feed.
"The premium still exists for marbled meat in the marketplace, but lotfeeders want to reduce their costs by feeding less, and turning off quicker. Specialist longfed feedlots like Rangers Valley used to feed Angus for +300 days, but are now back around 250-270 days, and getting similar performance," Dr Parnell said.
"That places even more pressure on the genetic ability of the cattle being fed to marble."