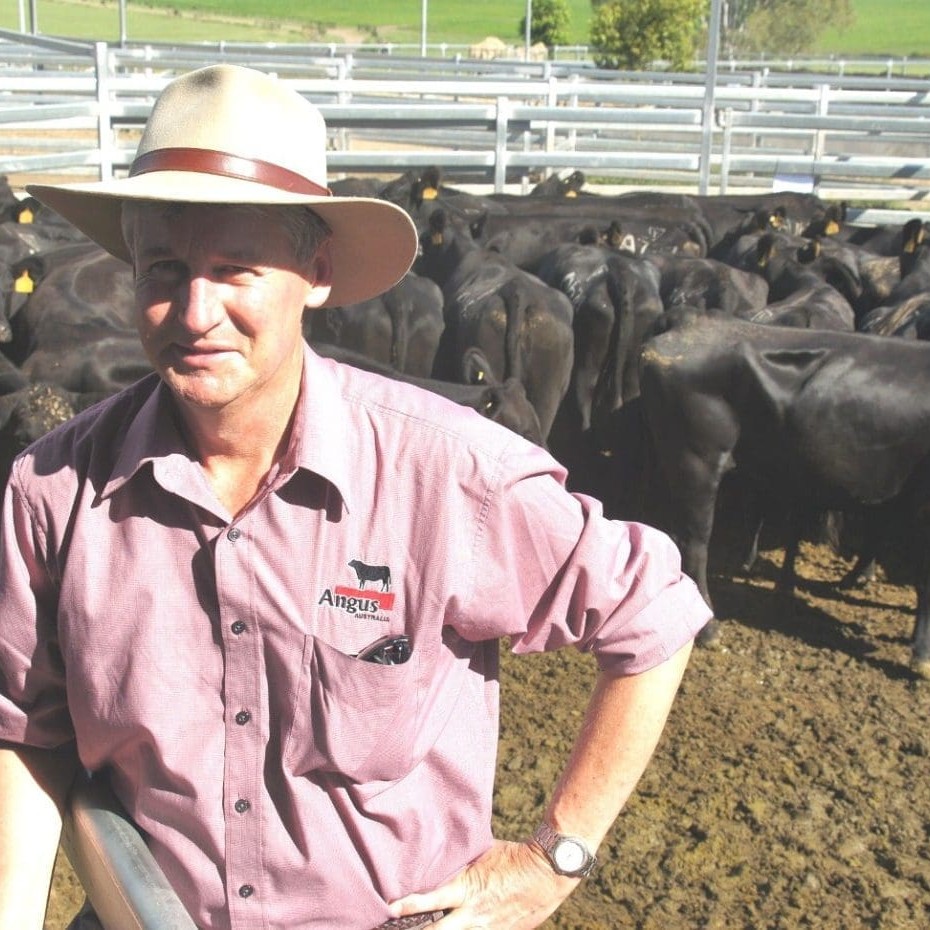 Angus seedstock breeders attending last week's Angus Australia national conference in Ballarat were encouraged to 'keep the pedal to the metal' in their pursuit of genetic improvement.
A panel of high profile industry experts was assembled for a 'warts and all' look at the current rate of genetic improvement of Angus cattle, and how this can be hastened going forward.
Setting the scene for the discussion that followed, Angus Australia's executive director Peter Parnell said the breed's achievements in terms of genetic improvement over the past couple of decades had been one of the main reasons for Angus's global popularity.
He outlined what had been achieved in Australia in terms of genetic improvement performance recording:
Angus Australia currently records more than 50,000 calves each year for birthweight, or about 90pc of the entire calf drop of registered Angus, and more than 50pc of all performance recording occurring in the Australian beef industry for the trait.
A high proportion of those calves measured for birthweight are also recorded for growth traits at 200-600 days. There are also about 10,000 recordings each year for mature cow weight, because of the recognition that this can have an impact on cow efficiency.
About 30,000 of the birthweight recorded calves each year are ultrasound scanned, contributing tho their Estimated Breeding Values for carcase traits.
Of the 30,000 young male calves recorded, about one third are recorded for scrotal circumference. A smaller, but increasing number are also being recorded for docility score and structural traits.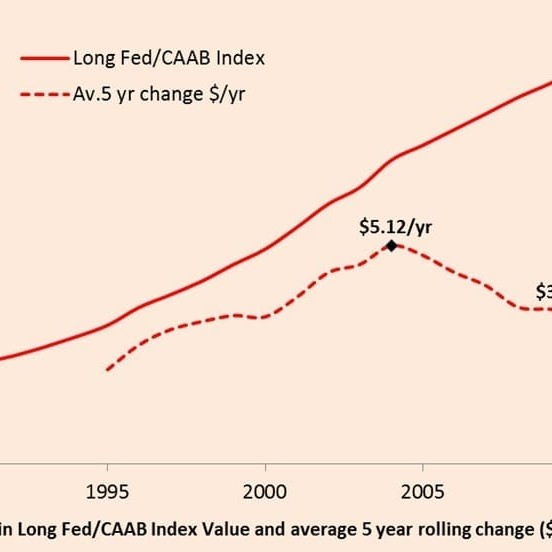 "While there is a lot of performance recording going on at various levels, for some of those traits it could be argued that we are well below where we potentially could be, if we want to really maximise genetic progress," Dr Parnell told the conference.
The average $ Index for the longfed CAAB program over time is often used as an indicator of what can be achieved through genetic improvement. The rate of change, using this particular $ index over a five-year rolling trend, suggests the average change in the trend corresponding with the five years to 2004 equated to $5.12 improvement in value per animal (cow joined) per year.
As can be seen in the graphs published here, over the past ten years or so the rate of genetic improvement has declined a little relative to where it sat back in the mid 2000s. The five-year trend to 2010 has delivered a figure of $3.56/year.
Of the four indexes employed within the Angus breed, the shortfed index shows a similar, but less severe decline in the rate of improvement from the high-point in the mid 2000s, while the terminal index (where no emphasis is placed on the female side of the profitability equation, limited only to growth and carcase traits) the rate of progress has been more linear.
Even when the four indexes are weighted according to market share, the figures show a $2.80/head improvement over the past five years, compared with earlier times when the figure has been as high as $3.76 – at least 50pc higher than where it sits today.
"We're still improving and moving forward, but the rate of genetic improvement is not as great as it was a decade ago," Dr Parnell said.
There were lots of reasons for that, some of which were explored during the Ballarat conference, and will be covered in more detail tomorrow.
"What was going on ten years ago that enabled the breed to do so well, relative to where we are now?" was one of the questions posed by Dr Parnell to the panel members.
Individual traits
He also highlighted the performance of individual traits that contribute to breed's $ indexes. Among these:
Birthweight has steadily increased over time, as breeders have selected for increased growth, but the rate of increase has plateaued, meaning the actual rate of change has declined from about 1.2kg/year in the mid-1990s to just 0.05kg/year today.
The 200-day weight trend has been consistently about 1 to 1.5kg improvement per year, while 600-day weight has been 2.5-2.9kg per year, in a pretty linear trend.
Mature cow weight will inevitably increase as cattle are selected for increased growth, but Angus breeders have been able to produce a longer-term declining trend in the rate of mature cow weight increase. That has increased a little more recently, currently averaging about 2-2kg/year.
Days to calving, one of the female fertility indicator traits, measuring the interval from joining to calves hitting the ground, has seen a long-term reduction, but the rate of decline is not as great as it was earlier. Currently the figure is about 0.12 days/year, compared with 0.3 days/year in 2004.
For key carcase traits like eye muscle area, from a peak in improvement back in 2004 of about 0.3sq cm/year, the rate of progress has now slowed to about 0.2sq cm.
Intra-muscular fat percentage (marbling) produced a yearly improvement of 0.12pc for the five years rolling average to 2004, now back to 0.07pc in 2010.
"It's important to point out that these figures do not suggest that the breed is going backwards in traits like marbling – it simply means that the rate of improvement is not as great as what it was earlier," Dr Parnell said.
So where is the current Angus genetic improvement coming from? Is it via importations of genetics from overseas, or via seedstock breeding decisions being made in Australia?
For registered Angus calves born in 2010, Dr Parnell said about three-quarters of the genetic improvement can be attributed to selective importation out of the US; a further 20pc has come from selections made within the Australian Angus herd; and 5pc from other countries, including New Zealand and Canada.
Comparing that with the trend back in 2000, when about two-thirds of genetic improvement was coming via the US; and back in 1990, when the US contribution was about 40pc, it becomes evident that over time, Australia has become increasingly reliant on US Angus for its genetic advances.
"We need to recognise that the Australian Angus gene pool has been very strongly influenced by US genetics," Dr Parnell said.
Looking at the cumulative gene contribution from individual sires, it is evident that a relatively narrow brand of sires is making the biggest contribution to the breed's genetic improvement.
The leading sire (BR New Design 036, (US)) has contributed 10pc of the genes in the current calf drop of recorded Angus cattle. The top 25 bulls used have, in total, contributed 55pc of the genetic improvement, suggesting some very intensive selection of individual sires that have been able to generate the breed's genetic progress.
In the second part of this report tomorrow, Beef Central looks at the views of the industry panel members assembled for last week's Angus Conference in Ballarat, on what is required to enhance future rates of genetic improvement within the breed.