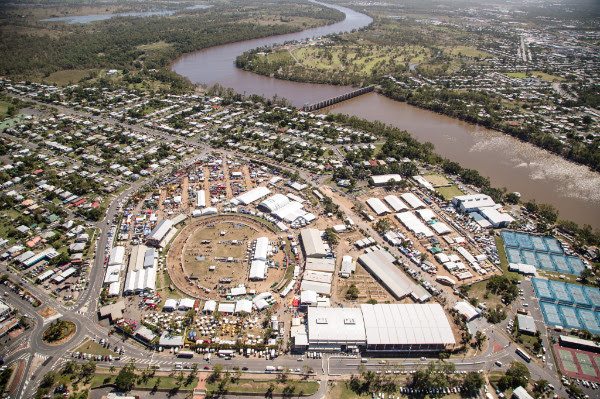 WITH the Beef Australia 2021 event in Rockhampton now only five months away, it's time for agribusinesses of all types participating in the event to start thinking about getting their brand in front of the tens of thousands of visitors likely to attend next year's Expo.
As the single largest beef industry event in the Asia Pacific region, the triennial Beef Australia event is critically important to the marketing strategy of hundreds, if not thousands of goods and service suppliers to the Australian meat and livestock industry.

Beef Central has prepared a range of attractive, cost-effective options for advertisers and exhibitors to promote their products and/or services in the lead-up to, during and after the event, being staged in the beef capital from 2-8 May next year.
Whether it be stock handling equipment appearing on a trade display, animal health products, professional services like accountancy or legal services, farm vehicles, genetics technologies or agtech, Beef Central's pre-event and in-event and post-event coverage will provide an excellent, high-exposure showcase for your business.
The two advertiser options outlined below will deliver access to a highly-targeted, large national beef industry audience, plus a large and growing audience of stakeholders overseas who have trade or other connections with Australia's beef and livestock industries.
Beef 2021 event preview:
Commencing in late December and building in momentum as the event draws closer, Beef Central will publish regular items about events and activities taking place in Rockhampton next May as part of Beef 2021 (click here to access event website).
The content will help build expectations about Beef 2021, and motivate stakeholders across the country and overseas to attend. It will showcase events, product launches, competition entry milestones, guest speaker profiles, commercial exhibitor product profiles, social events and myriad other activity. An ideal, cost-effective way to flag your company's presence at the event.
Beef 2021 event report:
From commencement of the event on Sunday 2 May, Beef Central's rolling coverage of Beef 2021 will continue during the week of the event itself, and throughout the following two weeks. The sheer weight of conference outcomes, seminars, workshops, product releases and other activity will provide a healthy flow of articles delivering high-interest readership on Beef Central throughout the month of May.
Daily event updates and 'what's on today' items published on Beef Central during the event itself will provide handy reference tools for thousands of beef industry stakeholders attending the event, accessible by smartphone or tablet.
A range of cost-effective advertising options are available in both the Beef 2021 event preview and report.
If the 2018 Beef Australia event was anything to go by, available advertising spaces in Beef Central's event preview and report will fill quickly. To avoid disappointment, we strongly encourage prospective advertisers to make contact as soon as possible, to reserve a spot, as it's first-in, best dressed.
Contacts:
Sally Inslay 0419 471578 email sally@graincentral.com   or
Rod Hibberd 0437 870127 email rod@beefcentral.com