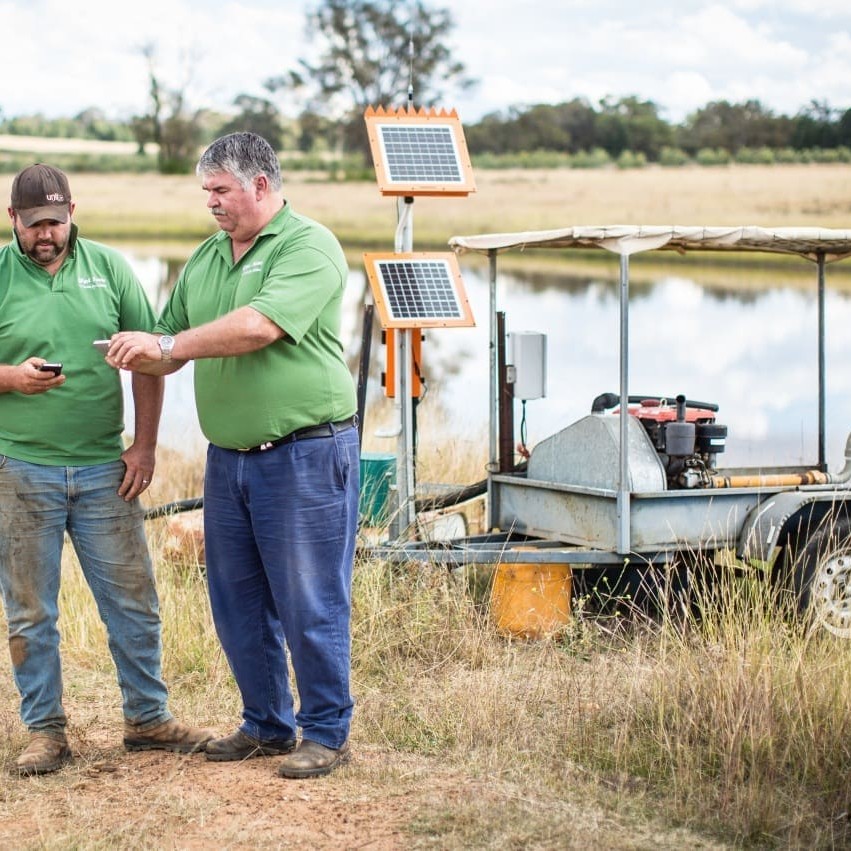 For a Central NSW cattle property divided into almost 200 paddocks under an intensive cell grazing program, technology is providing major time and labour savings in stock water monitoring and management.
Father and son livestock producers Eric and Luke Harvey have been able to slash a two-hour, 30km daily round trip to check their stock waters, through the combination of remote camera and 'cloud' (on-line data storage and sharing facility allowing access from any point) technologies to deliver crucial management/monitoring information wirelessly.
The time and cost savings have been significant and are changing the way they can manage their 2700 hectare cattle property, Gilgai, located east of Dubbo.
Gilgai Farms runs both its grassfed cattle and sheep enterprises under intensively-managed cell grazing systems, with a network of 44km of poly pipe linking almost 100 watering points in 196 paddocks.
The property is run along eco-friendly lines, and uses ground-breaking Machine-to-Machine (M2M) remote monitoring technology to save thousands of dollars each year.
The Harveys worked with Victorian technology firm, Observant, and Telstra Business to design and install a remote monitoring system based on the Observant Global model.
Backed by monitoring cameras and the 'cloud' based management platform, Telstra Wireless M2M Control Centre, the Harveys monitor and control their watering points remotely via smartphones, their farm PCs or tablets.
Monitoring units capture water usage and efficiency data and feed it back to a server. If a trough falls below a pre-set safe level, data is sent via the Next G™ network to the Observant Global cloud application to trigger an SMS or e-mail alarm.
Their $19,000 investment in remote monitoring and management paid for itself within ten months of installation.
The Observant Global solution and M2M Control Centre lets the pair identify water leaks, blockages or other problems far earlier than was previously possible, and the data the system collects is used in business planning.
The Telstra Wireless Control Centre allows Observant to provision services remotely, oversee operations of the SIM (Subscriber Identity Module, housed within the monitoring unit) and undertakes diagnosis in the event of any failure and simplify reporting.
The 14 hours saved each week on water monitoring runs means the Harveys can focus on other areas of the business – an annual time-saving of more than 720 hours.
The business takes a 'triple bottom line' approach to its operations, based on ecology and people, as well as financial, enabling it to focus on soil health and its implications and benefits. In addition to its Simmental-based cattle and sheep enterprises, Gilgai Farms also produces cereals crops, has established native hardwood eucalypt and mallee plantations, and plans to establish its own bio diesel production facility.
An added benefit in this multi-faceted approach has been the sequestration of significant amounts of organic carbon in soils, in a short space of time.
Both cattle and sheep are grazed at very high density for a very short period of time across the property's 196 cell paddocks. Most are only grazed for a day at a time and then rested for 180 days before the cycle returns.
"The effect of this is that we get a tremendous pulse of organic matter in our soils each time we graze, not only from the plants being grazed but also from the animal's urine and manure. Having dung beetles 'following' the herd as soil renovators and aerators means that our paddocks are getting healthier each time we graze and our organic carbon is increasing," Eric Harvey said.
As a part of its business model, Gilgai Farms offers a direct to consumer beef and lamb ordering facility, delivered through an appealing and well-designed website.
In 2006 students from St Johns College at Dubbo – one of Australia's most successful led steer exhibitors – took two Gilgai Farms-bred steers to Sydney Show. They were entered into the Hoof and Hook competition and gained first and third placings in their hoof class. These same two animals were placed 7th and 22nd out of 84 carcases across all breeds in the hook stage.