FENCES have traditionally separated cattle and wildlife in Africa, but one conservancy in Kenya has trampled traditional paradigms by removing fences and running cattle and wildlife together.
The profits from producing cattle and selling beef into high-end Nairobi restaurants are now used to help fund the conservation of wildlife on the park, in an innovative example of agriculture and conservation working together in a mutually beneficial way.
The Ol Pejeta conservancy has become one of the few wildlife conservancies in the world that is able to source 100 percent of its operating costs through sustainable, commercially generated revenues, from tourism and agriculture.
The innovative model has also demonstrated that integrating cattle production and wildlife conservation is beneficial for the quality and health of grasslands shared by both.
Visiting Australia this week to explore the use of forage tree legumes such as leucaena for cattle production, Ol Pejeta Conservancy head of livestock Richard van Aardt explained to Beef Central how cattle and conservation are now working hand in hand.
Ol Pejeta is a 36,450 hectare (90,000 acre) former cattle ranch that straddles the equator at the foot of Mount Kenya about 150km north of Nairobi.
It has the largest black rhino sanctuary in East Africa and the only two northern white rhinos known to be in existence.
The park is a popular safari destination, visited by thousands of local and international tourists every year – if you've ever thought about that holiday to Africa you might just want to check it out at this link.
The land was run as a cattle ranch from colonial settlement until 2004, carrying at that time a herd of 14,000 Boran cattle (a Zebu beef breed native to eastern Africa), grazed on its vast themeder red oat grasslands.
The climate is largely arid with 600-700mm of rain each year falling in two distinct wet seasons – from late April to early June and a shorter season from late November to early December.
In 2004 the cattle ranch was purchased by UK conservation organisation Fauna & Flora International.
Fences were removed allowing the wildlife to move all over property.
The approach to grazing cattle also changed significantly.
Cattle as an 'ecological tool'
The herd was reduced to 7500 head (which remains the largest single Boran herd in the world), and was divided into dozens of small grazing mobs of 100-150 cattle, which are each managed by two herders and gradually moved around the grasslands.
On its website Ol Pejeta describes how cattle are used as "ecological tool" to manage the rangelands, maintaining heterogeneity and maximizing biodiversity:
"The trampling effect and controlled grazing of cattle improves the quality of grass very quickly. Cattle are held overnight in mobile, predator-proof structures, which then create 'hot-spots' of nutrient- rich grass favoured by herbivores."
Protecting from lion predation
As explained each mob is returned after grazing during the day into a portable kraal or boma (temporary enclosure) every night, to protect them from lions. About one percent of the total cattle herd is lost to lion predation each year.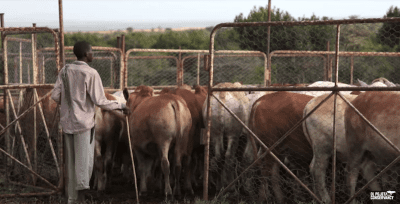 The need to protect cattle at night means cattle have only 11 hours of grazing time each day.
For this reason, the feed conversion efficiency of Boran cattle was perfectly suited to the operation, Richard said.
"They are a great breed for us," he said.
"Just a slightly smaller framed animal and they tend to be more hardy and have a better temperament.
"If you have animals with too big a frame they will struggle to get their daily intake (during that 11-hour period)," he explained.
"With their predator instinct which is very natural to them and their mothering ability, they will stick close together and they will herd through the bush.
"We push them through the bush, because if we don't graze that grass down it often becomes rank, as the wildlife tends to like staying out on the plains."
Richard said grass quality on other nearby wildlife conservancies that did not have cattle tended to get rank and oxidise and regrowth was limited.
"We have much better quality grass and we've kept our good species just by grazing," he explained.
Branded beef
Ol Pejeta has its own on-farm abattoir which operates four days a week.
Grassfed steers are processed at around 30 months of age, and with Ol Pejeta beef sold to a range of high end butcheries and restaurants in Nairobi.
Richard said the agricultural business is profitable and along with the tourism operation helps to fund the conservancy, which can be expensive to run.
The security component alone, which involves funding armed rangers and staff to protect the rare and valuable animals from poachers, costs about $US 1.5 million a year.
More conservancies adopting integrated model
Richard said the success of the model was leading more conservancies to start removing fences and integrate cattle and wildlife in the same way.
'you have got to make money from the land'
"They have realised you have got to make money from the land, and that is the way to do it where you don't affect the wildlife.
"The elephants are there, the rhinos are there, whereas if you fence it off and farm wheat or something, then the wildlife have to go.
"So that is a way to produce food or protein, you cannot hunt or crop wildlife in Kenya so you either have to use cattle or nothing at all.
"If we can find ways to be profitable and show people you can still make money with beef with wildlife, that the lions can be controlled, and if we can start building a premium for that conservation beef, we will start to encourage more farmers to do the same and see that it is worth opening up their fences."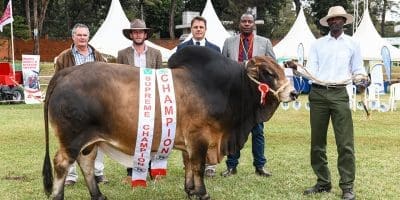 The operation also breeds its own bulls, both for use in its own herd and for sale all over East Africa and more recently into South Africa, where the Boran genetics are becoming increasingly sought after.
In a significant achievement for the integrated wildlife and livestock operation, a bull exhibited by Ol Pejeta was named supreme champion bull at the Livestock Breeders' Show in Nairobi, the biggest livestock event in Kenya (above).
Exploring leucaena's potential for Kenya
Richard was in Australia this week travelling with Devan Khagram from Lucsom Services Limited (which is working to break the cycle of poverty and famine in Africa by commercialising drought-resistant fodder trees as nutritious, affordable animal feed (see more about Lucsom here) and international pasture and forage agronomist Alan Robertson , who is based at Tenterfield, NSW.
Ol Pejeta and Lucsom are jointly implementing a project to trial the development of forage legume trees on Ol Pejeta with a view to producing a pelletised product to supply other livestock producers in Kenya, and have been visiting several leucaena growing operations around Queensland this week.
"We're looking at putting leucaena in and Desmanthus, and whether it can be pelletised," Richard said.
"We have a large zero-grazing livestock dairy industry in Kenya so most people have to buy in 100 percent of their feed, and it is generally poor quality and pretty expensive, so we are looking at whether we can come up with something that would fulfil that."
Richard said the first planting Leucaena of Ol Pejeta, using seed purchased from Peter Larsen in Central Queensland, was established on Ol Pejeta a few weeks ago.