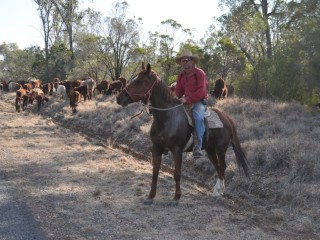 Technically Oaklands at St George in southern Queensland is a cattle property, but in its current form, 'kangaroo property' might serve as a more apt description.
For the past five months Oaklands' owners Michael and Ann Rayner and their four-year-old daughter Maria have been walking 1200 of their own cattle along stock routes in southern Queensland.
That's because there is almost no feed at home, and what little remains is being devoured by hungry masses of kangaroos.
Kangaroo numbers have exploded in the wake of three recent wet summers and an absence of commercial harvesting pressure, caused by the loss of export markets due to food safety issues and campaigns by animal rights groups calling for consumer boycotts of kangaroo meat and leather products.
It is estimated there are now more than 30 million kangaroos in Queensland alone, where more than 60pc of the land area is officially drought declared. Millions face starvation as feed and water runs out.
While landholders can try to rest country in dry times by reducing sheep and cattle numbers, there is nothing they can do to ease the grazing pressure from vast throngs of kangaroos.
With the 18,255ha Oaklands all but overrun, there's little room left for cattle.
"When we had 60 points of rain two months ago it put a one inch green shoot on the grass, but there were so many roos they ate the green shoot off and smashed the rest of the dry grass down," Mr Rayner said.
"I don't know how many thousands would be on the place at the moment, it is unbelievable.
"They are eating what our stock could be living on."
Oaklands received its last significant fall of rain in December 2011.
In May of this year, after forking out $50,000 on cotton seed in a short time to keep cattle alive, the Rayners decided to try their luck on the stock route.
Their journey has so far taken them from St George to Surat, Glenmorgan, Condamine and Dulacca, and will continue until Oaklands receives enough rain to enable their return.
Mr Rayner estimates it will take around 125 to 150mm (five to six inches) to generate the body of feed they would need to head for home.
Like many others, they are keeping a close eye on the clouds in the hope a forecast cold front tomorrow will bring the rain they need.
This has been the first time the Rayners have turned to the stock routes to keep cattle alive, and it has been a case of 'so far, so good'.
"We used buy in truck loads of feed in dry times, but this time we decided to give droving a go, it is definitely the cheapest option," Mr Rayner explained.
"You have to be out on the road all the time, but it is easier to look at grass in front of you than dying cows at home."
The droving team consists of Michael, Anne and Maria and two backpackers (and they're currently looking for another). Home is a caravan and camper trailer, which provides hot showers and comfortable living conditions for life on the road, Michael says.
At four years old Maria is taking to droving like a proverbial duck to water. She has progressed from being led on a horse to comfortably walking the tail of the mob on her own. "So she just plods along happily enjoying life," Michael said. "She just absolutely loves it, she is with mum and dad all the time, and she really enjoys it, it is a good life for her."
Compared to the cost of feeding stock at home, Mr Rayner said droving had proven to be more cost-effective option.
The main costs have totaled around $7000 a month, comprising wages, fuel, food and horse feed, and the cost of stock route permits at about $120 for every 100km travelled.
While the Rayners have been fortunate to find good feed in front of them so far, their biggest challenge has been finding adequate supplies of water.
Mr Rayner said other landholders had been terrific in their willingness to help: "As soon as they find out we're other graziers they're willing to give us a hand, even with their personal water they're happy to help. They recognise that we're not out here to make money, we're out here to keep our stock alive."
However the Rayner's water-related costs are set to increase from here on, as the larger distance between water stations as they gradually turn north requires them to cart water in tanks.
For now everything hangs on what the weather does next.
If Oaklands can get under enough rain to allow them to turn for home, they will aim to take around two months to walk back to give pastures the best chance to regenerate before they arrive.
"When it rains the roos will spread out a bit more and we probably won't have quite as many, but there are always a lot of roos on that country and competing with what we try and live off," Michael said.
"Everybody out there has the same problem, we can't grow crops out there because there are so many roos out that they just annihilate the crops.
"It is frightening."