Agrihive and its partners are holding a launch event on Wednesday, May 10, which focuses on driving profits and performance for cattle producers to a new level.
As part of the initiative the event is calling for ideas that will have a financial impact at the farm level.
In an industry-first the event will be streamed simultaneously on Facebook live and also via webinar with Beef Central.
Agrihive will be launching a program created to help Australia's 70,000 beef producers improve financial control of their businesses to help them expand, improve performance, cover school fees and basically get more for what they produce.
Register here for the event launch, scheduled for midday, May 10 AEST.
The program called 'Farmecco' has been created for beef producers from a diverse range of business and financial experts and driven by Agrihive which is focused on finding solutions to problems affecting producer sustainability.
An 80 percent-complete 'Beta' version was released in June last year so the software could be trialed by cattle producers and feedback sought prior to its completion.
It is now being launched after a successful pilot with over 75 producers and 100,000 head of cattle across Australia.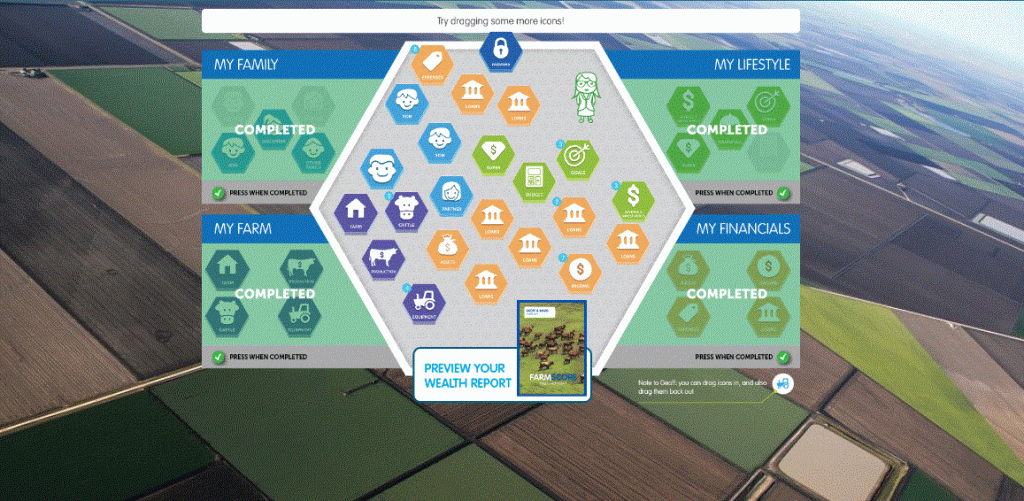 Agrihive's James Walker said the name Farmecco is based on producers who trialed the product describing it as like a 'farm and financial 'echo' of how they are now and what their future looks like.
"The feedback has been very humbling from all across Northern Australia to Tasmania, from family businesses to new entrants and right across the supply chain," Mr Walker said.
Mr Walker said the computer program has been designed so it is easy to use and to allow livestock producers without accounting knowledge to quickly understand their detailed financial position, in the comfort of their own home.
"They can then use that information to make fully informed decisions about debt management, capital improvements and when to buy or sell stock," he said.
"Many producers are extremely time poor as their businesses are extremely dynamic so they can't spend time in the office to calculate their actual financial position and to perform reliable projections for their future."
Mr Walker said the program was designed "for producers' profit by producers".
Points of difference included:
Ease of use: A simple, easy-to-follow process guides producers through the steps of inputting information so the program can develop a complete and bank-ready financial picture of their operation. The data-entry system was developed specifically for this program, and is designed to be simple enough so any member of the family can use it, Mr Walker said.
Fast: It typically takes 30-40 minutes for a producer to input the information required to produce a comprehensive financial and production report of their business. They can then instantly generate reports at any time in the future, with a level of detail that would normally take weeks for external financial advisors to prepare and send back, he said.
Draws on major online databases: The program is directly linked to various extensive online databases including MLA NLRS' market reports and the Australian Bureau of Statistics and ABARES information sources. When a producer inputs the details of a line of livestock on their property, including current weights and growth rates, the program continually updates the value of that line according to market changes, based on the most recent NLRS sales in their area. Also, the program draws on ABS and ABARES data to track how the financial performance of the farm compares to other farms locally and nationally.
Premiums factored into stock valuations: In addition to providing updated herd valuations based on actual recent NLRS market sales, the program will also incorporate relevant nominated premiums where PCAS, EU, MSA, or organic accreditations are in place. "The program turns your cattle into a share portfolio that values daily," Mr Walker said.
Bank-ready: It can generate an instant report at any time for discussions with the bank, consultant, family member or any other stakeholder who requires such information.
Informed forward projections: The tool allows producers to consider how decisions will impact future financial positions and cash flow. Examples include instant cost-benefit analysis of selling cattle now versus holding them to add more kilograms; how capital development or off-farm investment or paying down debt will impact financially; how bringing a son or daughter into the business will affect cash flow, or scenarios on buying more property.
Practical, real world costs: The program also keeps track of key dates coming up such as school fees. Many producers, particularly in the beef industry, have to send their children away for boarding, so the payment of school fees becomes a key decision driver in terms of the need to generate cash flow and to sell stock.
"The launch initiates the start of generating a new level of net wealth for producers," Mr Walker said.
One of the features is the personalised superannuation section used in the program, which is is based on a superannuation report awarded for excellence by the Association of Superannuation Funds of Australia.
"Everyone associated in the Australian beef industry is invited to attend the online event from accountants, agents, lawyers, producers, investors and new entrants as we attempt to decode profits and transferring them inside the farm gate through improved reporting.
"This program improves how you communicate your beef operation with family members, accountants, advisors, stakeholders and anyone trying to grow your business with you."
Mr Walker said the program is about fast tracking the discussion with that preferred advisor into business analysis and decisions.
"The launch coincides with the end of financial year so tax effectiveness can be directly aligned with your personal and business goals.
"Producers can either do it themselves or be guided through the system by Agrihive or their preferred advisor before the end of the tax year.
"The event is about profiling opportunities to improve producer net wealth, with all suggestions welcome on immediate solutions."
Agrihive has attracted over $750,000 in the first round of development of this tool, with contributions from the Department of Agriculture, Meat & Livestock Australia and other investors interested in the Australian beef industry and farming sector. It has been specifically developed for Australian beef producers. Post launch they will be opening a stage two funding round to further improve the system.
"We believe this program has the potential to save most beef producers around $20,000 to $40,000 in the first year with the insights section," James said.
Applications the program can be used for include:
Gaining clear understanding of business quickly
Real-time valuations of your herd;
Calculating your equity position;
Generating historical property growth figures;
Profiling market premiums;
Calculating Superannuation;
Creating family milestones for succession;
Determining cash flow, factoring in personal and business goals;
Vertical and Horizontal Benchmarking;
Generating bank ready documents;
Showing farm performance without the use of excel spreadsheets.
Register here for the event launch, which will commence at Midday, Wednesday May 10, AEST.