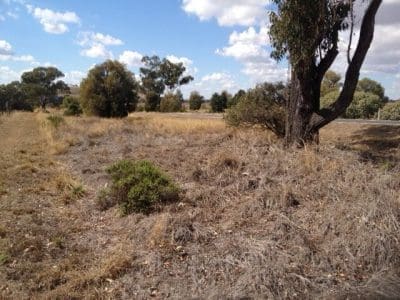 Detailed investigative work is progressing to help map and address recent pasture dieback across parts of central Queensland.
Earlier this year Meat & Livestock Australia (MLA) announced an action plan that brings together producers, researchers and experts to better understand the extent of the pasture dieback and to find both short and long-term solutions.
A strong producer response to MLA's survey on the issue has provided key information that has allowed MLA to better understand the issues and commence more investigative work.
The investigative works include:
Sampling: MLA has engaged two commercial companies to undertake sampling and testing of affected pasture and soil. Testing in the Biloela, Gin Gin and Rockhampton regions has been completed.  The samples are undergoing microscopy, pathological tests and physical tests. This will aid the diagnosis and further understanding of the problem, and the next steps towards treatment or cure. This testing is in addition to existing samples held by the Queensland Department of Agriculture and Fisheries (QDAF) which they are currently assessing.
Image surveying: Historical and current satellite images of affected properties are being acquired and analysed in order to assess the extent of the problem and coordinate a response. MLA has appointed two companies utilising different technologies to document historical and future dieback changes:
FarmMap4D (http://www.farmmap4d.com.au/) can undertake historical, current and future satellite imagery of properties. The purpose of this is to ascertain if we can track the historical spread of the dieback on affected properties. From this we can obtain a report of historical spread and provide a minimum 12 months of future monitoring for willing producers.
Aerial drone high resolution monitoring – involves deploying close to ground aerial drones to obtain additional information. This technology will be applied to all willing properties to ascertain any advantages this can have in also pinpointing spread and cause (with advance soil and plant health cameras).
Direct producer consultation: Discussions with affected land owners are underway to collect as much relevant information as possible, such as: historical paddock management records;
details of management techniques that may exacerbate or restrain the progress of dieback, such as burning, cultivating, or grazing methods.
These techniques are being documented and will be provided for others to consider in due course.
MLA General Manager – Research, Development & Innovation Sean Starling said the more detailed investigative work would assist in diagnosis and development of treatment/s.
"There were reports of in excess of 50 percent reduction in pasture feedbase on some properties – however, the survey results from producers did show differences in each situation which required detailed further investigation," Mr Starling said.
"We know there remains strong producer concern about the extent and cause of the dieback issues.
"We continue to work closely with affected producers and providing regular updates about the progress of the detailed investigative work, including sampling results when they become available."
MLA has also appointed a Liaison Officer, Greg Palmer, to assist in co-ordinating sampling and surveying activities over the coming months.
Source: MLA. Property owners who have been affected by pasture dieback and have not yet reported their issues are encouraged to do so by contacting Sean Starling at sstarling@mla.com.au.