Controlling all points of the management process from pre-conception to consumption is key to achieving consistent high performance for one of Australia's best-known Fullblood Wagyu beef producing enterprises.
The de Bruin family has carved out a unique business model built around the production of elite Wagyu beef on South Australia's Limestone Coast over the past 15 years.
Unlike the majority of the Australian Wagyu industry which is oriented towards F1 and higher crossbred Wagyu production, the de Bruin's Mayura Station has concentrated solely on fullblood production, based on 100pc Japanese Wagyu genetics through both sire and dam lines. Fullblood production in Australia is widely regarded as representing less than 10pc of all Wagyu beef produced.
To put the Mayura Station operations into some context, the business currently has 1700 fullblood Wagyu on feed, and this year is producing an average marbling score of BMS 8.5.
Mayura director Scott de Bruin provided an outline of the business's development at the recent Australian Wagyu Association conference on the Gold Coast.
Historic Mayura Station, located roughly half-way between Adelaide and Melbourne, was South Australia's first granted pastoral lease, established in 1845.
The de Bruin family was one of Australia's pioneering fullblood Wagyu breeders, purchasing their first Fullbloods (25 females and four bulls) from industry pioneer Shogo Takeda in 1998, via David Blackmore.
The highly fertile country along the region known as the Limestone Coast enjoys high rainfall, and the intensively-managed 2340ha holding includes about 800ha of cropping, 1200ha for breeding purposes, 250ha for backgrounding of feeder cattle prior to feedlot entry, and a highly-automated specialised, NFAS accredited feedlot. The development also includes an 'on-farm' restaurant/tasting facility, something akin to that often developed by wineries offering cellar door sales.
The business integration process starts well before calf conception, with most feedgrain and forage crops grown on the property, Scott de Bruin explained.
"Our business in its simplest form is about converting fodder to meat, but because of the feedlot component, we have both liquid and solid effluent to deal with. That becomes part of a cyclical process, with a large compost operation using raw material from the feedlot and cropping operations," he said.
"That produces about 6000 tonnes of composted material each year, which is returned to the surrounding paddocks to further improve their productivity."
In what is largely a closed production system, pasture, cereal and lucerne hay are produced for the breeding herd, while ryegrass/Persian clover silage is produced mostly for the backgrounding operations. Oaten hay is used as a roughage source in the feedlot. Wheat, broadbeans and canola and grown in cropping rotations.
A considerable part of the development work had focussed on developing under-productive paddocks, mostly rolling hills. The addition of compost had greatly improved the performance of less productive limestone coastal paddocks, Mr de Bruin said.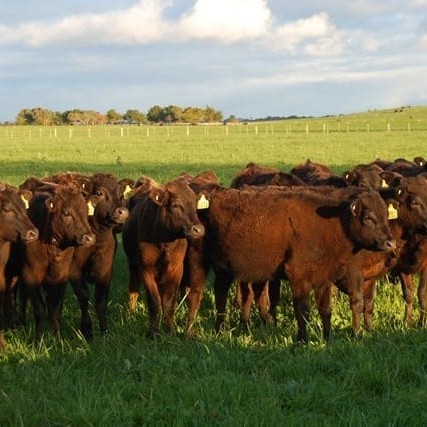 On the livestock side of the business, the de Bruin's foundation genetics comprised 13 main bloodlines, using embryo transfer and recip dams to expand and improve the herd.
In 2007 it expanded its Fullblood breeder numbers significantly with purchases from Wagyu Genetics, Samurai Farms, Kuro Kin and others.
As a result, today, the operation runs 2000 Fullblood Wagyu cows, one of the largest Fullblood herds in the country, which are AI-mated either spring or autumn, producing year-round calving for continuity of turnoff.
The backgrounding operation helps smooth-out feeder cattle production flows, designed to deliver the requisite number of killable cattle every month to underpin Mayura's beef brand programs (see this morning's separate story).
A single AI round is carried out using Takeda Farms and World K AI sires, and Mayura's own donor bull selections, with back-up bulls for misses.
In making its own internal bull selections, Mayura basically follows the Takeda Farms principles of four way rotations using selected Wagyu genetics for marbling, frame score, eye muscle, maternal and other traits. The three home-bred bulls currently used in AI work were producing very good results in progeny performance, Mr de Bruin said.
"We've also found with our Wagyu herd, that we get strong conception results from running a nutritional program in heifers prior to mating. We start feeding heifers a total mixed ration six weeks prior to joining, which is delivering much higher conception rates the second year round. They cycle more consistently and we've enjoyed some fantastic success in making sure we get higher rates of pregnancy in those young breeders," he said.
Pre-calving nutrition and treatments are applied to reduce the incidence and impact of calf scours, and consequent mortalities. Because the country's coastal location, nutrition is a big part of scours prevention, with a particular emphasis on delivering trace minerals, including copper and zinc.
Herd management also includes a pestivirus program using Pestigard for the past four years, as well as BOvac e.coli vaccinations to minimise scour risk.
All calves are tagged at birth, with parentage and birth/weaning/backgrounding weights recorded, with DNA samples taken for parent verification. This linkage becomes valuable at slaughter at the G&K O'Connor export licensed plant at Pakenham, in Victoria, where marbling score, carcase weight, eye muscle area, fat depth, rib thickness and dentition are recorded, to add to the business's database, allowing progeny performance-based fine-tuning of breeding strategies.
Calves are weaned and weighed at 5-7 months, fed lucerne hay for ten days in the yards, then turned out for backgrounding on improved pastures for around 120 days prior to feedlot entry. From about eight months of age, a silage-based TMR ration is introduced.
This strategy has increased feedlot entry weights significantly, as well as conditioning cattle to bunk feeding. Previously, fullblood Wagyu feeders were entering the feedyard at 270-300kg at 13 months of age, but that has now extended to 400-420kg at similar ages. That increase had come via both genetic selection for growth, and nutrition, Mr de Bruin said.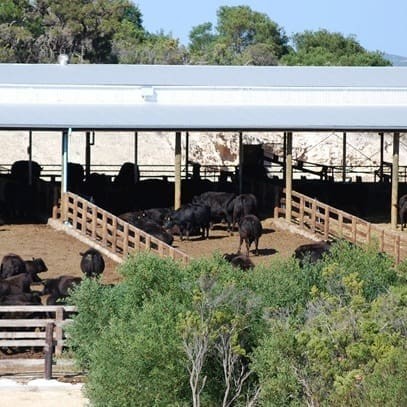 One of the attributes that sets Mayura Station apart from other Australian fullblood Wagyu producers (with the exception of AA Co) is the employment of a highly specialised on-property accredited feedlot. This further enhances the business's high degree of supply chain control.
Work started on the feedlot in 2005, and the facility was opened in 2007. The site currently has 1700 head of Fullblood cattle on feed, with a license to expand by an additional 2000 head, if required.
Grainfeeding typically takes place for 550 days, to optimise the full marbling expression genetic potential of the cattle.
The feedlot is one of only three (to Beef Central's knowledge – the others being Tasmania feedlot and Macquarie Downs) featuring permanent shed shelter for all cattle on feed. Another unique feature is an automated, push-button feed delivery system, which delivers ration within 45 minutes to all cattle on feed.
Sawdust is used as the pen surface, providing cattle with an ideal bedding environment and eliminating dag and muddy pen issues. This used material is then directed into the compost operations.
The first F1 cattle were fed on the property in 1999, with mixed results and a lot of variability in the carcases produced, based on the understandable lack of knowledge at the time about feeding strategies best applied to Wagyu cattle.
In 2001 the de Bruins started feeding their first fullblood steers, and by early 2003 started marketing their first Fullblood Wagyu beef on the Australian market.
See this morning's companion story on Mayura's brand strategy and development.