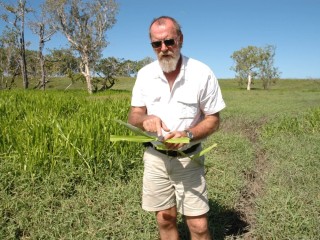 A plant which has long been considered a valuable source of cattle feed in the dry northern tropics has become one of Australia's most troublesome weeds in coastal wetlands and streams.
Biosecurity Queensland is warning landholders along the Central Queensland coast to be on the lookout for "hymenachne", particularly in the wake of recent rain.
The weed is known to flourish under wet conditions and can grow in waters as deep as deep as 2.5m.
It can act as a physical barrier for aquatic and semi-aquatic animals, restricting their territorial movements and breeding activities.
Infestations can also degrade water quality for swimming and make fishing impossible.
While the weed is sometimes used as a ponded pasture grass in north and western areas of Queensland, Biosecurity Queensland's Peter Alden said it was undoubtedly a pest in coastal areas.
"It was originally introduced as a fodder source for use late in the dry season when grown in ponded pasture facilities or storages to retain rain water run-off," Mr Alden said.
"The problem with hymenachne is that is does not respect the boundaries of its usefulness, and it has proved difficult to control its spread throughout the region's wetland and streams.
"The seed is spread prolifically during annual flooding events in mud attached to waterbirds, or in contaminated stock feed. Flood waters can also transport fragments into waterways, irrigation storage facilities, sugar cane crops and natural wetlands.
"Heavy infestations can also cause damage to infrastructure by blocking flow or becoming debris that builds up against bridges and structures."
National distribution now includes northern New South Wales, coastal/central Queensland and the floodplains of the Northern Territory.
"The best thing landholders can do is to stay vigilant and try to eradicate the weed when it first appears, as a small patch can become a large patch in a very short space of time.
"Ideally it's best to spray hymenachne during the dry season, as it is impossible to eliminate during periods of high water levels."
A Weed of National Significance (WONS), hymenachne (Hymenachne amplexicaulis) is also known as "olive hymenachne" in the Northern Territory to avoid confusion with the native species, Hymenachne acutigluma, which is widespread across Northern Territory floodplains.
"Limiting the spread of weeds is the responsibility of the entire community, and awareness of the potential impacts of WoNS is a key part of this."
Further information on preventing the spread of hymenachne is available from Biosecurity Queensland at www.deedi.qld.gov.au or by calling 13 25 23.