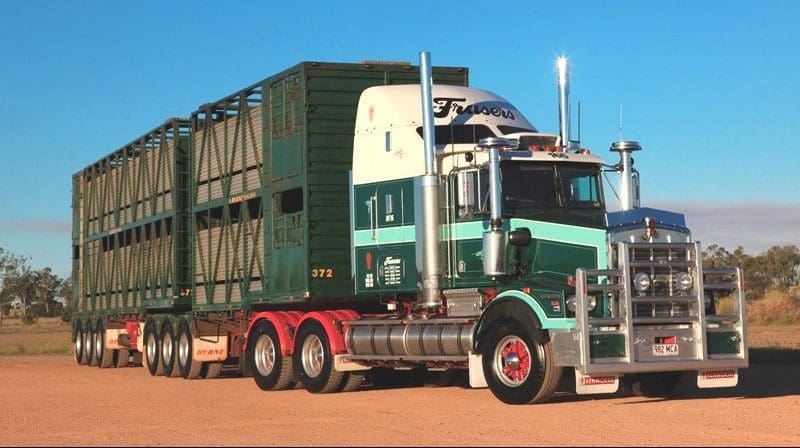 ONE of Australia's largest livestock transport companies has recently completed an extensive fleet replacement program in an attempt to reduce its CO2 emissions – resulting in a 23 percent reduction.
Southern Queensland-based Frasers Livestock Transport made a grand entrance into last week's BeefEx conference, driving a truck into the conference room at Brisbane's RNA Showgrounds.
While it managed to get a few chuckles and plenty of social media attention, Frasers was also keen to talk up its sustainability program.
Compliance and Central Qld manager Athol Carter said the company had replaced a lot of its fleet and most of its trucks were now reasonably new and more efficient. He said 98pc of the fleet meets or exceeds Euro 4 and Euro 5 emissions specifications.
"We implemented a program of 22 trucks in and 22 trucks out, so 70 percent of our Kenworth fleet is now less than two-years-old," Mr Carter said.
"Some more are still on the way because we need to keep evolving our fleet of vehicles and keeping up with current safety and emissions requirements and features. It's good business meeting and exceeding expectations."
There are carbon credit schemes available for reducing fleet emissions, but in this case Frasers says it is more about exceeding requirements and preparing for the future.
Electric trucks still not viable
While the updated fleet has significantly reduced Frasers' emissions, Mr Carter said electric truck technology and infrastructure was not well enough advanced for the company to move away from diesel.
"We are still using diesel and we will be relying on diesel in the livestock transport industry for quite some time," he said.
"Electric vehicles and hyrdrogen are becoming a standard practice in urban centres, but it is not viable given the distances we travel – our trucks can be in Birdsville one day and Byron Bay the next day."
Mr Carter said while electric motors were not yet suited to a long-haul transporter like Frasers, there was potential for other parts of the supply chain to take advantage of it.
"If you are looking for local distribution of red meat products going from a warehouse to a supermarket in an electric vehicle, that is available today," he said.
"But when we buy a heavy truck it needs to be adaptable because it needs to tow one trailer at times or four trailers in a remote part of the country. Maybe in time you could look at doing from a feedlot to an abattoir."
Preparing for new regulation
Mr Carter said the company was preparing for the Federal Government to put new legislation in which requires to company to comply with 'Euro 6' standards.
"Euro 6 standards are already in place in the European Union and the United Kingdom and equivalent standards apply in most developed countries including United States, China and India," he said.
"If we want to remain relevant to our market and customers we need to be moving forward with this technology.
"It is constantly changing, you buy something new and another new product is created that day – it's just a case of joining the race."