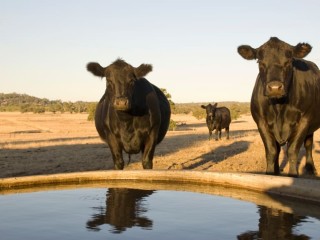 Spring is generally a higher risk time for animal health, and livestock producers are being urged to remain vigilant and have management plans ready to go.
While pockets of southern and western Australia have experienced wet conditions, unseasonably hot and dry conditions are taking their toll in the north and many areas in NSW.
According to Duncan Bremner, CEO of the Animal Health Alliance (the Alliance), each situation has its own unique animal health considerations, causing livestock producers to assess their management options.
The Alliance offers the following livestock management tips heading into summer:
Treat now for parasites
Warm, humid conditions provide an ideal breeding ground for both external and internal parasites and biting insects that spread diseases.
Mr Bremner says parasites can cause productivity losses and deaths in susceptible animals.
"A warmer, wetter summer could see gastrointestinal parasites like barber's pole become a problem for beef cattle and sheep producers in areas where they do not normally occur. This can include many areas of southern Australia where this worm species is not considered a problem."
Conducting worm egg counts and subsequent larval cultures to monitor parasite burdens can help inform decision-making around drenching to protect against production losses and even deaths. Strategic fluke drenching may also be required in flukey areas.
Watch out for bloat
Bloat is a seasonal problem for both dairy and beef cattle, usually precipitated by the rapid consumption of lush legume pasture species (especially clover and lucerne) in spring.
At this time of year when feed is generally in good supply, Mr Bremner says grazing management is critical for prevention.
"Avoid grazing high-risk pastures with a high proportion of actively growing legumes, or slow the rate of rotational grazing to allow cattle to access more mature pastures."
The daily application of bloat oil to pasture may be cost effective in some situations, while adding it to water troughs may also be considered if water availability is controlled.
Ensuring livestock have adequate access to roughage such as hay (to which bloat oil can be applied) can also be important in preventing bloat.
Access to water
Record temperatures and low rainfall have led to drought-like conditions and high fire danger in parts of NSW and Queensland.
Adequate nutrition and water supply will be key factors for producers experiencing an unseasonably warm spring.
"The amount of water animals may consume cannot be underestimated. So make sure they have easy access to water troughs or containers, and check water sources regularly," Mr Bremner said.
The Alliance encourages producers to speak to their veterinarians and animal health advisors about management plans and the most appropriate preventative and treatment options to meet their individual situations.

Source: Animal Health Alliance