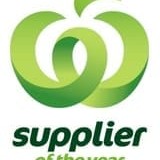 Chinchilla (Qld) feedlot operators Scott and Katie Lloyd were crowned Woolworths Agricultural Suppliers of the Year at a presentation dinner attended by 800 at Sydney's Darling Harbour Convention Centre recently.
Lloyd Pastoral Co received the top award over a range of other fresh food suppliers to Woolworths from the dairy, horticulture, seafood and other categories.
In another significant category win to the beef industry, Teys Australia's value-added products division, Teys Food Solutions, was announced as Woolworths' own-brand supplier of the year for 2013.
The Lloyd family holds a supply contract supplying 240 to 320 head of MSA steers and heifers to the Woolworths supply chain per week, processed out of the company's BrisMeats facility at Ipswich.
The family has held a Woolworths supply contract for more than 25 years, with Scott's parents John and Anne Lloyd earning a previous state Woolworths supplier award 13 years ago, prior to the awards going national. Scott and Katie have taken over the business in the last few years, continuing the family tradition.
Woolworths general manager livestock, Brett Thompson said the award was based around compliance with company specifications, as well as showing evidence of being progressive, and responding to challenges.
Compliance for the Lloyd cattle has consistently been in the 'high 90s' percent range for both company and MSA specifications this year, Mr Thompson said.
"The Lloyds' attention to detail is second to none in our MSA-driven beef supply chain, delivering consistent supply and consistent quality performance," he said.
As Woolworths beef requirements have grown over the years, the Lloyds' business has grown with it, expanding production to match. Currently up to 75pc of cattle on feed at their 5000-head capacity Wieambilla feedlot neat Chinchilla are dedicated to the Woolies contract, with the remainder used for 100-day export cattle.
Scott Lloyd said the supply commitment required about 18,000 feeder cattle to be purchased each year for placement at Wieambilla, drawn from across the Darling Downs and northern regions of NSW. That's about 1000 head every three weeks, about 40-50pc of which are heifers.
The company's buyers operate as far south as Tamworth, Gunnedah, Moree and occasionally as far south as Wagga when the price differential window is open compared with more northern cattle.
Mr Lloyd said since Woolworths had adopted full MSA grading in early 2012, he had shifted his emphasis in terms of feeder steer buying emphasis, in terms of type.
"We're trying to get away from anything showing too much Indicus," he said.
"As long as they have a strong British background, they can still have a Euro-cross in them, but we're really looking for British-oriented cattle," he said. "It's definitely lifted MSA compliance, and our cattle are producing very good MSA compliance rates, averaging around boning group seven."
He said the drought this year had not impact feeder procurement or performance as much as might be expected.
"We were pretty fortunate in that we had a winter crop, and a pretty reasonable one at that. If anything, it's produced a flush of cattle. The drought has made feeder cattle a little cheaper, yes, but the feeder cattle that have been really discounted this year aren't really suited to the Woolies job anyway."
One of the attractions in holding a Woolies contract was in escaping the huge volatility seen in grainfed export cattle in recent years, due to currency movements, and market fluctuations, he said.
"Provided you don't do anything silly, it's generally just a cost-plus exercise dealing with Woolworths, after paying your overheads and fixed costs. You're always in front, whereas sometimes we've found that feeding 100-day export cattle means you're doing them for charity."
Wieambilla employs a tempered white-grains based ration, using about 18-19pc moisture.
For the first time this year, the Woolworths National Supplier awards began with an informal expo showcasing Woolworths' latest initiatives. This was followed by a business update from Alex Dower, commercial director supermarkets.