The onset of sub-zero temperatures and frosts across Eastern Australia over the past three weeks has sparked a lift in demand from beef producers for liquid supplements to get the most out of deteriorating pasture quality.
While pasture protein levels appear to be better now than they were this time last year, after the prolonged 2011 wet, recent frosts and drier conditions in some districts have sparked a big shift in demand for paddock supplement activity from southern Queensland to Victoria.
Queensland and Northern NSW sales manager for liquid supplement manufacturer Champion Liquid Feeds, Bruce Burgess, said his company had seen a steady weekly increase in orders since early May.
"That probably started first in Central northern NSW – from the Tamworth area across to Coonabarabran, Coolah and Dunedoo, which had experienced drier conditions than most this year, and as a result was having to activate supplementation earlier," he said.
Over the past ten days, the demand had expanded into areas like the New England region, following recent, more severe frosts.
Unlike 2011, when a lot of feed went rank through prolonged wet conditions, feed quality and protein in many areas this year was better, meaning the uptake of supplement programs had been more gradual.
"Last year it was like turning on a tap," Mr Burgess said.
Similarly in Queensland, producer inquiry for supplement support had started to grow in southern Queensland, particularly areas west of Warwick across to Cecil Plains, Millmerran, Inglewood and Goondiwindi.
North and Central Queensland had not yet started to activate their supplementation programs, because the winter so far had been quite mild, and feed quality had held on longer. But there were pockets of country in a number of areas across Queensland that had missed the bigger rain this year, and did not have a full body of quality feed on hand.
"Every area is different, but many producers in Eastern Australia this year have another big body of dry feed to work with, but as soon as frosts hit, its protein and energy tends to drop away," Mr Burgess said.
"But there are still areas out there this year that have the same problem as 2011, with rank feed."
Last weekend's rainfall, and the prospect of more to come this weekend, would further devalue pasture quality – in some cases rapidly.
Mr Burgess said this year, as in previous ones, there were two camps: pro-active producers who started to supplement before the onset of frosts to try to arrest the slide in condition in their cattle, and the others that played catch-up after body condition started to visibly deteriorate as feed value declined.
Initially, demand was mostly for mineral/energy supplements, but an inclusion of protein was now more common.
"It's a matter of feeding the micro-organisms in the rumen so they can better utilise the dry standing pasture that is available."
In central and southern NSW, more Transition product was being fed to breeders in the pre-calving phase this year than had been seen in the past. The biggest impact from this was in reduction in milk fever (calcium deficiency) and grass tetany (magnesium deficiency) in those southern regions where it can be a problem.
Mr Burgess said there was no real prospect of supply shortage of molasses this year, possibly even a surplus, and while urea prices had been on a roller-coaster ride over the past 12 months due to currency movements, they had eased off a little recently.
Overall, CLF has not changed its pricing from 2011 on its most popular liquid supplement products this year.
South also under pressure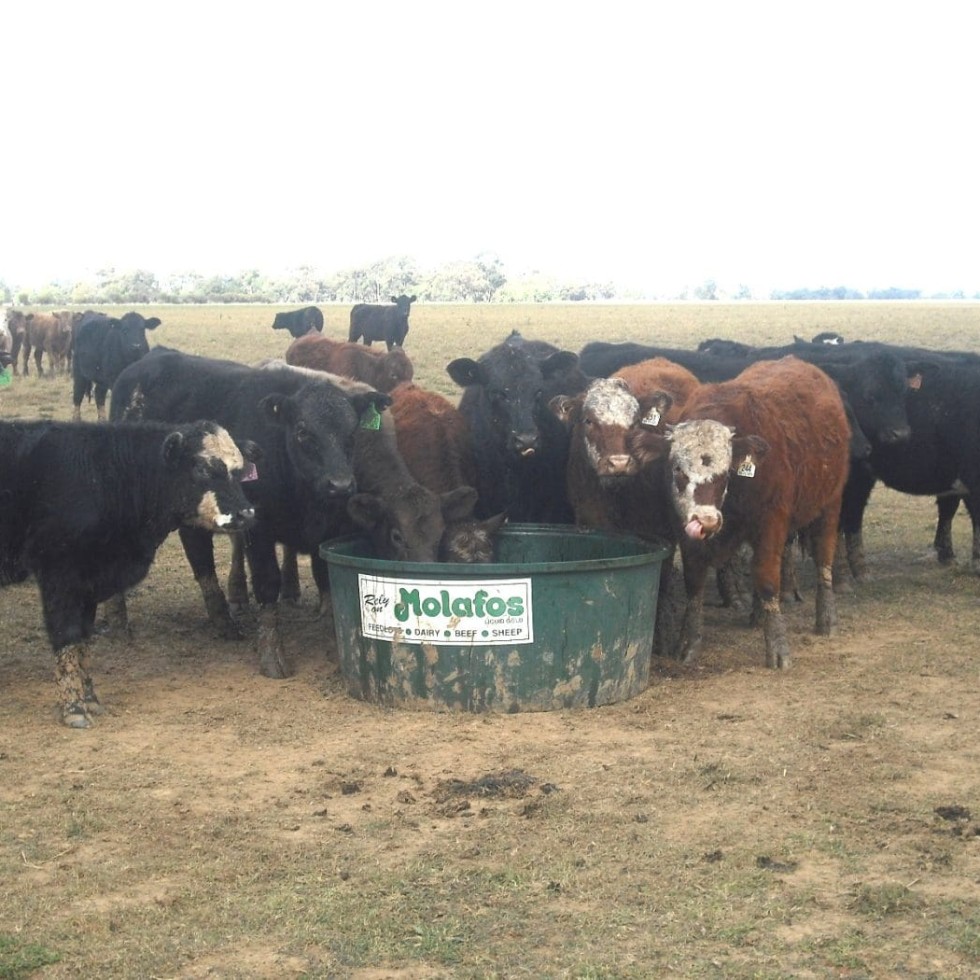 Further south, Champion Liquid Feeds' region manager for Victoria, southern NSW, Tasmania and SA, David Naughton, has also noted a lift in demand for supplement since recent frosts.
Key areas included the Mansfield area of north-eastern Victoria, the Casterton region, and western districts generally.
"But it's very patchy," Mr Naughton said. "There's pockets of real dry country and others that aren't too bad. But it's getting very cold, and I anticipate we will see another spike in demand over the next few weeks, as feed deteriorates further," he said.
Most southern customers would go for Molafos 15 (15pc protein) now that frost was having a bigger impact on pasture protein, he said.
"Large parts of Victoria had an early break, then didn't get much follow-up. Now, any feed that is there is starting to be seriously knocked about by frost."
Falls of 10-20mm, and more in places, would do further damage to dry pasture, while any new growth that emerged would be gone pretty quickly due to frost, unless conditions turned warmer for a period.
"There's been some big frosts last week around Shepparton and Euroa, and there's six inches of snow on Mt Buller at the moment. Cattle are starting to get that wintery look about them," Mr Naughton said.