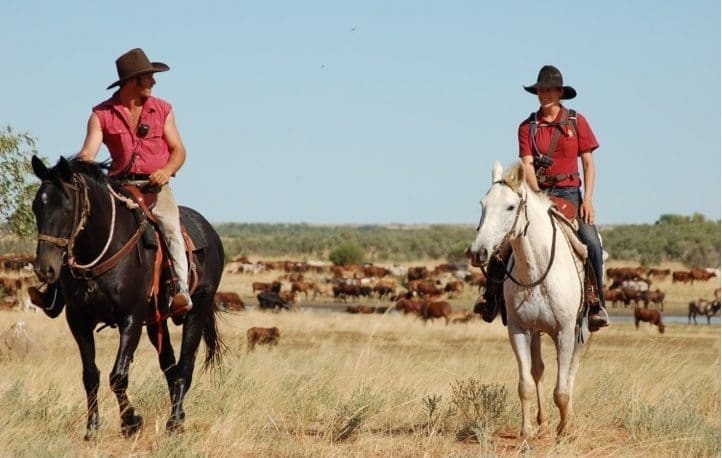 A BETTER than average wet season, strong cattle prices and a good start to the 2017 live export trade are key factors fuelling optimism among Western Australia's Top End beef producers.
An abundance of feed across much of the Kimberley and Pilbara regions and the potential development of new markets and brands have boosted confidence in the local beef sectors.
Major issues facing producers in these regions include biosecurity concerns surrounding wild dogs and invasive weeds.
These topics and more will be discussed at Meat & Livestock Australia's (MLA) upcoming BeefUp Days, to be held in Tom Price on Tuesday, 27 June and Fitzroy Crossing on Thursday, 29 June.
The forums give beef producers an opportunity to discuss their production issues and research, development and adoption (RD&A) priorities and feed this information to MLA to help direct where their levies are invested.
Expert speakers at each forum will also cover topics including managing herd health in northern Australia; analysing and using production data; meat quality; landscape fire management; and the role of precision agriculture tools in northern grazing systems.
The forums are hosted by the North Australia Beef Research Council (NABRC) Kimberley and Pilbara Beef Research Committees (BRC).
Kimberley BRC chair Kurt Elezovich, Country Downs Station, said the Fitzroy Crossing event would be firmly focused on issues relevant to the region.
Mr Elezovich said feedback from the BeefUp Day events was highly valuable for NABRC and its regional committees in assessing future RD&A priorities and investments for the region.
A producer consultation session will be facilitated by MLA BeefUp Day coordinator Barb Bishop.
Pilbara BRC chair Jillian Fisher, Yandeyarra Station, said with better rainfall across much of the region than in 2016 and ongoing strong prices for cattle, producers in her region were more confident of good returns this year.
"All cattle markets continue to run strongly for Pilbara producers and there is a buzz around resumption of live export shipping out of Port Hedland, the potential opening of new markets, including in China, and opportunities for new brands, such as Harvey Beef Rangelands," Ms Fisher said.
"But there are concerns about wild dogs, invasive weeds and other biosecurity issues that producers have identified as important for future RD&A projects."
Ms Fisher said the Tom Price BeefUp Day would explore these and other RD&A issues raised by producers in a session to be facilitated by Kimberley Pilbara Cattlemen's Association (KPCA) chief executive officer Catherine Marriott.
"BeefUp forums present an awesome opportunity for producers to be brought up-to-date on issues in the industry and what they feel are big ticket items in their region," Ms Fisher said.
"They can also hear from MLA about where their levy dollars are already being spent in our region."
The Tom Price BeefUp Day will be held at Windawarri Lodge on 27 June and the Fitzroy Crossing BeefUp Day will be held at the Fitzroy River Lodge on 29 June. Both events start at 10am and morning tea, lunch, afternoon tea and a barbecue dinner provided. Cost is $20.
Registration for Tom Price is essential by 23 June. Click here.
Registration Fitzroy Crossing is essential by

26 June

. Click here.
Source: MLA