The rapid expansion of Wagyu/Angus first cross (F1) cattle herds in Australia is creating opportunities for producers to adapt the flying herd concept from the dairy industry and for breeders to become specialist suppliers of Angus replacement females.
As Wagyu/Angus F1 herds continue to grow in response to premium prices, Angus females will continue to be highly prized commodities, respected cattle breeder and judge Erica Halliday, told the 2017 Australian Wagyu Association conference in Albury last week.
Mrs Halliday and her husband Stuart sell yearling Angus bulls from their Ben Nevis Angus stud at Walcha, NSW, to large parts of Australia, including into extensive pastoral operations in South Australia and the Northern Territory.
They also produce a special style of Angus female specifically suited to the Wagyu/Angus F1 production program.
The Hallidays began producing Wagyu/Angus F1s more than a decade ago, and Erica shared the practical learnings from their experiences in an entertaining and insightful address to the large audience of Wagyu breeders at last week's Wagyu conference.
She told the conference that a clear opportunity exists for producers to become specialist producers of Angus replacement breeders for Wagyu/Angus F1 herds.
"There have been so many Angus taken out of the system and joined to Wagyu, I see real opportunities to breed a replacement Angus female and to do it really well and become specialists and to start breeding these flying herds," she explained.
In the dairy industry, 'flying herds' are dairy herds kept only for milk production. All calves produced are sold, and replacement females are purchased as required from outside sources.
By freeing up the need to breed replacements, the strategy allows dairy farmers to maximise milk production. Every blade of grass is used to run cows producing milk, not growing replacement heifers.
The same concept in Wagyu/Angus F1 production herds allows every blade of grass to go toward producing crops of calves with high quality beef.
The flying herd concept allows producers to increase turnover by freeing up country that would otherwise be needed to breed replacement females and enables them to run more steers.
Hidden costs in growing replacement females
Growing replacement heifers had hidden costs for Wagyu/Angus F1 producers, Mrs Halliday explained.
For every three heifers they breed, they could be running not one, but two cows with calves at foot.
"If you are talking about costs, or what those animals do for you, those three heifers over that year will make you no money.
"Whereas those two cows and calves will make you, if you valued the calf at $1250, they will make you $2500.
"That is in the first year. Do that again the next year and it doubles to $5000.
"So it is costing you $5000 to grow those heifers out for two years until they come into production, and if you don't calve at three, it is costing you even more.
"So have you got $5000 to buy a replacement animal?"
Mrs Halliday urged Wagyu/Angus producers to build relationships with people who can become specialist Angus replacement breeders.
"We see a future, and we see a future for ourselves in this, of raising specialist Angus replacement females for Wagyu Angus F1 replacement systems in a flying herd."
From humble beginnings starting with an agisted herd in leased country in a state forest, Erica and Stuart, a veterinarian, have gleaned many practical lessons on how to breed high-performing Wagyu-Angus F1s.
Pre-calving and early weaning
Among many messages shared with the conference, Mrs Halliday emphasised the importance of pre-calving strategies to improve calving ease. After experiencing initial calving problems, the Hallidays found a solution in giving pre-calving heifers pellets containing magnesium and acid salts to reduce the negative effects of nitrates in green feed.
The pre-calving treatment has helped heifers to have quick and easy calvings, has maximised colostrum production and milk for the calf, and has helped them to go quickly back in calf and continue to grow as a cow and calf unit.
The moment a cow and calf are weaned, their DSE requirement drops from 16 DSE to 13 DSE
Early weaning strategies have also been adopted to set cattle up for life with a well-developed rumen that ensures life long feed-conversion efficiency.
A cow and calf together was the most inefficient way to convert grass into meat through milk. Together, a cow and calf unit has a DSE rating of 16 DSE.
However, the moment they are weaned, the DSE requirements of the same unit drop back to 13 DSE.
Trials of twin calves, where one was fed a milk diet, and the other was early weaned and fed a diet including starch and roughage, showed that the rumen of the latter had increased papilla, blood flow and therefore better overall absorption potential for nutrients (as demonstrated in the images below:)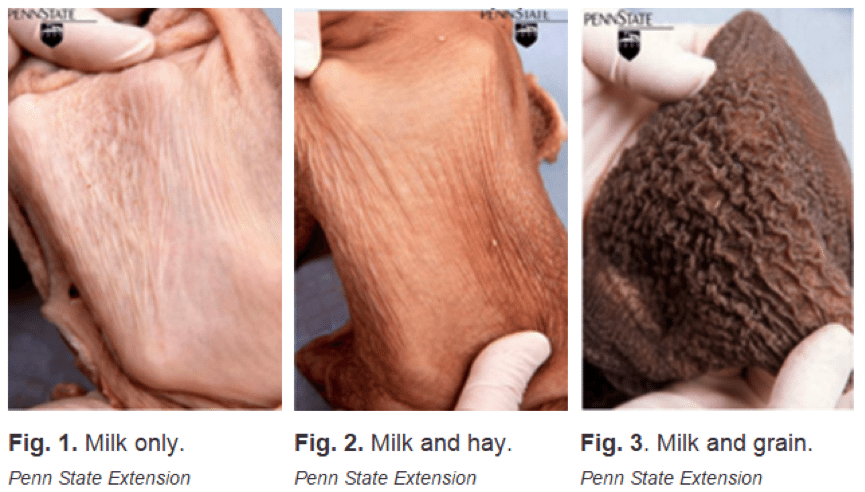 Before changing to an early-weaning, weaned calves lost weight over winter and took several months longer to reach required market weights. After adopting early-weaning, calves gained 30kg during the weaning process.
A 'massive cow effect'
The biggest positive was the "massive cow effect".
By the time weaned cows entered winter, they had each gained at least one body condition score.
"This meant this meant they calved down a condition score better in the following spring, it meant they calved down with more milk, which meant they calved down with heavier calves, which meant they went back in calf quicker," Mrs Halliday said.
"So what has actually happened over the 10 years since we have been doing this is our cows have been getting bigger and fatter, our weaners have been getting bigger and heavier, and faster growing.
"The cow effect for us is the biggest effect that has happened from early weaning."
Today the Hallidays take the same approach with their Angus bull calves.
Cost/benefit analysis
The costs of pre-calving were about $15 a head, plus the labour of feeding them, at an estimated $500 (An investment likely to be far outweighed by the labour requirement cost of pulling calves).
The result was a reduction in incidence of calving loss to 4 percent, representing a saving across 100 heifers of four calves.
"The additional benefits are better colostrum transfer for healthier calves, more milk giving them more weight, and increased total reconceptions.
"That is the gold mine, that last one."
The costs of early weaning were around $30 a head in feeding costs, plus the labour required to feed them every day.
"The flow on effects of early weaning and pre-calving are massive"
Where weaners were losing 30kg over that weaning process, they were now gaining 30kg.
60kg at a nominal price of $5/kilogram liveweight represents a $30,000 benefit.
The adoption of pre-calving and early weaning strategies had lifted reconception rates in first-calf heifers from 65pc to 95pc.
"The effect on the cows is just massive and the flow on effects of early calving and pre-calving are also massive."
Ultrasound Scanning for IMF
About 15 years ago the Hallidays also began using ultrasound technology to scan intramuscular fat (IMF) in heifers. Since that time IMF percentages have increased from 4.5pc to 8.5pc, with similar levels of fat, and heifer growth has increased by 50kg per head.
Mrs Halliday said the opportunity to attend a Low Stress Stock Handling Course with Bud Williams a decade ago was "hands down simply the best thing that we ever done", and now all staff are required to undertake the same training.
Set growth targets for replacement females
As with the dairy industry, Mrs Halliday said producers looking to breed specialist Angus replacement heifers should set growth targets for their heifers and monitor them.
"And they need to have a health protocol, so if they come into that business on the point of calving, at 85pc of their mature weight, then that reduces calving problems, they have done most of their growing, so then they can put most of it into milk."
Heifers should be bunk trained for future pre-calving treatments, have quiet temperaments, and be bred with a focus on high growth and intramuscular fat.
"We think there are real opportunities for Angus producers to breed these flying herds to breed specialist replacement heifers for your Wagyu-Angus F1 breeding program.
"Our demands for Angus are the same as your demands for Angus – high growth, high marbling, easy care.
"And together we can create an amazing product that if done well will revolutionise eating preferences."