RECENT surveys by the Dung Beetle Ecosystems Engineers team have shown a moderately abundant and diverse population of summer-active dung beetles that have survived across fire tracts along the NSW south coast and South Australia's Adelaide Hills.
Dung beetle experts remain hopeful that if livestock are returned by restocking to formerly scorched farmland in a timely manner, the small ecological warriors will be unaffected for future generations.
DBEE technical research coordinator, Charles Sturt and senior research fellow Dr Russ Barrow are two of several team members working to establish the dung beetle monitoring sites and train project partners in surveillance protocols.
Dr Barrow recently returned from two days' beetle monitoring around Bega – the second visit since the January bushfire event – and will head back to the area for round three monitoring in April to see if the dung beetles have fully emerged.
He said the initial finding was positive news for producers, whose environmental productivity is dramatically boosted by the presence of dung beetles.
"It's good news for the farmers, some of whom have gone through significant losses," he said. "Once they get stock back onto the properties, beetles are potentially going to be there providing their economic benefits.
"From data we have gathered on the south coast of NSW, it appears to be one less issue that the farmers are facing. We call the dung beetles 'mini-livestock' and producers hopefully won't have to re-stock them."
Dung beetle populations could be seriously affected in areas where livestock are removed for longer periods of time, as without the stock, the insects have no food source.
However, the DBEE project has been mass-rearing imported strains of 'spring-active' dung beetles for release this year and through Landcare and farming systems groups, can help livestock producers to crop and re-distribute considerable numbers of beetles to spread around fire affected farms.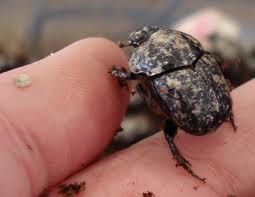 The DBEE project is a five-year project supported by Meat & Livestock Australia through funding from the Australian Government's Rural Research & Development for Profit program.
The project is focused on importing and mass-rearing foreign dung beetles to fill seasonal gaps in Australia and help producers moderate buffalo fly challenge, and increase their farms' productivity.
Two teams of dung beetle experts will survey bushfire-affected areas every month for the next four months, to track population numbers across NSW, VIC and SA.
It's thought most winter-active beetles were underground when fires came through in January and February, and many of these could remain unharmed.
Summer-active beetles affected by the fires can potentially be re-introduced with the help of livestock producers and the DBEE project, once pasture has regrown and animal numbers have been restocked.
Dung beetles are extremely important as they efficiently bury dung, ensuring the soil is enriched with nutrients and stopping worm parasites and flies breeding in the dung.
It's important for farmers to relocate cattle on fire-affected properties or in close proximity to these areas once pastures have been regenerated (3-6 months) to ensure populations of beetles have dung as a food source and a place to lay their eggs
Farmers can find out how beetles fared on their own property via the website www.dungbeetles.com.au to find out how to survey for dung beetle activity.