Warm winter conditions followed by early spring rains have triggered an earlier and more aggressive onset of buffalo fly pressure this year.
There are also reports of "quite savage" three-day sickness outbreaks occurring in Central Queensland where recent rains have increased the population of biting midges.
Ciaran and Jayne Gentry own AC Backrubs in Toowoomba and say orders for their back rubs, which enable cattle to self-administer fly control treatment by brushing up against the rubs in the paddock, have sky-rocketed since the rain in late October.
"It has been an earlier start and more widespread this year," Mr Gentry told Beef Central.
"The last couple of weeks since that rain have been flat out. We have had inquiry from southern NSW right through Queensland and to the Northern Territory.
"It is definitely early, and it is probably more aggressive than this time last year."
Queensland Department of Agriculture and Fisheries consultant Alan Laing said some parts of Queensland were still dry, but where humidity and moisture was high, buffalo flies would now be more active, particularly as temperatures begin to heat up.
"It is just good animal health to keep buffalo fly under control. It is not practical or economic to keep buffalo fly free, but producers can minimise the effects of buffalo fly by having some controls in place."
Three-day sickness outbreaks
Australian Cattle Vets Association president, Dr Alan Guilfoyle from the Clermont Vet Clinic in Central Queensland, said the combination of a warmer winter and a lack of frost to knock insect populations back, had contributed to outbreaks of three-day sickness.
Also known Bovine Ephemeral Fever, three-day sickness is a viral disease of cattle spread by mosquitoes and biting midges. It occurs in northern Australia and along the eastern seaboard south to the New South Wales-Victorian border.
It causes cattle to develop a fever, shivering, lameness and muscular stiffness. It is called three-day sickness because the clinical signs of the disease usually last for three days, but it can also be fatal.
That has been already been the case for some producers in CQ this year, Dr Guilfoyle said.
"We have had a very savage splurge of three-day," he said.
"We have had some here at Clermont but particularly around Dysart, where they had the earlier rain, it has been very savage.
"Coming out of a warm winter the insect population is fairly moving, and once your insects start to move you are going to see the movement of the Culicoides, the midge that carries the three day."
In one instance he was aware of one producer who had lost several large bullocks to three-day sickness.
Dr Guilfoyle said the prevalence of buffalo fly was an indicator of the overall population of biting insects and the risk of insect-borne disease.
"There is a fair bit of anecdotal evidence that if you put out (fly control) ear tags or backrubbers there is a fair chance you will help reduce the incidence of three day by reducing your insect population," he said.
'If you don't think a buffalo fly would worry you, go and sit out in the middle of the water square when the buffalo fly are bad in your underpants and see how you go'
"I would hasten to mention that whatever you are using, you really need to be aware of your withholding periods."
To anyone who doubts the impact buffalo fly loads have on cattle well-being and productivity, he offered this: "If you don't think a buffalo fly would worry you, go and sit out in the middle of the water square when the buffalo fly are bad in your underpants and see how you go.
"They (cattle) do get very restless with them, which leads to loss of production and subclinical disease. It is the subclinical effects of any disease you don't see but that is what eats your profit out."
While the cost of vaccinating against three-day may be prohibitive, it was a "very wise investment", he said.
"Across a 500 steer herd, to vaccinate for all the necessary things like tick fever, botulism, five in one and including three day, it might run up to $25-$28 a head, but you only have to lose seven steers or five bullocks to pay for it."
Dr Guilfoyle said some producers in his area have had success vaccinating cattle as weaners and building up their immunity early in life.
"They seem to get a natural reinforcement of that immunity each year as the insect population comes through," he said.
Organic demand
Ciaran Gentry from AC Backrubs in Toowoomba said as a rule of thumb, backrubs should last about three years (and up to six when they are removed from the paddock during the dry season), and each unit should serve up to 100 cattle.
The company has developed a paraffin-based carrier oil solution with additives that ensure the oil sticks to the backrub without dripping, and without losing viscosity in heat, which customers can mix with their choice of chemical buffalo fly control.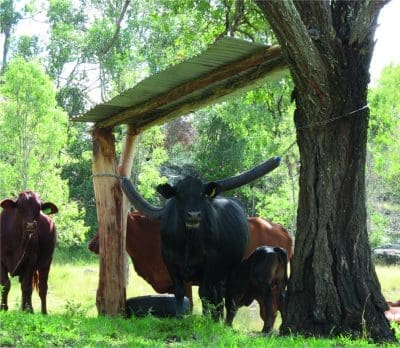 He said orders had been particularly strong for an organic backrub oil which uses non-toxic essential oils and poses no harm to dung beetles, with demand coming not just from registered organic producers but many non-organic producers as well.
Mr Gentry said anecdotal reports from clients also suggested buffalo fly populations are moving further south as they acclimatize to cooler conditions.
One Angus breeder near the coast in Northern NSW had told how he had seen buffalo flies remerging on the coats of cattle during winter within hours of the animals being covered with frost. He believed the flies were burrowing deep into the coats to get shelter from the ice, and then remerging on the coat when the sun had melted the frost away.
More information:
Recommendations for Integrated Buffalo Fly control (Meat & Livestock Australia information sheet)
Three-day sickness (Meat & Livestock Australia information sheet)