MANAGERS and senior staff from Consolidated Pastoral Co's 20 cattle properties scatted across northern Western Australia, the Northern Territory and Queensland gathered in Darwin last week for their annual conference and get-together.
A two-day day program featured guest speakers on wide-ranging topics, and a rare chance to interact face-to-face with fellow staffmembers – both from head-office and across the stations.

About 60 station managers and their partners, plus board directors and other stakeholders aligned with the CPC beef and live export supply chains were in attendance.
The program culminated in an awards dinner held at Darwin's Hilton Hotel on Friday night.
Season-wise, CPC's far-flung northern properties are predominately in a good place this year, with managers from the Kimberly, VRD region, Barkly, North and Eastern Queensland reporting good seasons after wet season rain, while the three stations in western Queensland are facing a tougher lead-in to autumn than normal.
Chief executive officer Troy Setter said the awards night was a great opportunity to bring team members together with customers and suppliers to celebrate the business's successes, as well as acknowledging its people for their ongoing commitment and hard work throughout the year.
"I am proud to lead an organisation that has the calibre of people who play such a critical role in the ongoing success of CPC," Mr Setter said.
Northern Territory chief minister Michael Gunner and federal agriculture minister David Littleproud spoke at the event and presented the awards. Other special guests included Mohammed Hanifa (Acting Indonesian Consul/Consul for Economic Affairs) and many of CPC's customers and suppliers.
Mr Littleproud acknowledged the contribution of Australian beef as the nation's single largest agricultural industry.
"Australia's beef cattle farmers are behind nearly a quarter of Australia's farm production worth over $13 billion to the nation's economy," the minister said.
"This is an industry that represents everything we are expecting to achieve in rural and regional Australia as farmers, as communities and as a nation."
Mr Littleproud referenced the work the Federal Government had done on securing access through free trade agreements to the Korean, Japanese, Chinese and most recently Peru markets for our premium produce. Further gains were expected through the Trans-Pacific Partnership Agreement, he said.
"The government also continues to stand behind our $1.4 billion live export industry, with new or improved market access for 13 livestock export markets. I'm focused on continuing to establish the best possible environment across the supply chain for our beef industry to thrive, including through the $4 billion Agricultural Competitiveness White Paper," he said.
Awards winners
Here's a run-down of this year's CPC staff awards winners, with pictures below:
The People's Choice Award went to Jasmine Boxsell, commercial projects officer, for her exceptional dedication and hard work during the year
The Ambassador Award went to Jason Purcell, manager at Allawah Station (Qld), for his positive impact on others, and his embodiment of the CPC values of health & safety, leadership, community, trust and value creation.
The Team Safety Award was received by Isis Downs Station (Qld) managers, Andrew and Anna Cochrane for displaying an exceptional safety culture throughout the year.
The People Developer Award went to William Bulo, general manager of JJAA Indonesia for fostering a culture of open and collaborative communication, as well as coaching and mentoring to his team.
The Teamwork Award went to Wrotham Park Station and acknowledges the positive work attitude, pride in CPC and the station and leadership which was displayed at every level of the team.
The Operational Performance Award went to Lester Bolton for high achievement at Comely Station (Central Qld) last year.
The Business of the Year Award was accepted by Emily Bryant who was applauded for producing top financial results, turnoff weights and operational improvements at Auvergne Station (NT).
Service Awards were presented to Tammy Kruckow of Manbulloo Station and to James Beale of Bunda Station for 15 and 10 years at CPC respectively. Both team members have made significant contributions and continue to be a strong asset to the business.
All photos below: Shaana McNaught.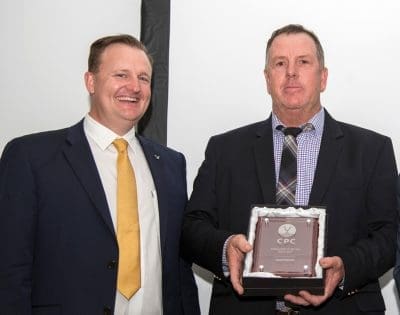 Ambassador award winner Jason Purcell, from Allawah Station QLD, with CPC chief executive Troy Setter