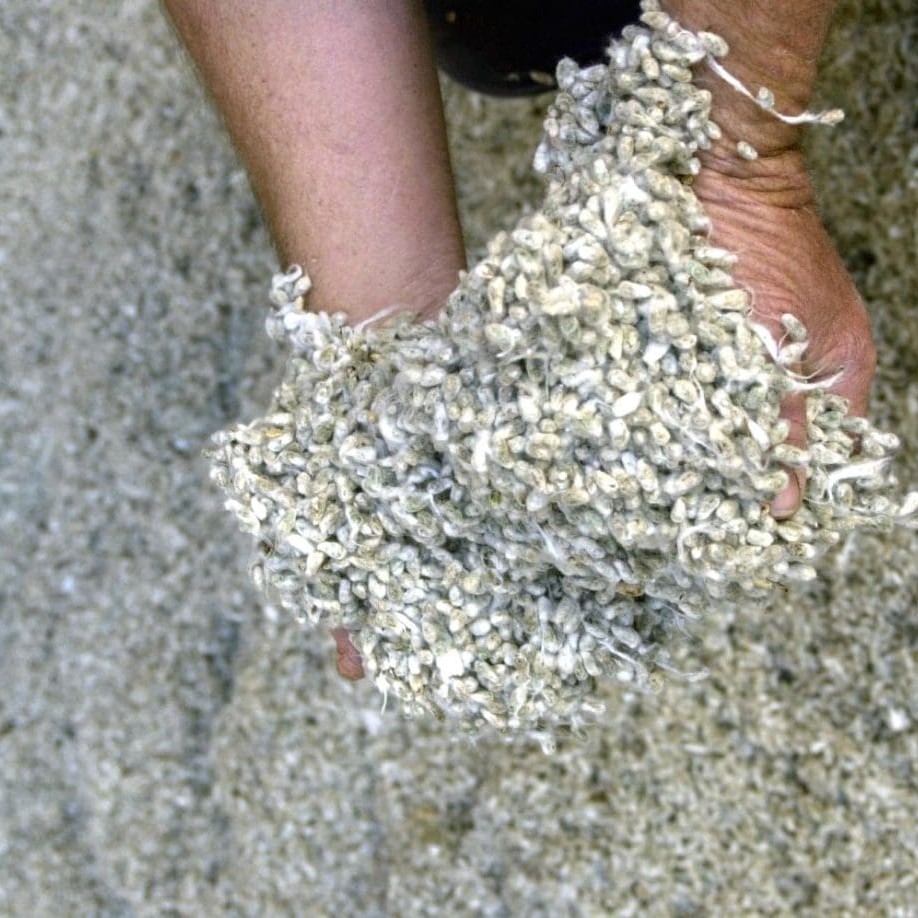 THERE has been an explosion in price for whole cottonseed, plus cottonseed meal and other protein meals over recent months as direct and indirect demand for stock feed caused by the drought continues.
White cottonseed prices out of the trade this week were quoted at close to $400/tonne (old crop), and new crop (for delivery from next April) at $290-$300/t. The new crop figure got back towards $260/t at one stage some months ago, before the drought impact took full effect.
A regular large-scale feedlot user of whole cottonseed told Beef Central that old-crop price had risen from around $250 since April – representing a $150/t rally in five or six months.
A broker source yesterday quoted whole cottonseed at $390/tonne, ex Moree – but he said that that was for October delivery, and supply was described as 'very tight.'
The broker quoted CSM at $570/t plus GST ex Narrabri, but again said stocks were in very short supply.
Regular users of whole cotton seed told Beef Central that prices had been as high as $400/t in the past, but they could not recollect it every going much higher.
"It's bloody expensive," a large southeast Queensland feedlot operator told Beef Central yesterday. "Since our last purchase three months ago it has risen close to $100/t, from $308/t last time," he said.
While drought has been the over-arching influence on cottonseed and CSM price rises, it has come from both direct and indirect channels:
Feedlots are a traditional large user of cottonseed, and the recent expansion in feedlot numbers to six-year highs due to drought pressures (read Beef Central's recent quarterly feedlot survey report here) has further impacted on demand for cottonseed and CSM
Drought-impacted cattlemen have turned to feeding whole cottonseed as a survival feed in increasing quantities. One reason is that the commodity provides not only a protein source, but an energy source as well, and as the drought has gone on, energy has become equally significant as protein in supplementation. Principal beef extension officer with Queensland DAFF in Rockhampton, Mick Sullivan, told Beef Central the quality of remaining feed in some areas was now so low that cattle needed added energy, in addition to protein. That was a key reason why a lot of whole cottonseed, containing energy-rich oils, had been going into drought areas. "There's now big areas of country where no matter how much urea (bypass protein) you feed them, you're not going to win, because there's not enough energy left in the roughage. It's getting into the really tough end of the drought," he said. While that protein-plus-energy deficiency often happened in the later stages of a typical dry season, the fact it had happened so early this year meant that cattle were much less able to cope with the deficiency, for longer periods. "Cattle on a protein-only supplement only are now going backwards, fast," Mr Sullivan said.
In the case of cottonseed meal, there has been heavy demand from proprietary lick block manufacturers and other end-users – again drought related. Adding to the problem this year was the fact that large sales of CSM were made out of Australia into New Zealand earlier in the year, when it experienced its own severe summer drought. That left a big whole in local supply, broker sources said. More than one source accused cottonseed crusher Cargill of 'gouging' on CSM supply and price, as the demand side has grown. Other protein meals, though, including palm kernel meal and copra meal – both imported – have also come under heavy price pressure as drought demand has grown, rising about $100/t.
Mort & Co Lotfeeders commodity specialist, Scott Braund, said the current price situation was not being driven at all by supply, as the Australian cotton industry was coming off reasonably strong production last year.
"It's not as if the last cotton crop was that small," he said. "But the positive thing is that the cotton production this summer is looking to be pretty big, so stocks of cottonseed and meal should again start to grow, once harvest gets underway."