Click on image to view video of the Colombian cattle producers' visit to Nindooinbah on Saturday
Australian genetics could soon be helping to improve the Colombian beef cattle herd following a major trade tour of Central and Southern Queensland in the past week.
When Australian producers think of the vast cattle herds of South America, countries such as Brazil with 212 million cattle, Argentina (48m cattle), Paraguay (15m) Uruguay (11m) and Chile (3m) typically come to mind.
However one that should be on the radar if it is not already is Colombia, which runs 23.5 million cattle, the third largest cattle herd in South America.
Colombia covers just over one million square kilometres of tropical grasslands straddling the equator on South America's north-western coast. Its land area is equivalent to just 14 percent of Australia's landmass but its herd is not far in size behind Australia's 28 million cattle.
Colombia produces slightly more beef than its 45 million people can consume and currently exports most of its surplus, somewhere around five percent of production, across its border into neighbouring Venezuela. While it is a net exporter, Colombia also imports a small volume of high quality beef from the United States and Canada to supply the needs of its restaurant and high-end retail sector.
Recent improvements in herd health status and developments in market access have fuelled a greater desire within Colombia to improve herd genetics and productivity as it strives to capture a greater share of higher value markets both at home and abroad.
Colombia achieved freedom from Foot and Mouth Disease in 2009 and has maintained that status with vaccinations since.
It has also recently signed Free Trade Agreements with the US and the European Union, and the Chinese Government recently reopened its doors to Colombian beef imports, fuelling understandable optimism within Colombia about the opportunity to export more beef in future.
Colombia's interest in sourcing new genetics and production know-how to improve herd quality was reflected in a tour of central and southern Queensland cattle studs last week which was attended by no less than 170 Colombian cattle producers.
Colombian conditions are similar in many ways to northern Australia. Producers operate in tropical environments spanning annual cycles from extreme wet to extreme dry, produce cattle on grass year-round, and have herds typically dominated by Brahman-based genetics.
One key difference between Colombia and Australia is that about 40pc of Colombia's herd comprises dual purpose cattle bred to produce both milk and beef for local consumption.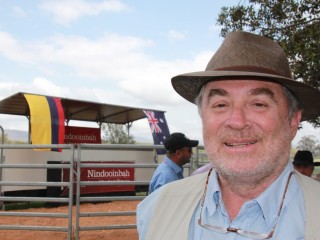 Among the delegation to tour Australian was Colombian cattle producer Mauricio Moreno Roa, who with his brother owns a United States based company called Sexing Technologies, the largest provider of semen sexing services in the world with laboratories in many countries including Australia.
Mr Moreno Roa told Beef Central that the range of breed options available to northern Australian producers, such as the many European breeds and the different options being created with Angus such as the Ultra-black composites the group saw at the Nindooinbah Stud near Beaudesert on Saturday, was of great interest to producers on the tour.
"These tropical conditions are similar to what we have in Colombia, so it is easier for these people to relate to what you are doing here," he said.
"Definitely there will be a lot of interest not only in the established breeds in Colombia but also the option of having new breeds, like these Droughtmaster, Bonsmara, there are some Bonsmara in Colomobia now, and with these Ultrablacks, it is an interesting job that they're doing."
Producers on the tour were also interested in adapting production and management techniques from Australia to their own operations back in Colombia, he said.
"With a lot of the variables when you are producing cattle, like breeding intervals, breed efficiency, pregnancy rate, how long it takes you to fatten a steer and what age you are weaning your calves, your numbers are much better than ours, and you are in a much better position to export cattle and you have really good markets.
"We are FMD-free now, we had some health control programs started by the Government for diseases like Tuberculosis and Brucellosis, and hopefully that experience in the long run will help us to export to more markets.
"We would like to export to more countries, when you export to only one country you know how that goes, so we would like to open up more markets and be able to sell to more places."
He said Colombian producers have had limited success with European type breeds in the past but had been encouraged by the successul adaption of genetics to tropical grassfed conditions that has been achieved in Australia.
"Our main breed is Brahmans, it is a breed that is easy to establish and be able to manage.
"Some of these European influenced cattle they are not as easy, you have more health issues with them, and of course no body wants to spend more than they need to spend on cattle.
"We are trying to make cattle survive, so Brahmans are easier.
"That is what we have, (but) we need to make improvements and selection programs that help us get more dependable cattle in the quality of the beef, the reproductive conditions and the efficiency of production.
"We also need to have improvements in the way we manage our cattle and our nutrition programs so we have feed available to cattle throughout the year with the quality they need to be at an optimal level of production."
The tour was coordinated by Quadrant Ag Tours in conjunction with the Federación Colombiana De Ganaderos (the Colombian Federation of Cattlemen), otherwise known as Fedegan.
Fedegan is the Colombian equivalent of the Cattle Council of Australia, Dairy Australia and Meat Livestock Australia in a single organisation. It combines industry representative and policy setting duties with the responsibility for overseeing industry and government funded research, development, extension and marketing on behalf of Colombia's beef and milk producers. The various smaller associations Fedegan represents account for some 500,000 farmers.
Fedegan representative Cesar Garcia said Colombian cattle producers on the tour were interested in purchasing Australian semen and embryos, however there was still work to be done at Government level within Colombia to allow Australian genetics to be imported.
"It is very hard to get into the market in Colombia, we have a government institution to get into the market and it is not very easy.
"At the moment I do not know of any company doing that (importing semen and embroys from Australia).
"This morning and yesterday they (tour delegates) were asking how they could take the genetics back home, we are trying to work out with our representative from the Colombian embassy a way we can get these genetics overseas into our country."
Mr Garcia said that in addition to sourcing Australian genetics the tour group was also interested in learning more about feeding, beef research, production technologies, management models, and efficiency and optimisation strategies within Australia's tropical cattle industry.