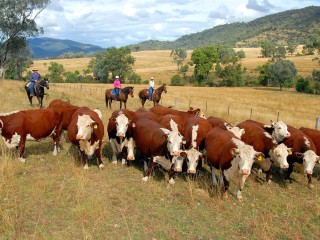 The onset of sub-zero temperatures and heavy frost across Eastern Australia over the past three weeks has sparked an avalanche of demand from beef producers for liquid supplements to get the most out of deteriorating pasture quality.
The overwhelming signal picked up by Beef Central this week is that while there is a big body of dry feed present in paddocks stretching from Central Queensland to Victoria, the prolonged wet summer has impacted on protein levels. Latest severe frosts have only exacerbated the situation, and producers everywhere are watching cattle start to slide in condition.
Bruce Burgess, Queensland and Northern NSW sales manager for liquid supplement manufacturer Champion Liquid Feeds, said his company had recorded a 100-150 percent spike in demand for supplement over the past two to three weeks, in key areas.
"Every area is different, but many producers in Eastern Australia have a big body of feed compared with past years. But what they are finding is that the quality of feed is just not there, due to the wet summer growing pattern. As soon as frosts hit, the quality and protein dropped even further.
"Supplement demand has come in a rush and has become quite frantic," Mr Burgess said.
The biggest demand pressure had come in the region from Central NSW to the New England Tablelands, but it was rolling-out across the board, he said.
Producers in colder areas of southern Queensland had also rapidly activated supplement programs since the start of July, but high demand was also coming from Central Queensland areas.
"Those areas appear to be a little slower off the mark than NSW, but the trend is the same, and it is only going to intensify, the way the season is unfolding," Mr Burgess said.
Prior to the onset of colder weather, supplement use was 'fairly modest' for the time of year, suggesting many producers had confidence in the body of green feed in front of them to take their cattle through.
"There was probably a little complacency, in some areas. But all of sudden those circumstances have changed, and it always takes a few weeks for the shift in cattle performance to become noticeable."
Another trend this year was an early reliance on cheaper, lower-protein/lower-energy formulations, due to the confidence in the paddock feed, but that had shifted rapidly as the season had gotten tougher.
"Cattlemen were finding that lower-quality supplements, particularly those lacking a source of energy, were not doing the job, and they were having to upgrade to higher molasses content and protein levels to maintain body condition," Mr Burgess said.
Given the body of dry roughage available this year, he said there was a general mood evident among producers that they were prepared to invest in adequate supplementation programs, to preserve their livestock asset base.
"They can see the sense and the value in supplementing in a year like this. With the body of feed present, they are not having to buy hay, as well as a lick supplement."
"It's just a matter of feeding the micro-organisms in the rumen so they can better utilising the dry standing pasture that is available."
Typically, producers this year had targeting selected groups including replacement heifers, young breeding cows and bulls, but as the season had toughened, programs had extended, in many cases to whole herd.
"We are right in that transition now," Mr Burgess said.
Capacity to meet demand
Asked whether the liquid supplement industry had the capacity to handle spikes like that currently being experienced, he said the whole industry was under production pressure, but it had the ability to cope with demand.
"If we see a prolonged supplement season due to a late break in the summer rainfall pattern, we could see some pressure on raw molasses supply, but at the moment molasses supply looks adequate. All manufacturers lock-in tonnages for the season, but it is hard to estimate exactly what usage will be in any given year, in advance," he said.
South also under pressure
Further south, Champion Liquid Feeds' region manager for Victoria, southern NSW, Tasmania and SA, David Norton, said a similar spike in demand had occurred for pasture supplements in his region.
Demand had probably risen 50 percent in volume over the past three weeks, since 'big cold weather days' had started in early July. Both cattle and ewes and lambs were now going backwards. Heaviest user areas were the Gippsland and Victoria's northeast, but demand was coming from 'all over,' Mr Norton said.
"It's not isolated to larger herd areas or more extensively run areas. We are even sending the odd load across into South Australia's pastoral zone, which has not happened much previously," he said.
Most popular were the Molafos M and Molafos 15 (15pc protein) formulations and the Backgrounder ration containing wheat and canola meal in suspension.
"We're getting more and more calls all the time for Molafos 15, because it is the mainstay pasture supplement for dry feed that has no guts in it," he said.
Champion Liquid Feeds produces a range of liquid and suspension supplements based on molasses, produced out of three factories in Mackay, Brisbane and Melbourne.
The company's Mackay batching factory is supplied out of the local Mackay sugar mills, the Melbourne site from Sucrogen mills around Townsville in North Queensland (shipped south in bulk), and Brisbane is supplied this year by Isis and Bundaberg sugar mills.
Molasses supply had been underpinned further this year because of the high percentage of carry-over cane from the last harvest due to earlier flooding and wet conditions, which has provided strong supplies during the early part of the 2011 cane crush, which started a month ago.
Brisbane analytic laboratory Symbio Alliance, which monitors pasture and dung samples for clients across Queensland and areas further south, said while its records were probably not 'current enough' yet to capture the full extent of pasture decline seen over the past three weeks, there was a definite trend towards deterioration in protein indicators.
CLF is about to launch a range of new liquid supplements offering higher protein content based on by-products sourced of the food processing industry. More details on Beef Central tomorrow.