The picture below poses two immediate summertime questions: are there productivity gains to be had in feedlots using pen shade, and are there summer productivity sacrifices in dark-coated cattle?
Beef Central put these points to internationally acknowledged pen shade and cattle heat stress expert, Dr John Gaughan, from The University of Queensland.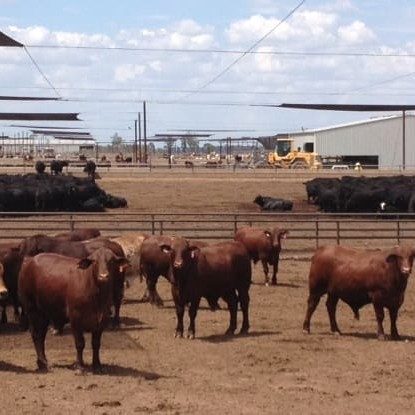 Like most things in science, the answers are not always absolutely black and white, but as the nation's cattle industry heads into the hottest part of the year, they are well worth exploring.
While there has been wide uptake of pen shade in Australian feedlots over the past ten years, the primary motivating factor has been mitigating the risk of heat stress incidents during times of high temperature, high humidity and low air movement.
Much of the early Australian research work focussed on proving that shade could be a valuable tool, along with other management interventions, in lowering risk of heat stress and mortalities in feedlots over summer.
Research findings in terms of any productivity benefit were inconclusive, at best, and provided no evidence that expenditure on pen shade installation could be justified on productivity gains alone. Nor was there any evidence from earlier US animal studies to support shade provision as a productivity improver.
However more recent research work is reshaping that view.
According to Dr Gaughan, a recent study carried out in Australia and published in the Journal of Animal Science* found a feedlot productivity gain of the order of $50 a head on Angus cattle fed over the 2010/11 summer.
Dr Gaughan, senior lecturer in animal science at The University of Queensland's Gatton campus, said the trial focussed on body temperature and performance on 164 Angus steers averaging 400kg at induction, fed for 120 days. Pen densities varied, with some cattle having access to pen shade and others not.
During feeding, the cattle went through a heatwave period when temperatures exceeded 30°C for at least eight hours a day, for 21 consecutive days. Body temperatures during that hot period averaged 40.41°C for the shade-access group, while the no-shade group was 0.73°C higher (41.14°C).
The productivity improvement was mainly seen in feed intake and feed efficiency measured across the whole feeding cycle, Dr Gaughan said.
As is often seen in commercial feedlots, cattle will cut-back on feed consumption during really hot weather periods, but then exhibit some compensatory consumption when conditions ease. But that process not very efficient.
"We've seen some very high feed intakes relative to growth performance, post heatwave conditions – but feed conversion rates have gone from 7:1 to as much as 11:1," Dr Gaughan said.
"That can produce an animal of the same weight at the end of the feeding cycle, but it has consumed a lot more feed to get there."
Exit bodyweight of the recent trial steers with shade-access was 596kg, compared with the no-shade group's 579kg. During the heat wave, dry-matter intake was 51pc less for the no-shade steers and 39pc less for shade-access steers, when compared with the pre-heat wave period.
The project summary pointed out, however, that shade did not completely eliminate the impact of high heat load on the cattle.
While the impact of shade provision on carcase quality improvement had not yet been fully examined, Dr Gaughan said there was some evidence from the trial suggesting a slight improvement.
"The issue with measuring the productivity impact is that it is somewhat dependent on the type of summer season that cattle are exposed to. For a feedlot feeding purebred Angus, experiencing a really hot summer, there will probably be a positive response from shade. But a mild summer, like 2011-12, is likely to produce only a moderate/negligible response," he said.
A $50/head outcome like that recorded in the trial might have turned into a $5/head outcome last summer, meaning that the cost of shade installation on that summer performance, alone, would not be justified.
"But if the average cost of erecting shade is $85/head, and a feedlot gets a ten-year life out of the investment, it only needs two or three particularly hot summers over that cycle to justify the expense – let alone the heat stress insurance and animal welfare benefit," he said.
While the US was a long way behind Australia in terms of research into, and application of feedlot pen shade, a recent US study (not yet published), also showed summer productivity gains from pen shade.
However direct comparisons between US and Australian feedlots were difficult, Dr Gaughan said. US cattle tended to be on feed a lot longer, and in some cases could come out of extreme cold winter conditions into +35°C days within a matter of six or eight weeks.
"We don't see those extremes in Australia, so it is difficult to draw direct comparisons," he said.
While the overwhelming majority of US feedlots do not employ pen shade, Dr Gaughan said the nation's feedlot industry had sustained two extreme summers in a row in 2011 and 2012 (linked to the well-publicised US droughts) that had resulted in significant cattle mortalities due to heat stress.
"There is now a much bigger push on in the US lotfeeding industry for shade, whereas three or four years ago, US lot operators kept presenting cost and operational reasons why they were not considering it," he said.
"The US thinking has now largely shifted to, 'OK, we need to do it, but we're just not quite sure how'."
Part of the challenge faced by the US industry was the prospect of snowfall – more or less unseen in Australian feedlots – and how that would influence design and construction of shade structures. A lot of work to determine optimal shade requirements for US applications is taking place through research providers like Clay Centre, Nebraska.
"The US is probably where the Australian lotfeeding industry was ten years ago in its approach to shade," Dr Gaughan said. "Some of the US intensive dairy operators have employed shade shelter for some time, but there are still very few US beef feedlots providing shade access."
He estimated that pen shade was now provided in at least 80pc of Queensland and NSW feedlots feeding 'susceptible' cattle. Some lots did not require shade, because they fed indicus type cattle, or are located in milder climates or elevated regions where heat stress risk is much less.
The more progressive operators feeding Bos taurus cattle were now making shade provision in 100pc of pens – not just cattle further advanced in the feeding cycle that were at greater risk.
Impact of coat colour studied in latest trial
Dr Gaughan said a wide range of factors were in play that would determine the level of productivity impact from shade provision:
The severity of the summer weather from year to year
The type of animals fed and from where they came
Days on feed
The type of ration being fed.
As a general rule, the biggest impact would be seen in British breeds, and particularly black-coated ones.
He said another feedlot study currently taking place, and scheduled to conclude in a couple of months, would shed more light on the impact of coat-colour and breed type on summer beef productivity.
"Based on current evidence from numerous earlier trials, lighter coloured cattle do not suffer from high heat load to the same extent that black cattle do," Dr Gaughan said.
During southern Queensland's recent November heat wave, some patterns emerged among the groups of Angus, Charolais and Brahman cattle involved in the current trial.
Where stock had access to shade, the black cattle in the pen sought shade by 10am; the Charolais by mid-day, and the Brahmans later still. Body temperatures in the trial cattle are being automatically measured every 10 minutes, showing a clear difference in temperature and respiration rate.
Under cooler conditions, there was no difference in body temperature between lighter or darker-coated cattle, but when exposed to hot conditions, a black-coated animal sitting at 41°C could be a full 1°C hotter than a grey, light-red or white animal.
Dr Gaughan said there were two attributes under scrutiny with an animal's coat – one was colour, and the other was hair type.
"You can have a black animal with a slick coat, which will dissipate heat a lot better than a black animal with a woolly coat. Coat colour probably explains +60pc of heat differences, between animals, with the balance being hair type, and even skin colour," he said.
Another study done several years back found it difficult to separate coat colour from genotype. It was comparing light coloured crossbred animals to dark-coloured Angus, and making assumptions about body temperature differences due to coat colour.
"Coat colour was inevitably part of it, but there were different breed effects involved in that trial as well," Dr Gaughan said. "The complexity in simply comparing a black animal with a white one is that the result can also be impacted by factors like growth rate and body composition. Yes, coat colour is something that needs to be considered, but only in the context of everything else," he said.
One of the issues Dr Gaughan and his research colleagues hope to examine in more detail soon is the potential impact of feed additives, as an adjunct to other tools like shade in moderating heat stress.
"Nutrition becomes an important player in this. Currently we just don't have a good understanding of how to modify nutrition to reduce the negative effects of summer heat load on cattle," he said.
Kidman's 'light coated' composite
Some commercial industry stakeholders have already responded to signals about coat colour impact on body temperature in their genetic selection decisions. Perhaps the best known example is S. Kidman & Co, which has been heavily influenced by coat colour in selecting the genetic building blocks for its composite program.
On Kidman's softer northern country, much of it treeless plains, where the indicus content requirement is not so extreme, Kidman is trialling a composite breeding program, using Tuli (white-coated, tropically-adapted Bos Taurus), Murray Grey, Charolais and Grey Brahman. The final stabilised animal will be 50pc tropically-adapted through the Tuli and the Brahman, but carrying only 25pc Bos Indicus.
* Dr Gaughan et al's Journal of Animal Science paper, "Effect of shade on body temperature and performance of feedlot steers," can be read here.