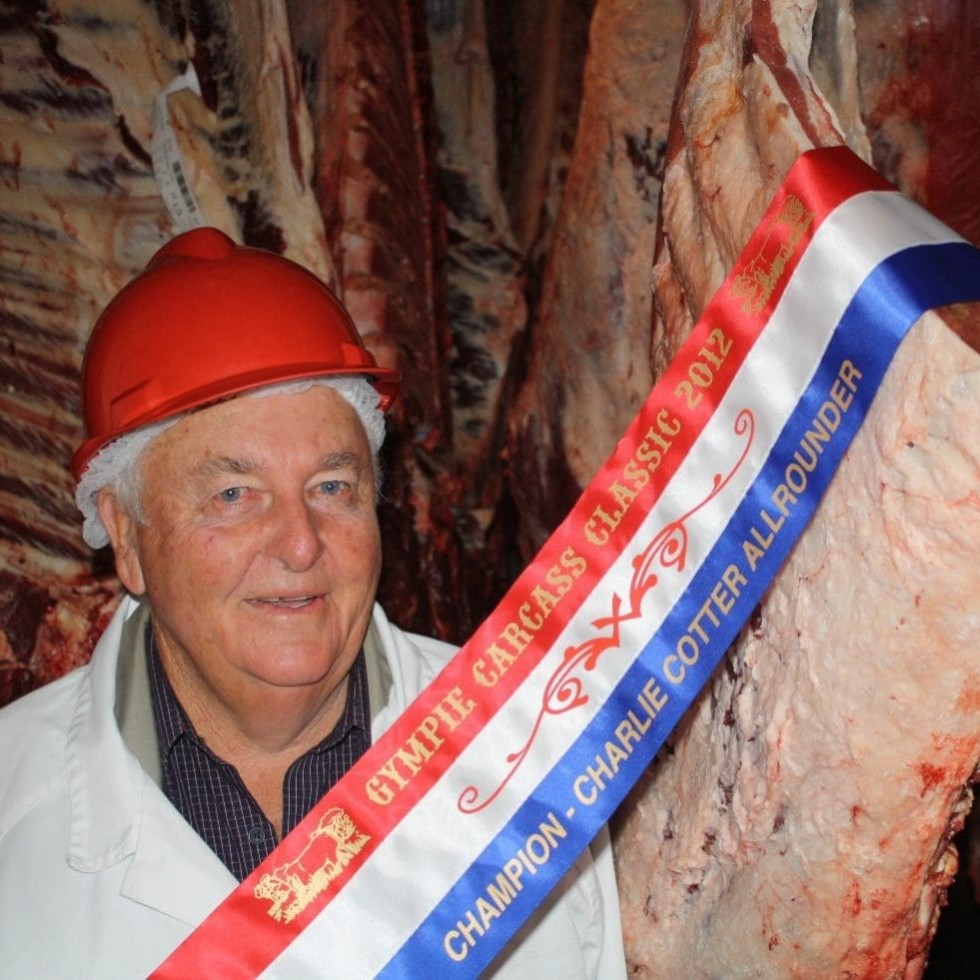 If there was a message to emerge from Thursday's Gympie Carcase Classic competition, it was that it is possible to achieve the 'holy trinity' of feedlot weightgain, carcase yield and meat quality in the same genetic package.
Results again suggested that the genetic outliers are out there in beef producers' herds, with the ability to perform at an exceptionally high level in one commercially important trait, while not being compromised in others.
The 25th anniversary Gympie carcase competition again underscored the dominance of Euro terminal crossbreeding as the safest bet to ensure a competitive outcome in this event, designed to produce the best possible outcome after 80-day grainfed domestic programs.
Just two of the top twenty animals in the overall standings this year were not catalogued as carrying at least 50 percent Euro genetics. And it is entirely possible that the remaining two did – being listed somewhat ambiguously as 'Angus cross' and 'Brahman cross.'
Early growth, muscling and meat yield potential are paramount in a domestic-weight competitions like this, where winners among 100 entries or more are often decided by fractions of a percent in performance.
Providing the perfect balance between feedlot weightgain, meat yield and carcase quality was the 2012 winner of the event's ultimate accolade, the Charlie Cotter All-rounder award – a Blonde d'Aquitaine x Braford heifer exhibited by Neil McDonald, Rockdale Pastoral Co, in Queensland's Lockyer Valley.
This 12-month old heifer excelled in the feedlot weightgain stage, placing second among more than 100 entries, while also figuring strongly in carcase quality performance, placing in the top six. To top it off, her meat yield potential was considerable, displaying an eye muscle area of 106sq cm, B muscle score, dressing percentage of 60.13pc, 269kg carcase weight and P8 and rib fat of 5mm.
The genetic formula used in the winner is fairly typical of the McDonald family's breeding program at Rockdale, where they use high growth and yield performance Blonde sires over a herd of Droughtmaster and Braford-base cows carrying some Indicus content for lower maintenance requirement in a ticky environment.
The Rockdale business directs most of its steer and heifer turnoff into the Nooroomba feedlot, for 70-days grain-finishing for slaughter at Nolan's, Gympie.
Heifer entries have had a strong history of wins in the competition, and the 2012 result for the McDonalds again proved that provided they carry the right genetic package, heifers can be highly competitive in all areas of a competition like this.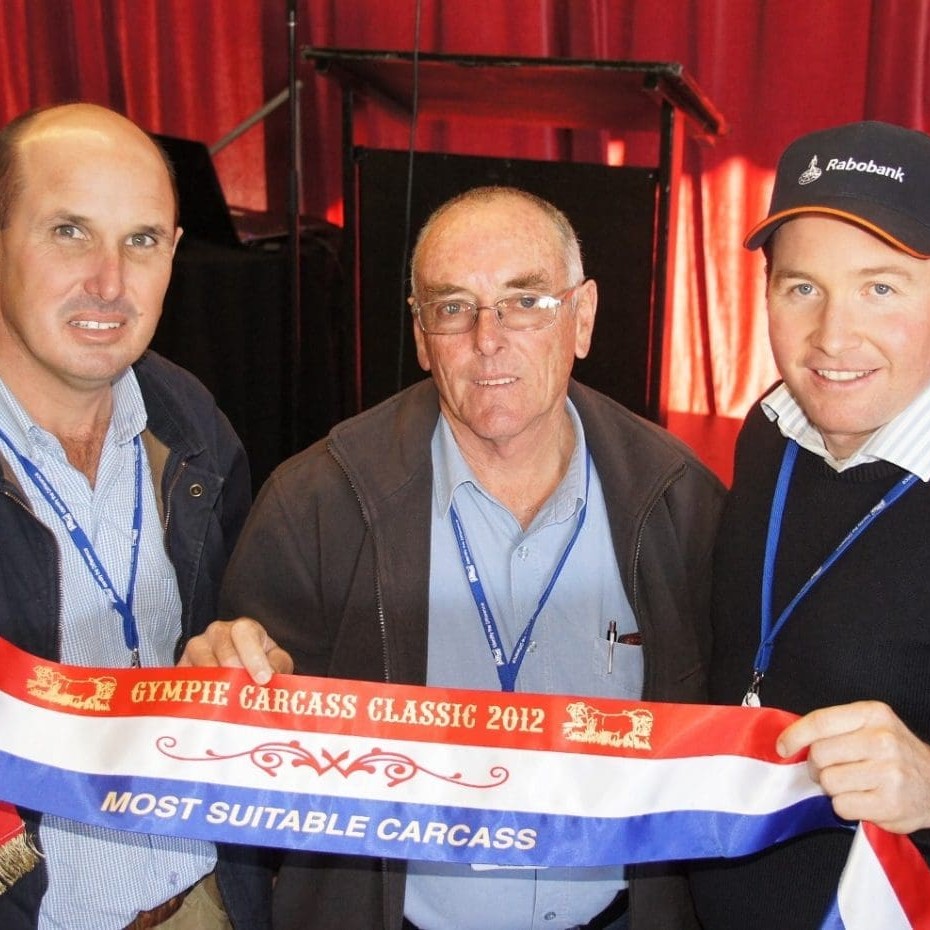 Gympie's Most Suitable Carcase winner this year (based specifically on carcase merit) was a Bazadais x Droughtmaster steer exhibited by Barry and Jennifer Grainger, from Coogara, near Amamoor.
Again, this steer showed strong all-round performance qualities, finishing sixth in the live animal values and weightgains section, before topping the carcase measurement section with a score of 85 points. Highlights included an 111sq cm eye muscle, perfect fat depth and distribution and an ossification score of 100 giving maximum points for weight for age of maturity.
The steer was purchased as a weaner out of Gympie Saleyards as part of a line of weaners originally intended for grass finishing as bullocks. He was bred by the Collins family in the Mary Valley, using a Bazadais bull bred by Chris Wylie.
The Grainger family's main income stream from their lighter coastal country comes from breeding vealers sold to Green Mountain Food Processing at Coominya, using a mostly Charbray based breeding herd mated to Euro bulls for muscling. Most are turned off at around 240kg, but some are retained for a second heavier scrub country block further inland, where they are taken through as grassfed bullocks.
Mr Grainger said he had now competed at Gympie for the past three years. "We get a lot out of it, in terms of knowing how our cattle are performing against others from across the region," he said.
Hard luck story of the competition was a Belgian Blue x Shorthorn entry from Classic stalwarts, George and Lyn Cotter, which would have claimed the All-rounder title apart from exceeding the competition's 300kg limit on carcase weight. The calf recording a 304kg carcase weight after showing prodigious feedlot weightgain. He produced easily the highest net gain in value over the competition of $157.55, a 71pc gain over the starting weight.
This year's average daily weightgain recorded across all entries in the host Gowanlock feedlot was 1.38kg/day, down a little on last year due to heavier average weight cattle at entry, and a sequence of persistently wet weeks during the feeding period. That tends to affect the smaller cattle a little more than the heavier ones. Weightgain averaged 35.8pc of their initial entry weight over the 80 day feeding program, while net feed efficiency was 6.79:1.
Nolan's MSA grader Mick Senini said the winning All-rounder carcase and the highest scoring carcases were hard to fault.
"Normally across a mob of cattle like this we would expect to see 2-3 percent dark cutters, and some abattoirs, especially in southern Australian at this time of year, can see 10pc or more," he said.
"Nutrition has a lot to do with it, and in these competition entries this year, we did not see one dark meat colour or high pH," he said.
Highest eye muscle recorded for the competition was a massive 132sq cm from a Blonde x Brahman carcase from Meridian Pastoral Co, which was a huge measurement for a carcase of this weight and age.
Placed second in the All-rounder standings was another Blonde x steer exhibited by Gerald Handley, Toowoomba, while runner-up in the best carcase division was Doug and Dell Logan, Gympie with a Blonde x Droughtmaster steer.